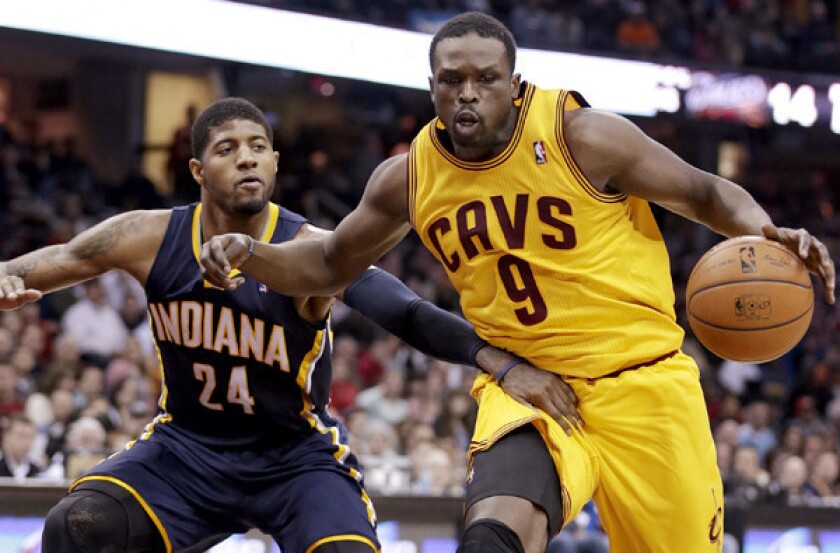 Free-agent forward Luol Deng agreed to a two-year, $20-million deal with the Miami Heat, the Chicago Tribune reported.
Dallas, Atlanta and Phoenix had also been pursuing the 10-year NBA veteran. Deng turned down a three-year, $30-million offer from the Chicago Bulls in January before getting dealt to the Cleveland Cavaliers. The Bulls avoided the luxury tax with the deal, made in the wake of Derrick Rose's knee injury.
Deng, 29, is a two-time All-Star who will join Chris Bosh and expected-to-return Dwyane Wade and Udonis Haslem.
Anthony: It's official
Carmelo Anthony officially announced his decision to stay with the New York Knicks on his website, in a posting titled "My City, My Heart."
"I want to stay and build here with this city and my team," said Anthony, who thanked the other teams he met with — including the Lakers — for their interest.
The Knicks can pay the All-Star forward nearly $130 million over five years, though Anthony has said he would be open to taking less than the maximum salary if it would help build a winning team. They went 37-45 last season, the first time in his 11-year career he missed the playoffs, and hired former Lakers coach Phil Jackson as president in March.
Mavericks get Parsons
Chandler Parsons is going to the Dallas Mavericks after the Houston Rockets decided not to match the restricted free agent's three-year offer sheet worth more than $45 million. Parsons tweeted that he heard from Rockets General Manager Daryl Morey and owner Leslie Alexander about the team's decision.
The 6-9 small forward signed the offer sheet Thursday, and Houston had until Sunday to match. Parsons has averaged 14.1 points, 5.2 rebounds and 4.1 assists in three NBA seasons.
Etc.
The contract James signed with the Cavaliers is for two years and $42.1 million, a deal that gives him flexibility with the league's maximum salary expected to rise in the future. A person familiar with the negotiations but not authorized to comment publicly told Associated Press that James' contract includes an option for him to become a free agent next summer but that is strictly "a business deal." By signing for only two years, James can get another contract with the Cavaliers before the 2016-17 season, when a new television deal is expected to push the maximum salary higher than next season's $20.7 million. . . . Wade released a statement calling James "my brother" and saying he supports the four-time MVP's decision to leave Miami. . . . Free-agent point guard Brian Roberts who played for New Orleans last season, agreed to a two-year, $5.5-million deal with Charlotte.
---