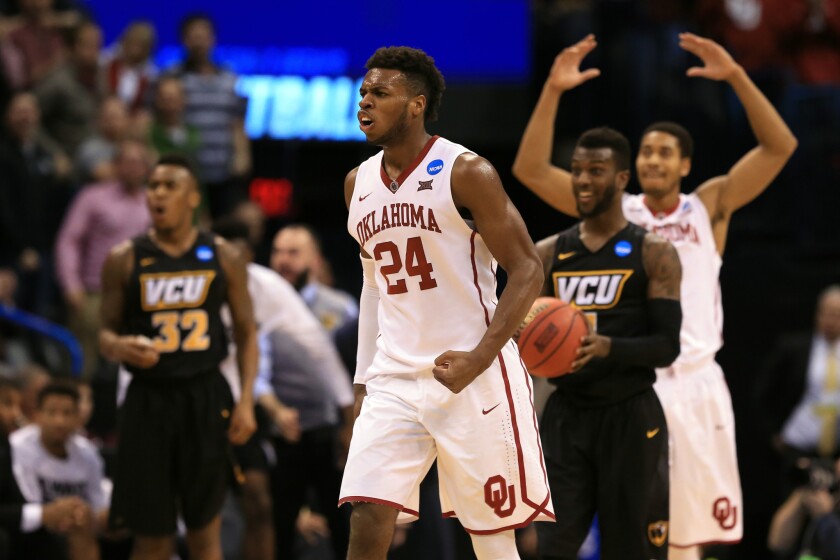 Kyle Lindsted's first sight of Buddy Hield is burnt in his mind like a brilliant tropical sunset. It was six years ago, when Lindsted, then the basketball coach at Sunrise Christian Academy in Wichita, Kan., was scouting a showcase in the Bahamas.
"He was just a little bitty guy with a smile and a dream," Lindsted, now a Wichita State assistant, said of Hield, who was a stringy 16-year-old high school sophomore. "I just fell in love with him from the very beginning."
The little bitty guy has grown into a strapping 6-foot-4, 214-pound senior guard whose long-range shooting skills have been compared to Stephen Curry. Hield has led Oklahoma to a NCAA West Regional semifinal at the Honda Center, where the Sooners will play Texas A&M on Thursday.
And the dream of signing a professional contract and lifting his family out of poverty is about to become reality. Hield, who is averaging 25.4 points a game and is one of four finalists for the Naismith Trophy, awarded to the nation's top player, is projected to be a top-10 pick in June's NBA draft.
But that smile? That hasn't changed a bit. Hield displays a joie de vivre that has fueled his team for four years.
"Unbelievable," Oklahoma assistant Chris Crutchfield said of Hield's infectious smile and attitude. "We knew that when we were recruiting him, that his personality, his demeanor, was so good. … He's a people guy, a team guy, a perfect fit. That was part of our attraction, that smile. He was always happy. He never had a frown on his face. He was always exuberant, always had energy."
Hield also has an off-the-charts work ethic that rubbed off on teammates. When Hield signed with Oklahoma after two seasons at Sunrise Christian, Lindsted told Sooners coaches they were not going to believe how much time Hield spent in the gym.
"They were like, 'Oh, man, that's a good problem, we can deal with it,' " Lindsted recalled. "Then, pretty soon, I got call from them saying, 'Man, you better tell Buddy to chill out and save his legs for the game.' "
Hield would work out for three hours — on game days. Coaches urged him to back off so he wouldn't wear down. "I'll tell you, we used to fight," Crutchfield said. Did Hield listen?
"No, no," Crutchfield said. "We're going on Year 4 now. He's still doing the same thing. He'll come in at 7 a.m. and shoot. Go to class. Come back at 11 a.m. and shoot. We practice at 2 p.m. for two hours. He'll come back, him and [guard] Isaiah Cousins, at 10 p.m. and shoot.
"His drive is unlike anybody I've ever seen. … When you see a guy in there doing what he's doing, you start looking around and you're like, 'Maybe I should get in there, too.' You start feeling guilty."
Hield's efforts to improve his ball-handling and polish his shooting stroke transformed him into a complete player who improved his three-point shooting more than 10 percent points, to 46.3% this season, and can create shots off the dribble.
"No matter who's in front of me, who's guarding me," Hield said, "I feel like I can get my shot off or go past you."
Hield, a two-time Big 12 Conference player of the year, has scored 30 points or more in 11 games, including a 36-point effort in which he torched Virginia Commonwealth for 19 points in the final eight minutes last Sunday.
"He could go for 40," Texas A&M Coach Billy Kennedy said. "He's a LeBron James type. You better not let a guy like that go off on you. We're going to pay a lot of attention to him and hope we can limit his touches."
There is no hesitation when Hield is asked where his work ethic and attitude come from.
"My mom," he said. "She's always positive, always filled with joy … she's always been my role model."
Hield grew up in the Bahamas, in a Freeport township known as Eight Mile Rock, with six brothers and sisters who slept in the same bedroom. His single mother, Jackie Swann, worked as many as three jobs, usually as a housekeeper and cook.
There was no hot water in the house, so Hield often awoke before sunrise to boil water for a bath. There was no local basketball court until Hield's teen-age years, so he made hoops by taping a milk crate or bicycle rim — spokes removed — to a light pole or the side of a shack.
"It was a dirt court, so I was always dirty," Hield said. "I'd stay there all day, come home, take a shower and go to sleep."
Despite his family's struggles, Hield has fond childhood memories because his home was filled with laughter, his mother's cooking and her oft-repeated mantra: "We may not have a lot of things, but it's enough."
Part of Hield's motivation to play in the NBA is to help his mother and siblings financially, "to make sure they have a better life," he said. Jackie has lived with Hield and two other sons in Norman, Okla., since late January, cooking and cleaning the apartment.
"I give her my bed," Hield said. "I sleep on the couch or the floor."
This unselfish act came as no surprise to the coach who coaxed Hield to the U.S. from the Bahamas six years ago.
"I'm real excited about where he is, but it's more than how good of a player he is — it's the way he does it," Lindsted said. "It's his charisma, attitude and work ethic. He's not entitled like so many kids you see today. He's really humble, really thankful. He's just a breath of fresh air."
Twitter: @MikeDiGiovanna
Times staff writer Zach Helfand contributed to this article.
---