Column: Shame on swimmers for feeding into the Brazil crime reputation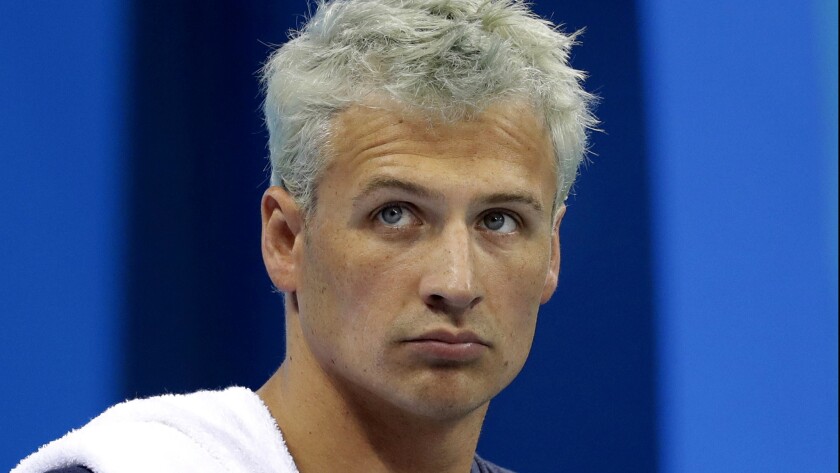 Reporting from Rio de Janeiro —
So you're Ryan Lochte (heaven forbid), you're an Olympic star with a dozen medals, you're a cool cat with bluish hair and a wry smile, and you're returning from a night in Rio with three Olympic teammates.
Someone orders the cab driver to pull into a Shell gas station so someone can use the bathroom, but then everyone allegedly destroys the bathroom, breaking a door, busting a soap dispenser and tearing down a poster.
Your band of idiots returns to the cab without apology or explanation and is prepared to drive to the Olympic Village when a security guard intervenes. The guy wants everyone to pay for the damages, a couple of your fools try to run, a gun is pulled and your boorish bunch finally shells out the equivalent of $50 and drives away unharmed.
So you're Ryan Lochte and you're embarrassed, but by the time you return to the Olympic village, you're also inspired. You're a media hound who suddenly has a story to tell, not the true but cowardly story of entitled American athletes breaking stuff, but a story that would make you seem tough and hip. That sort of story needs a patsy, so you think about it for five seconds and pick on the biggest patsy at these Olympics.
You blame it on Rio. You say you were yet another victim of the lawless Brazilian streets. You claim you were robbed at gunpoint by men posing as Rio policemen. You even mention somebody putting a gun to your head, because what's more gangster than that?
You figured nearly everyone here has ripped the city because of rampant crime, so why couldn't you? You guessed properly that blaming it on Rio was the one narrative Americans would believe, the one that could give you the most buzz.
Where you went wrong was failing to realize that Rio is not just a faceless collection of dirty beaches and criminal slums, but also millions of people with dignity and pride. Rio might be your punch line, but it's not their punch line, it's their home, it's their family. You didn't count on a city finally standing its ground.
This is how an Olympics flew off the track and out of the gym and ended up at an Ipanema police station Thursday where an official held a chaotic news conference during which he called the four American swimmers liars and distributed the video evidence to back it up.
"We don't have anybody here with a clown nose,'' said Fernando Veloso, head of Rio civil police, through an interpreter. "This is not a circus.''
Where was the tough guy? He had tucked tail and ran, back to the United States, leaving the three younger swimmers -- Jack Conger, Gunnar Bentz and Jimmy Feigen -- holding the star-spangled bag and unable to leave the country.
"The city of Rio had its name tainted by a very unreal and untruthful person,'' said Veloso. "If you say Rio is a violent city, you know, metropolitan centers have violence in their daily lives, Rio has that, it's true. The difference is how we face and how we overcome the violence we have here.''
Make no mistake, in these last couple of weeks, the overcoming has been difficult. There have been several high-profile Olympic crimes, beginning with the Games' security director being mugged outside Maracana Stadium immediately after the opening ceremony. A British athlete was reportedly robbed, several photographers had cameras stolen, and there were shots fired at the equestrian center.
Officials also cannot deny that a gun-waving security guard at a Shell gas station represents violence. Using that gun to get money from Lochte and his friends would be a crime in the United States.
But none of that excuses Lochte's preying on this city's reputation to improve his image. It is the worst kind of opportunism, one that defines ''Ugly American,'' and one that should cause reflection in everyone attending these Games.
The sort of exaggeration that Lochte built into fabrication has been heard often here. If you believe some folks at these Olympics, this teeming metropolis of 6 million is actually a dusty little burg of 600 with shootouts every day at noon.
It's a big city, with problems no different from any other big city, only they've had the Olympics foisted upon them in the middle of a economic collapse and they've been reeling under its weight. They didn't want these Games. They knew they couldn't handle these Games. The government is out-manned, overworked, mostly broke and struggling to maintain even the most basic Olympic foundation.
A guy watching an X-ray machine drops his chin to his chest in sleep. A replacement bus driver veers into the narrow streets of a dangerous slum because he's lost. Volunteers with wrinkled shirts and drawn faces lean against walls and close their eyes.
It's amazing more problems haven't occurred. It's shameful that swimming's world-record holder in the 100-meter knucklehead medley would prey on these soft spots and invent some.
"You've watched Brazil and Rio specifically get trashed over the last three days because of that original narrative," said Brian Winter, vice president of policy for Americas Society/Council of Americas. "It worsened this already existing perception that Rio is the Wild West, with a really graphic and scary story."
Lochte was never considered very bright, now he'll just be forever dumb. His coolness will chill. His sponsorships will disappear. He deserves every bit of everyone's disgust.
His teammate Feigen should also take heat for allegedly giving a similar false statement to police after Lochte went on his media tour. The other two swimmers, when detained here, allegedly told the truth. In the end, all four guys won relay gold medals here, but all will finish as a relay of losers.
Oh, and arrogant cheapskates. Included in their forthcoming apology should include remorse for believing that the reconstruction of a Rio bathroom is worth only fifty bucks.
bill.plaschke@latimes.com | @BillPlaschke
ALSO
Ryan Lochte keeps sponsors for the time being
A look at the swimmers who were with Ryan Lochte on that controversial night
Ryan Lochte joins list of greatest sports hoaxes and scams of all time
---
Get our high school sports newsletter
Prep Rally is devoted to the SoCal high school sports experience, bringing you scores, stories and a behind-the-scenes look at what makes prep sports so popular.
You may occasionally receive promotional content from the Los Angeles Times.