U.S. women's basketball veteran Sue Bird is helping to pass on legacy of excellence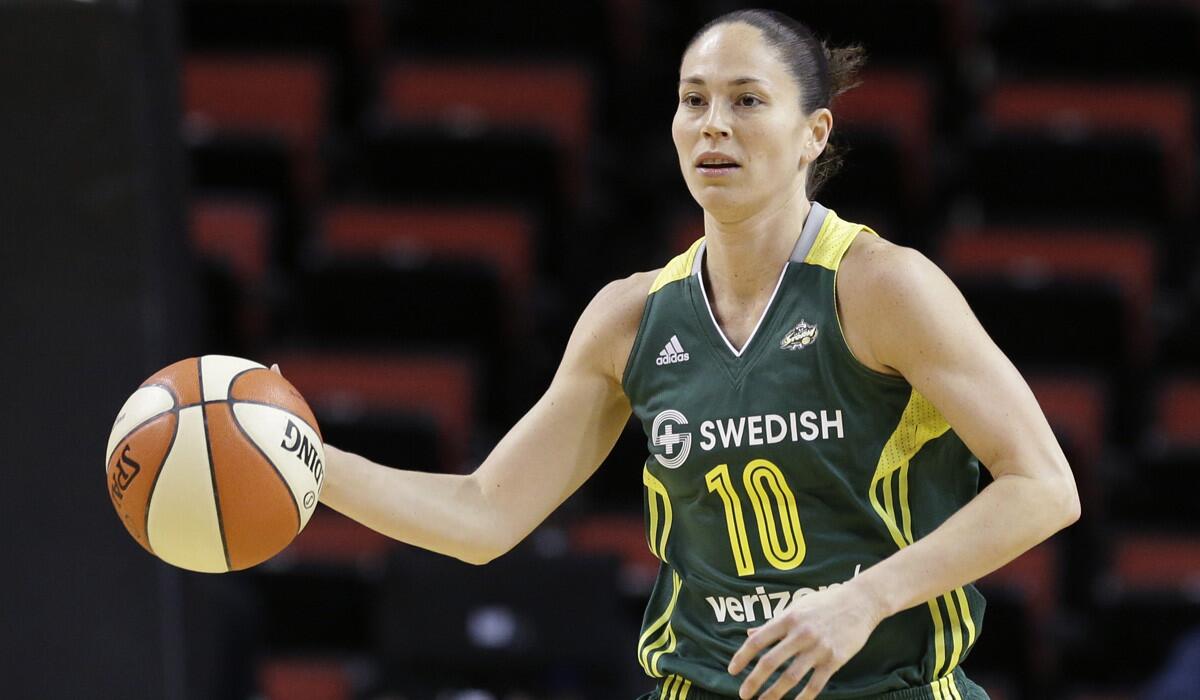 In a pre-Olympic exhibition game at the Galen Center on Monday night, USA Select team guard Jewell Loyd found herself up against a familiar face: Sue Bird, her teammate on the Seattle Storm and her elder by 13 years.
The 35-year-old Bird is a captain of the national team, with two WNBA championships, nine All-Star designations, two NCAA titles and three Olympic gold medals already under her belt.
Bird, along with her fellow veteran captains Diana Taurasi and Tamika Catchings, is leading the charge to earn their country a sixth consecutive gold and continue the unprecedented run that began 20 years ago.
Loyd's only major accolade so far is 2015 Rookie of the Year. Though she won't be heading to Rio de Janeiro, she scored 20 points in the 88-84 National team win, the first time the 12 stars on the Olympic roster played together in a game environment – many had been opponents as recently as Friday with their respective WNBA teams.
Ultimately, Loyd hopes to be passed the torch once the 2020 Games roll around. She said Bird has been "like an older sister," answering all of her questions on how to achieve the elite status Bird has enjoyed for more than a decade.
"My first Olympics, we had players like Dawn Staley, Lisa Leslie, Sheryl Swoopes," Bird said. "They showed us what it meant to be a part of USA basketball. How to carry yourself. How to play. How to play within the team. How to put the gold medal before anything else.
"… When you get older, you want to pass that on to the new crop coming in. Not only are you honored to be a part of the tradition, you want to make sure you're keeping it up."
Bird has done plenty to pass on the legacy of excellence, said 21-year-old Breanna Stewart, one of just three Olympic first-timers. She's played alongside Bird in Seattle in her rookie season in the WNBA.
"Growing up and watching these players, and now being able to be a part of it and play with them, you can't even put it into words," Stewart said. "I've talked to Sue a lot… The biggest thing I got from her was just enjoy this moment, enjoy the Olympics, because you don't know if it's going to happen again and you don't want to take that for granted."
Yet, Bird was careful not to overstate how much she's guided the younger players ahead of the Games.
"You want to help with little things here and there, maybe a packing list that will help them know what to expect, but for the most part you want someone to experience it on their own, create their own path, their own journey," Bird said.
Team USA Coach Geno Auriemma, who also coached Bird from 1998 to 2002 when she was in college at Connecticut, gushed about how impressive her enduring presence on the national team has been since her first Olympics in 2004.
"Here we are 12 years later, and she's still the best point guard in the world," Auriemma said. "Mentally she's always been at a different level than everyone else, and she's been able physically to keep up with that. I don't know if I would enjoy coaching this team if she wasn't on it."
Bird displays that mental toughness in the way she views the rapidly approaching trip to Rio, refusing to weigh its place in Olympic history or in her own storied career.
"I don't really like to get too sentimental. I feel that opportunity will come when you're done," she said. "We don't really talk about whether it's the first, second, third, fourth, fifth, sixth [gold medal]. We're talking about this team, this Olympics, right now.
"It doesn't really matter what you did in the past. The future doesn't matter, either. You just have to worry about the now."
Get our high school sports newsletter
Prep Rally is devoted to the SoCal high school sports experience, bringing you scores, stories and a behind-the-scenes look at what makes prep sports so popular.
You may occasionally receive promotional content from the Los Angeles Times.