Column:: Lindsey Vonn acknowledges Olympic glory is behind her after winning bronze in downhill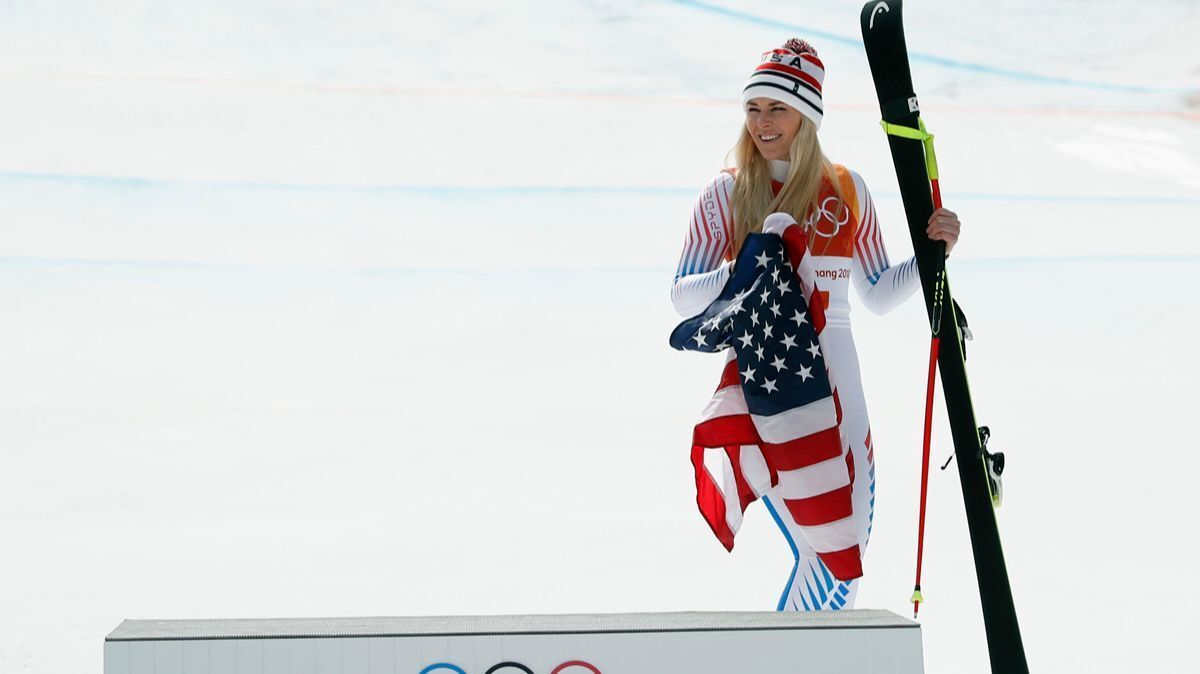 Reporting from PYEONG-CHANG, South Korea —
Some of the greatest athletes in the history ended their careers with spectacular performances that encapsulated their genius, such as when Kobe Bryant scored 60 points in his last game or Ted Williams homered in his final at-bat.
Others departed in embarrassment, if not downright disgrace. Muhammad Ali was defeated by the painfully mediocre Trevor Berbick. Zinedine Zidane headbutted his way out of a World Cup final.
These were outliers. Most iconic athletes have final acts that are somewhere between the two extremes, not great, not awful and not particularly memorable.
And so it will be that when Lindsey Vonn's career is revisited 20 or 30 years from now, reference materials will be required to recall the end. In what is expected to be her final Olympics, the greatest female skier in history won a bronze medal Wednesday in her signature event, the ladies' downhill.
Vonn will race again Thursday in the Alpine combined but isn't expected to contend for a medal. She tied for sixth Saturday in the super-giant slalom.
She completed the 2,775-meter course at the Jeongseon Alpine Centre in 1 minute, 39.69 seconds — 0.47 seconds behind winner Sofia Goggia of Italy. This race wasn't the best of her career, nor was it the worst.
Vonn wasn't Peyton Manning or John Elway, who won Super Bowls in their last games. She also didn't "ski off a cliff and die," as some President Trump supporters wished she would do for saying she wouldn't visit the White House if invited.
Perhaps the performance confirmed her suspicions that these Games will be her last. She plans to compete in the upcoming season, but can't envision herself still racing four years from now. At the age of 33, she has lost the capacity to astonish.
Asked if she would miss the Olympics, Vonn said, "Yeah."
She grunted and cleared her throat. She paused.
"I'm going to miss the Olympics," she said. "That's one of the reasons it was so emotional for me today. I love racing in the Olympics. I love being in the starting gate with so much pressure you feel suffocated, but somehow you will yourself to give everything you have and you throw yourself down the mountain in hopes of a medal. I'm absolutely going to miss it.
"I wish I could keep skiing. I wish my body didn't hurt as bad as it does."
Her record over the last eight years is a chronicle of one injury after another. She missed the previous Olympics, the 2014 Sochi Games, because of a knee injury.
Considering everything she overcame to reach these Games, Vonn was satisfied with her bronze medal.
"The last eight years have been full of ups and downs," she said. "A lot of downs I would say, especially from 2013 until now. But it's all made me who I am. It's made me a stronger person and it also makes you appreciate every opportunity that you have. I am so thankful to be here and to be on the podium in what's most likely my last Olympic downhill race. It is so difficult to be on the podium in the Olympics. I'm really proud to have another medal and to be on the podium with the next generation of the sport."
She couldn't compare Wednesday with when she won a gold medal in the event at the 2010 Vancouver Games.
"It's a different point in my career," she said. "The Olympic gold in Vancouver set the course for my career and I don't think it necessarily means more or less to me than this medal now, but it's a different experience. I was on top of the world then and I still feel like I'm on the world right now because I'm out here doing what I love to do. I just have a different understanding for life, you know? I was also younger. Now, I'm 33. In ski racing age, I'm over the hill. It's the perspective that I think is important."
Vonn was the seventh skier to race the course. The gold was out of reach from the moment she crossed the finish line. Goggia had skied two places earlier.
Vonn playfully wagged her finger at her rival, who later called her the greatest skier to ever live.
"We've been kind of doing that she-wins-I-win-she-wins-I-win kind of game all season and also last season here at the test events," Vonn said.
Vonn dropped from second to third when Ragnhild Mowinckel completed the circuit in 1:39.31.
Vonn was moved to tears not only by the thought of her career winding down, but also by memories of her late grandfather, who died on Nov. 1. He was 88.
She blew a kiss to the sky when she crossed the finish line as tribute to him.
"I wanted desperately to win for him today," she said. "I didn't do that, but I won a bronze and I think he would still be proud of me."
Follow Dylan Hernandez on Twitter @dylanohernandez
---
Get our high school sports newsletter
Prep Rally is devoted to the SoCal high school sports experience, bringing you scores, stories and a behind-the-scenes look at what makes prep sports so popular.
You may occasionally receive promotional content from the Los Angeles Times.