Former Narbonne running back Jermar Jefferson is making a good run at success with Oregon State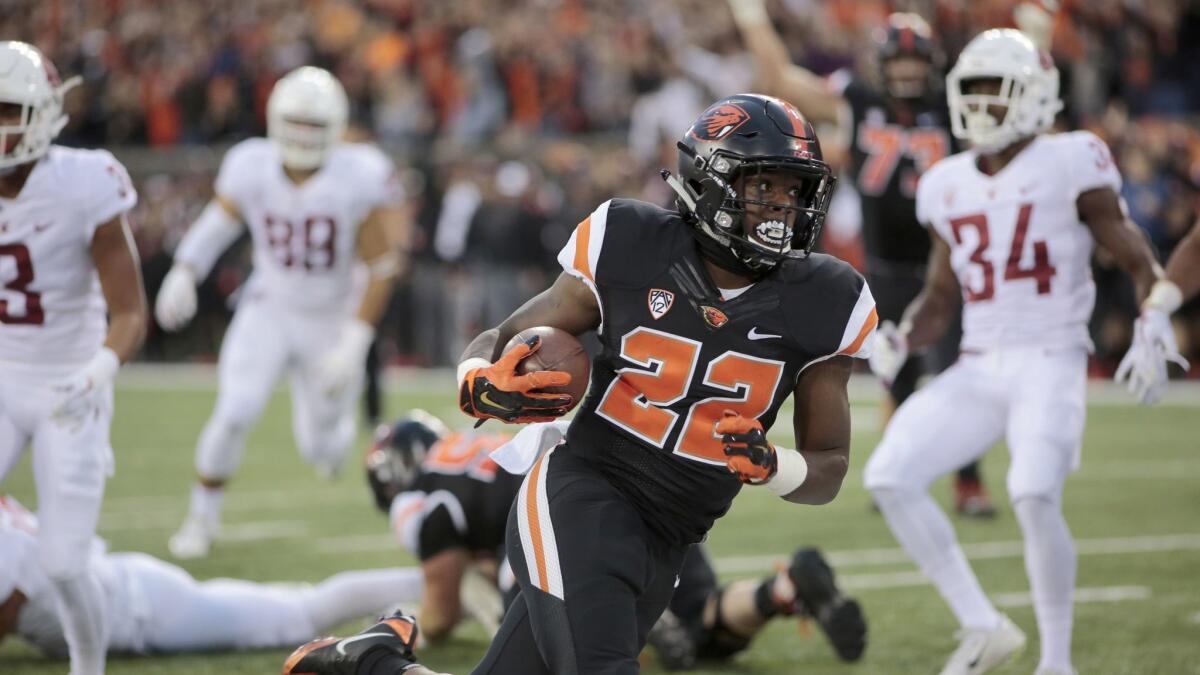 His back against a wall decorated with USC's logo, Clay Helton smiled at the memory. One Friday night last season, the USC coach blended into the crowd watching a Narbonne High football game.
Helton's eyes were on Jermar Jefferson, a senior running back from Harbor City with a sturdy frame and a polite disposition.
Jefferson received a couple of postcards and a phone call from USC coaches, and he told his uncle he wanted to play for USC. But the Trojans pursued other players as Jefferson set his sights on Oregon State, a school that sold him the second he stepped on campus.
"I came up here, it just felt like family," he said.
Jefferson's mother attended USC, and he grew up going to school blocks from the campus. But he signed with Oregon State in February, bringing his short overlap with Helton and the Trojans to an end.
"That one's going to be a pain in the butt," Helton recalled saying after watching Jefferson that Friday night. "And he is. He's a good runner."
A true freshman, the 5-foot-11, 211-pound Jefferson leads the Pac-12 Conference with 1,034 yards rushing and 12 touchdowns.
He will be the latest running back to test USC when the Trojans and Beavers meet Saturday at Corvallis, Ore. Jefferson estimated that at least 30 of his friends and family would travel from Los Angeles to watch.
On Thursday, teachers at James A. Foshay Learning Center in Los Angeles surprised Jefferson's mother, middle school teacher Tracy Green, by wearing Oregon State jerseys, supporting a student who once walked those halls.
"He's our local, hometown boy," said Michael Laska, a Foshay teacher who used Jefferson's statistics to show his Algebra 2 classes how to calculate rankings.
Not long ago, Jefferson was a relatively unknown recruit.
"Nowhere did we think he was gonna have the success he's had up to this point," said Michael Pitre, the running backs coach at Oregon State.
As is custom for freshmen, Jefferson played with other newcomers when he arrived on campus. But Pitre noticed almost immediately that Jefferson flashed speed and physicality at a level beyond his peers. After about four or five days of practice, Jefferson was placed with the starters.
"I was like, 'Man, already?'" he said.
The game was faster, and Jefferson had to break some high school habits. But his production continued because he remained hungry to improve, asking Pitre for additional feedback and working quickly to correct mistakes.
"Loves football," Pitre said of Jefferson, "loves competing, loves being with his teammates, loves the grind of it. … That makes it fun as a coach."
In Oregon State's season opener, Jefferson had eight carries for 47 yards in a loss at Ohio State. The next week, he gained 238 yards in 22 carries against Southern Utah. He carried 31 times against Arizona State in the season's fifth game and gained 254 yards. He is averaging 6.4 yards a carry.
"Jermar lives for the sport," his mother said.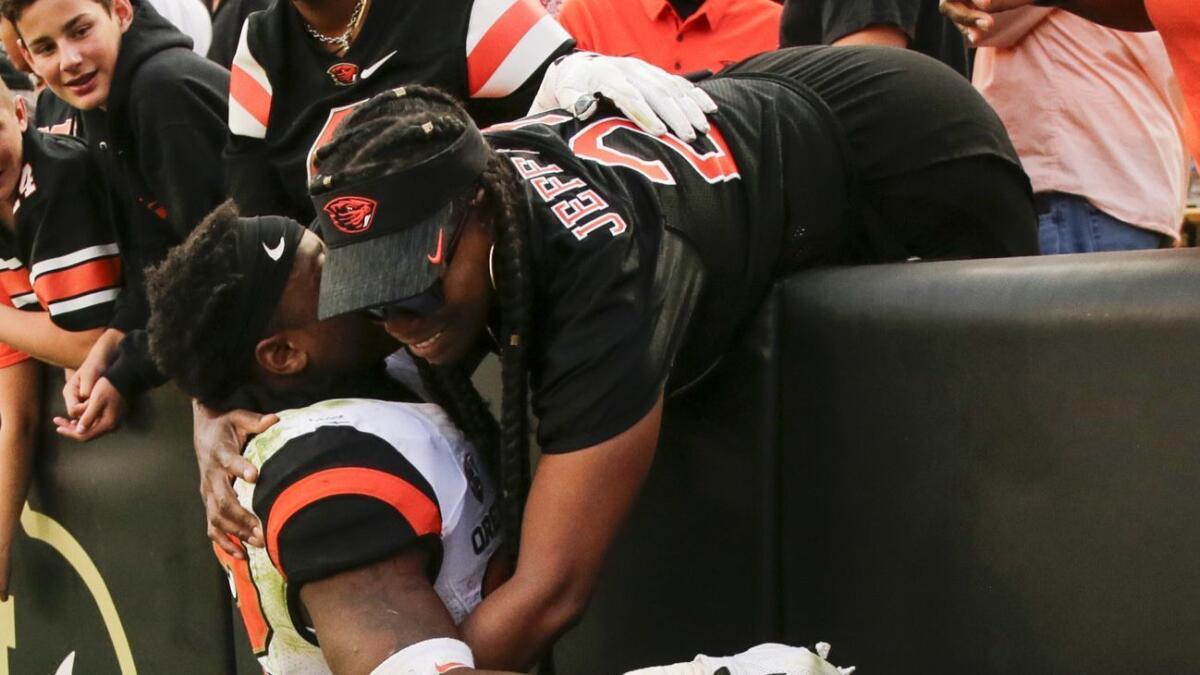 It was his desire to play that caused Jefferson to leave Foshay after eighth grade. He wanted to attend a school with a football team, so he lived with an uncle and went to Redondo Union High for three years.
But after his junior season, Jefferson was hardly noticed. Redondo played less competitive schools, and he didn't feel challenged. He switched to Narbonne for his senior year.
"Definitely I felt like I was overlooked by a couple coaches," Jefferson said.
In his one season with Gauchos, Jefferson rushed for 1,861 yards and scored 34 touchdowns to earn All-City Section honors and help Narbonne win a state championship.
Oregon State was among the schools that took notice. When Pitre was hired in the winter, he watched film of Jefferson and was drawn to him immediately.
The Oregon State coaching staff interviewed Jefferson's teachers, coaches and peers and heard raves about him. Jefferson impressed the coaches with his humility and gratitude at being seen.
"A kid that has this ability that's a low-ego guy," Pitre said. "Those are the type of guys that you want to build your program around."
Passersby stop Jefferson on Oregon State's campus to take pictures and ask for autographs. He gets recognized when he walks into local restaurants. After his huge game against Southern Utah in the home opener, he was shocked by kids lining up for him to sign footballs.
"Something I dreamed of my whole life …" Jefferson said. "Something I never thought was going to happen to me."
As Jefferson gained recognition, he remained the same player Pitre recruited. Even after multiple-touchdown games, he sought ways to improve. His goal is not personal success, but victories for the team.
Oregon State ended a road losing streak of 22 games last week with a 41-34 overtime victory over Colorado. The Beavers overcame a 28-point deficit, the greatest comeback in program history.
"I almost cried," Green said. "Like, to see him that happy."
Jefferson, who ran for 135 yards in 30 carries, roared on the sideline once the Beavers secured the victory. When he saw his mother after the game, he could not stop smiling.
Over and over, he kept repeating, "Mom, we won."
Get our high school sports newsletter
Prep Rally is devoted to the SoCal high school sports experience, bringing you scores, stories and a behind-the-scenes look at what makes prep sports so popular.
You may occasionally receive promotional content from the Los Angeles Times.