Oscar De La Hoya: My pick to win the Mayweather-Pacquiao fight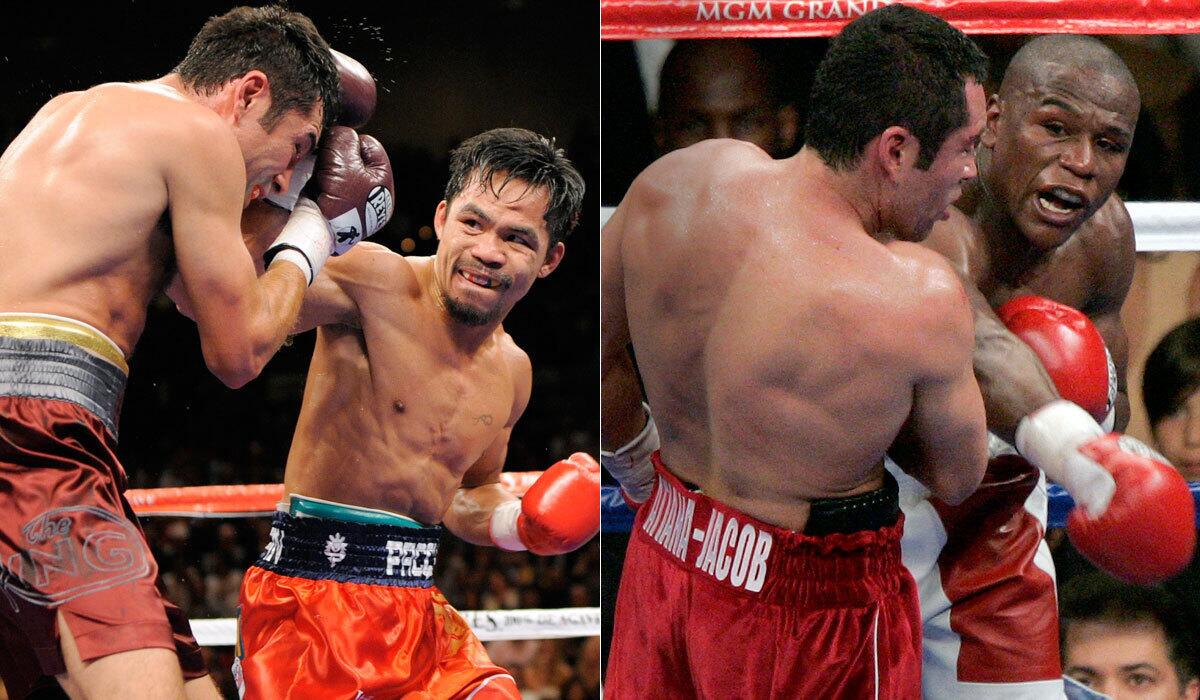 Oscar De La Hoya says the will to win is what separated Floyd Mayweather Jr. and Manny Pacquiao from other foes
Oscar De La Hoya is one of five men who have fought both Floyd Mayweather Jr. and Manny Pacquiao. The "Golden Boy" from East Los Angeles lost to both, and each battle was historic.
Read the Los Angeles Times' special edition Flipboard digital magazine Mayweather vs. Pacquiao.
De La Hoya's May 2007 bout against Mayweather stands as the biggest-selling pay-per-view card in boxing history. It generated 2.48 million buys, and was hyped in a cross-country tour that featured the breakout of Mayweather's "Money" persona. De La Hoya, trained for the bout by current Pacquiao cornerman Freddie Roach, was doing well in the first half of the match, but then his effective jabs all but stopped and he was beaten by split decision.
The next fall, De La Hoya's career ended when he retired on his stool after a dominating Pacquiao performance in which the Filipino star repeatedly beat the veteran to the punch.
The head of Golden Boy Promotions in Los Angeles — he'll promote his own Cinco de Mayo-themed fight card May 9 in Houston when junior-middleweights Saul "Canelo" Alvarez and James Kirkland fight — De La Hoya shared memories of his Mayweather and Pacquiao bouts with The Times' Lance Pugmire. And he offered his thoughts on how Saturday's Mayweather-Pacquiao fight at the MGM Grand in Las Vegas will turn out.
The will to win is what separated Floyd Mayweather Jr. and Manny Pacquiao from any of the fighters I've ever faced.
Manny Pacquiao's will to win is based off strength, conditioning and heart — being able to prove that he's better than you, physically.
With Mayweather, his will to win is more based on outboxing you, outsmarting you. I can't say outhustle you. Mayweather just outthinks you.
The credit that I give to Mayweather is he was able to recognize that past the eighth round, I was a wounded lion. When a wounded lion out in the jungle cannot eat anymore, he starves to death. That's exactly what Mayweather capitalized on. My jab, my most important weapon — not that I abandoned it — it just wasn't working for me anymore.
The wear and tear of my career caught up to me. I was 34 — an old 34. He makes you tire yourself out, and that's a credit to his defense. You can hit him on the arms and fists, and then once you get tired, he capitalizes, and does just enough to win the round.
Mayweather has that sneaky power. It can't knock you out, doesn't hurt, but if it surprises you, it can sting you. Look at Mayweather's last knockout, against Victor Ortiz [in 2011] and that was a punch that surprised Victor. He didn't expect that was coming at him.
Mayweather loves throwing the jab to the body. The reason he throws it is to obligate you to put that right hand down and then he can attack you to the chin. That's the combination he uses. He'll throw the jab to the body, feint you, then come back with his left hook. It was the same punch my former trainer Floyd Mayweather Sr. taught me . . . same punch I knocked out Fernando Vargas with in 2003.
The question now is whether that "just enough" that Mayweather likes to do is going to be enough to beat Pacquiao, who throws a lot of punches.
The way I describe Pacquiao is that he's a fly you can't shoo away. He seemed to be throwing thousands of punches at me, and I just couldn't get him off me. It wasn't that he hurt me — credit to my chin, the fact that I can take a punch — but it was like, "When are you going to stop throwing punches?"
For Pacquiao, I was a dead man walking before I even got into the ring because I had to get to 147 pounds. I went down to 140 a month before the fight and I hadn't seen 140 in ages. There's no excuse. He beat me. But I wasn't in the fight even before it started.
The thing with Pacquiao . . . if he's in great shape the way I know Freddie Roach is going to get him in, it could be a real interesting fight. If Pacquiao doesn't get tired, Mayweather is going to be shooing away that fly for 12 rounds, and Pacquiao might surprise him.
I'm inclining more, as the fight gets closer, to Pacquiao.
But Pacquiao has to really dig down deep inside and do a number on Mayweather. Can he take Mayweather out of his comfort zone?
Because if Mayweather stays in his comfort zone, then it can be an easy fight for himand a relatively dull fight, where Mayweather will just outbox Pacquiao, pot-shot him and put those rounds in the bag.
If Pacquiao can surprise him in the first two or three rounds, though, and get Mayweather where he has to catch him and come from behind, then it can be a very interesting fight.
That has to be Pacquiao's plan. Because if you allow Mayweather to box going backward, he's going to let you come in and expose yourself. And Pacquiao will be in trouble.
Mayweather can take a good punch. It's a tribute to his work ethic. He's a very hard worker. It can be very hard to knock him out.
But I wouldn't say it's impossible.
Bottom line: The smart money is on Mayweather. Look, it's Las Vegas, Mayweather's hometown. His picture's on the side of the MGM. The close rounds are going to go to Mayweather. It's big business. It's no secret.
MORE
Sign up for exclusive fight coverage
Full coverage: A-Z on the 'fight of the century'
Interactive: Inside the fight, check out the signature moves
Get our high school sports newsletter
Prep Rally is devoted to the SoCal high school sports experience, bringing you scores, stories and a behind-the-scenes look at what makes prep sports so popular.
You may occasionally receive promotional content from the Los Angeles Times.