Even after Triple Crown run, Art Sherman still definitely in the game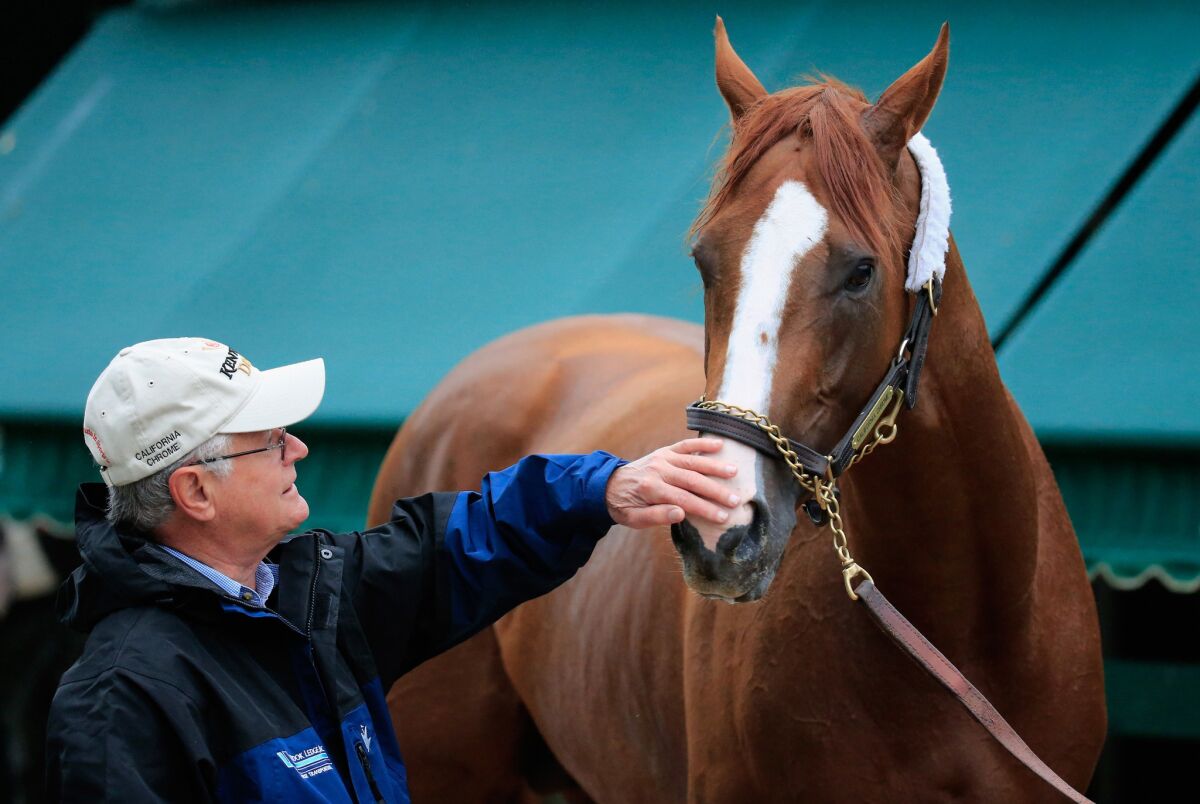 from BALTIMORE —
Celebrity in horse racing has the shelf life of a passing meteor. Thursday afternoon, Art Sherman's once streaking star was obscured in the overcast surrounding a Southern California freeway.
"Heading to Santa Anita," Sherman said, via Bluetooth. "Wish I was there. The Preakness sure was fun. We were all treated so well. I miss it."
What a difference a year makes.
Last May, Sherman was the toast of this town. Grandmas sent him lucky dollar bills. Restaurants named crab-cake concoctions after him.
His super horse, California Chrome, won the Kentucky Derby and added the Preakness two weeks later. He was a Triple Crown possibility, and Sherman handled it as if he had done this every year, even though in reality was he was a rookie.
"Bob Baffert texted me the other day," Sherman said, "and told me to come and be his PR person."
Throughout the 2014 run, the smile never left, nor did the willingness to accommodate the press and the public. From the Santa Anita Derby all the way through the Triple Crown miss at the Belmont, the spotlight was turned on and Sherman never once blinked.
But just because he turned 78 in February and spent much of Wednesday feeling every day of that while chasing around his 11-month-old grandson, there is very little about Sherman that indicates a final chapter in his training career is near.
Yes, California Chrome is no longer in stall 44 at Los Alamitos, the famous horse's longtime home.
"I miss seeing him there," Sherman admitted. "I have had a hard time with that."
And no, he is not enjoying the residual benefits of not having microphones struck in his face day and night and the same question being asked 50 different ways.
"I miss all you guys," he said, apparently meaning it.
For Sherman, life is good, except for the baby-sitting.
After Chrome ran second in the $10-million Dubai World Cup in March, earning an additional $2 million to bring his lifetime bankroll to $6.32 million, majority owner Perry Martin decided the horse's value would be enhanced by keeping him in Europe for a different style of training and a race or two. That meant moving him temporarily to European trainer Rae Guest.
"They run on grass, train in the hills and race clockwise," Sherman said. "I'd be a duck out of water."
But Chrome will return after running in the Prince of Wales's Stakes at Ascot on June 17. He was supposed to run on Preakness day in the Lockinge Stakes at Newbury in England, but Guest ruled that he was not yet ready, not quite recovered from Dubai.
"If he runs big at Ascot," Sherman joked, "then it will be 'Oh, no,' now I've got a turf horse."
Sherman will be ready, no matter what.
He is an old-fashioned dirt-track guy, and the thought of races such as the upcoming Pacific Classic in August at Del Mar make the smile brighter. He will also get to travel to England and watch the June 17 race. That's another experience, along with a trip to Dubai, that wasn't anywhere on Sherman's radar, even this time last year.
He also knows that, once Chrome gets back, he has only the rest of the summer and early fall to train and run him, because he will go to stud as a 5-year-old.
"We're sure looking at the Breeders' Cup, hopefully the Classic," Sherman said.
California Chrome was third in last year's $5-million Classic at Santa Anita. This year's event will be the last two days of October at Keeneland in Lexington, Ky.
Sherman's Triple Crown prominence certainly hasn't hurt his business. He has 20 horses in his barn at Los Alamitos and 12 of them are 2-year-olds. Not having California Chrome in stall 44 was eased a bit recently. Spectacularly.
Owners George Krikorian and Ed Allred bought a $160,000 yearling and sent him to Sherman.
"He has three white stockings," Sherman said. (Chrome has four).
"He has a white face." (So does Chrome).
"He is a little bit bitey." (So is Chrome).
"He is the same weight and same chestnut [as Chrome]."
His name, just settled on 10 days ago, is … ta-da: Macho Chrome.
And his residence? Stall 44.
"They really put it to me with that name," Sherman said, the chuckle almost a giggle. "He looks so much the same that it's stunning.
"I'm really grateful to these guys for giving me something to look forward to."
There may be significance here. The news of the existence of Macho Chrome came in the answer to a question about whether, in those 12 babies he is training, Sherman might have another candidate for the Triple Crown trail.
Many in horse racing thought that the run with California Chrome would be a nice retirement bonus for Sherman. Many apparently thought wrong.
For the respected and beloved Sherman, Thursday on the L.A. freeways led only to Santa Anita and saddling Heartbreak Honey in the third race.
But another meteoric run through racing's prestigious late spring is not inconceivable. Nor would it be unwelcome in the thoroughbred world.
Hey, Baltimore. Hold onto those Art Sherman crab cakes. Just in case.
Twitter: @DwyreLATimes
---
Get our high school sports newsletter
Prep Rally is devoted to the SoCal high school sports experience, bringing you scores, stories and a behind-the-scenes look at what makes prep sports so popular.
You may occasionally receive promotional content from the Los Angeles Times.