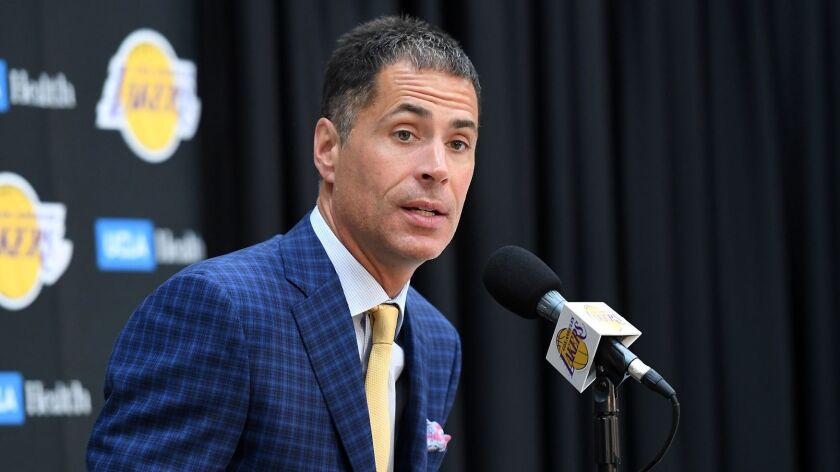 The hangover hit quick.
Hours after LeBron James agreed to join the Lakers last summer, with fans throughout Los Angeles still raising toasts to the King, he was followed into town by a misfit court.
Showing up first was Lance Stephenson. What? Here came JaVale McGee. Seriously? Next up was Rajon Rondo. Huh? Finally there was Michael Beasley. Really?
In buffeting the James acquisition with a bunch of aging and balky parts, Magic Johnson and Rob Pelinka followed their great coup with a giant crash. They stumbled through their encore and into the orchestra pit. They caused their celebrating city to awaken with a massive headache.
Nearly a year later, a nearly identical opportunity to build upon greatness has arisen once more.
In the wake of last weekend's titanic trade for Anthony Davis to join James, the Lakers are charged with surrounding two of the best five players in the NBA with enough pieces to fortify a legitimate title run.
This time, the future of the franchise depends on Pelinka not screwing it up again. This notion takes an ominous turn when one considers the possibility Pelinka might have screwed it up already.
Did you read the Tania Ganguli horror story in Monday's Times? While it was widely assumed at the time of the trade that the Lakers could use their salary-cap space to sign a max contract free agent such as Kyrie Irving, Kemba Walker or Kawhi Leonard, apparently the fine print in the NBA rules won't allow it.
The trade for Davis is scheduled to be official July 6, which, for some complicated salary-cap reasons, won't give the Lakers the space to sign a top guy.
The Lakers would prefer that the deal become official July 30, which would give them enough space to make their next big splash, but the New Orleans Pelicans aren't inclined to wait that long.
As part of the Davis deal, they acquired the Lakers' No. 4 overall pick in Thursday's draft, and they want to acquire that kid as soon as possible so he can play on their July summer league team. If they trade the pick, they're assuming any other team would want the same benefit.
It's all very complex, but it's all very simple. Couldn't Pelinka have made the later trade date part of the deal? Shouldn't it actually have been a sticking point? Goodness, he gave New Orleans a haul of three first-round draft picks and three of his best younger players. Couldn't the Pelicans have at least given him those extra three weeks?
Pelinka is not talking, so we don't know what happened. There is a chance he asked for the later date and was immediately refused. But there is also a chance that he didn't consider the salary cap ramifications until it was too late. The Pelicans simply could decide to give them the later date, but that could cost the Lakers another player or more money.
Whatever happened, for now it appears Kyrie, Kemba and Kawhi are out, and this unavailability will make Pelinka's job a lot more difficult and test the faith of his critics even more.
Instead of simply signing another superstar and sealing this title run with $32.5 million in cap space, he will have to find two or three solid players for as little as $23.7 million in cap space, and does anybody trust that he can do that?
Anthony Davis cuts down the net after Kentucky defeated the Baylor 82-70 in the NCAA tournament South Regional final on March 25, 2012, in Atlanta.
(Streeter Lecka / Getty Images)
Kentucky head coach John Calipari and Anthony Davis embrace after defeating Kansas 67-59in the NCAA tournament final on April 2, 2012, in New Orleans.
(Charles Bertram / MCT)
Kentucky's Anthony Davis reacts late in the second half against the Louisville Cardinals during the 2012 NCAA semifinals.
(Ronald Martinez / Getty Images)
Kentucky's Anthony Davi is congratulated by former teammate Michael Kidd–Gilchrist after Davis was selected the No. 1 overall draft pick by the New Orleans Hornets on June, 28, 2012.
(Bill Kostroun / Associated Press)
Kentucky coach John Calipari and Anthony Davis in the audience during the 2012 ESPY Awards at Nokia Theatre on July 11, 2012.
(Jason Merritt / Getty Images)
Hornets forward Anthony Davis knocks the ball from the grasp of Lakers forward Pau Gasol during a game in 2013.
(Robert Gauthier / Los Angeles Times)
Hornets forward Anthony Davis battles Wizards forward Martell Webster for a rebound.
(Associated Press)
Pelicans forward Anthony Davis dunks against the Clippers during a game on Nov. 11, 2017.
(Scott Threlkeld / Associated Press)
Pelicans forward Anthony Davis and Miami Heat guard Dwyane Wade trade jerseys after a game Nov. 30, 2018, in Miami.
(Brynn Anderson / Associated Press)
Pelicans forward Anthony Davis tries to grab a rebound from Clippers center DeAndre Jordan on March 6, 2018.
(Wally Skalij / Los Angeles Times)
Pelicans forward Anthony Davis reacts after a slam dunk during the second half of Game 3 of a second-round NBA basketball playoff series against the Golden State Warriors on May 4, 2018.
(Gerald Herbert / Associated Press)
Pelicans forward Anthony Davis leaves the court after talking to reporters on Feb. 1, 2019, shortly after his trade demand became public.
(Gerald Herbert / Associated Press)
Pelicans forward Anthony Davis has the ball stripped by Lakers guard Rajon Rondo during a game in 2019.
(Wally Skalij / Los Angeles Times)
Lakers forward LeBron James and Pelicans forward Anthony Davis after a March game in New Orleans. The Lakers won 130-102.
(Tyler Kaufman / Associated Press)
Pelicans forward Anthony Davis dunks against the Lakers during a game last season.
(Wally Skalij / Los Angeles Times)
He will be assisted in this summer's search by Kurt Rambis instead of the globe-trotting Johnson, whatever that's worth. And the Lakers are suddenly a great destination for some strong veterans chasing a ring, so that helps.
They need an entire backcourt, and a good place to start might be with former Clipper JJ Redick. Would they be so bold as to try to sign former Laker D'Angelo Russell if he becomes available? In filling out the roster with shooters, how about bringing back Milwaukee's Brook Lopez or his teammate Khris Middleton? If they're looking for another championship veteran, there is Toronto's Danny Green.
The truth is, none of these options sound nearly as appetizing as one of those max-deal players who have been promised to Lakers for the last two summers. The news of the salary-cap snag at least temporarily throws a wet blanket over news of the Davis deal, and could eventually suffocate its promise altogether.
Remember, unlike James, Davis has not signed a long-term deal here yet. He has said he wants to be a Laker, but that doesn't mean anything until next summer, so the Lakers are basically in a one-year audition for his services. Pelinka must build a roster that will not only maximize Davis' ability, but also convince him to make this his permanent home.
Sign up for our daily sports newsletter »
So, really, trading for Davis was difficult, but now comes the hard part: Keeping him.
This was still a tremendous deal, and the rest of it can be figured out. There are still many ways Pelinka can work the system, fill the holes and finish the job. The Lakers can still win an NBA title by adding a solid playmaker and shooter, and they don't have to be superstars.
But they have to be the right stars. And, after last summer, and in the wake of Sunday's news, one can be forgiven for being just a tad cynical about Pelinka's chances of finding them.
Welcome to Lakerland, A.D. Having fun yet?
Get more of Bill Plaschke's work and follow him on Twitter @BillPlaschke
---