Reporting from wimbledon, england —
It was more a canvas than a court.
For nearly five hours Sunday, Novak Djokovic and Roger Federer, relentless rivals atop the tennis world, were pure artists, placing the ball with surgical precision, sliding acrobatically across the grass, somehow getting their rackets on dropshots that should have been out of reach.
In the end, it was top-seeded Djokovic who emerged victorious by the narrowest of margins, 7-6 (5), 1-6, 7-6 (4), 4-6, 13-12 (3), winning his fifth Wimbledon singles title in the first championship decided by final-set tiebreak – a rule put in place by the tournament in October.
"It was probably the most mentally demanding match I've ever been a part of," said Djokovic, who successfully defended his Wimbledon title. He was all but impassable, a human back-to-backboard.
"It was one shot away from losing the match," he said. "This match had everything, and could have gone [Federer's] way."
The final was the longest ever – four hours, 57 minutes – nine minutes longer than the 2008 classic between Federer and Rafael Nadal. Sunday's match also had the longest rally on record for a final, at 35 strokes.
But when asked in the aftermath if this is a match everyone will remember, a dejected Federer cracked a half-smile and said, "I'll try to forget."
That isn't just because he lost, but because he blew a golden opportunity to win, leading 8-7 in the fifth set and serving, 40-15. Djokovic saved consecutive match points to stay alive and eventually set up a third tiebreaker – and he was 3-0 in those.
"I just feel like it's such an incredible opportunity missed," Federer said. "I can't believe it."
Djokovic triumphed despite most of the crowd pulling for the 37-year-old Federer, such an overwhelming fan favorite that his headband might as well have been a halo.
"It's hard to not be aware," Djokovic said of the rooting disparity. "You have that kind of electric atmosphere, that kind of noise, especially in some decisive moments where we're quite even. It's one way or another. The crowd gets into it. "Of course, if you have the majority of the crowd on your side, it helps, it gives you motivation, it gives you strength, it gives you energy. When you don't, then you have to find it within, I guess.
Djokovic said he tries to ignore the cheers sometimes, and trick his mind when necessary.
"I like to transmute it in a way," he said. "When the crowd is chanting 'Roger' I hear 'Novak.' It sounds silly, but it is like that. I try to convince myself that it's like that."
In winning his fifth Wimbledon title, Djokovic draws even with Bjorn Borg (1976-80). The only men who have more are Pete Sampras (seven) and Federer (eight).
"When I was a boy, 4 or 5 years old and dreaming to become a tennis player one day, this always has been the tournament for me, where I wanted to participate, where I wanted to win one day," the Serbian star said. "I used to make the trophies out of different materials in my room, and just imagining one day I'd be standing here."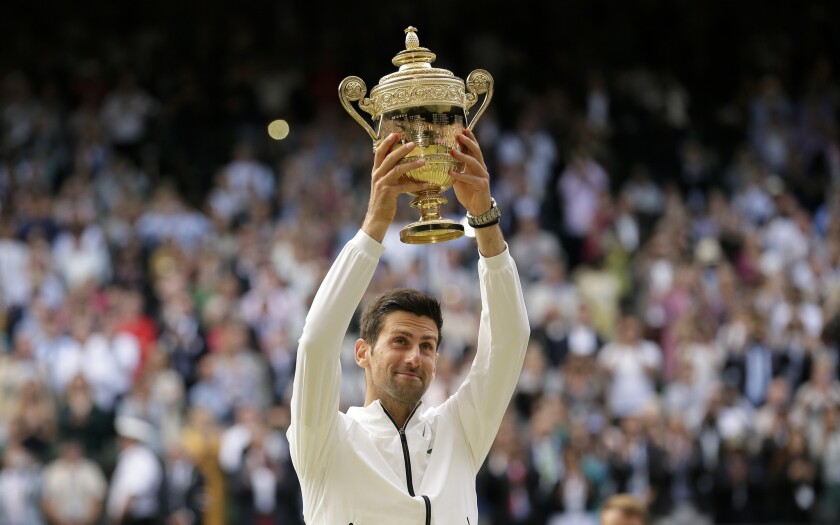 The match commanded top dollar on the secondary market, with the least-expensive tickets Saturday on Stubhub.com going for $5,500. Among the celebrities, other than the royal family, watching from the royal box were Jeff Bezos, Benedict Cumberbatch, Stefan Edberg, Chris Evert, Rod Laver, John Newcombe, Ed Norton and Stan Smith.
This was the 16th meeting between Djokovic and Federer at a major championship, an Open era record for men at Grand Slam tournaments.
Sign up for our daily sports newsletter »
With the victory, Djokovic tied Nadal for the most career victories over Federer (10) at majors. Overall, the two were playing each other for the 48th time, with Djokovic holding a 26-22 edge – including 3-1 on grass courts, all at Wimbledon.
At 37 years and 340 days, Federer was looking to become the oldest player to win a Grand Slam event in the Open era (since 1968).
He was asked to compare Sunday's match with his marathon loss to Nadal in the 2008 final, widely regarded as the greatest match in tennis history.
"Well, this one is more straightforward maybe in some ways because we didn't have the rain delays, we didn't have the night coming in and all that stuff," he said. "But sure, epic ending, so close, so many moments. Yeah, I mean, sure there's similarities. But you got to go dig, see what they are. I'm the loser both times, so that's the only similarity I see."
Twitter @LATimesfarmer
---