Is golfer Bryson DeChambeau one of a kind or the start of something big?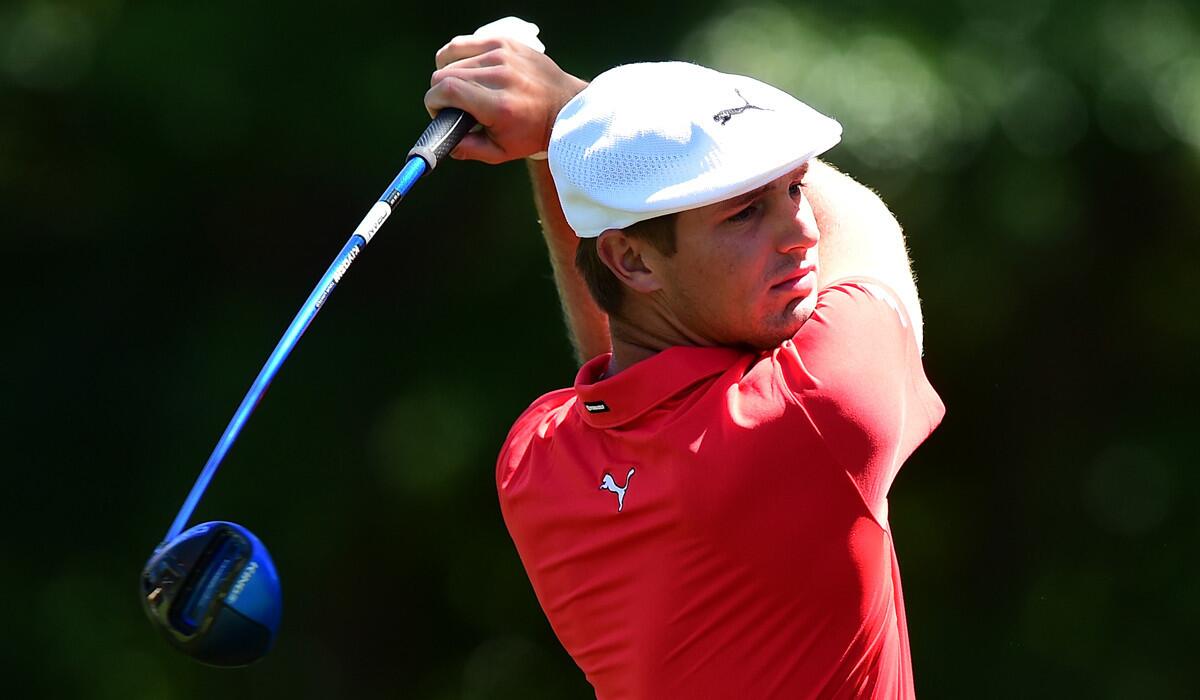 Golf is an enormously derivative game.
One club manufacturer inserts movable weights into a driver and a bunch of companies follow. One player starts having success with a particular putting method and he's inundated with questions around the practice green.
So what are we to make of the arrival and success of Bryson DeChambeau and his one-plane swing and single-length clubs? Are we on the verge of a golf revolution that will see weekend golfers flock to DeChambeau's methods, or are we just settling in to watch one very unique guy's journey?
We know this: DeChambeau has our attention. When he won the NCAA and U.S. Amateur championships last year, he put himself into an elite group. Only four others had captured those titles in the same year.
Then the 22-year-old contended into the weekend at the Masters. And in his first tournament as a pro last week in Hilton Head, S.C., DeChambeau tied for fourth, earning $259,600.
The former Southern Methodist star gets his next start this week in the Valero Texas Open in San Antonio.
With each strong finish, DeChambeau seems to be moving from being a curiosity to a potential game-changer.
"Nobody has ever seen this, someone at this level using single-length clubs," said Kip Puterbaugh, the director of the Aviara Golf Academy in Carlsbad and the No. 8-ranked instructor in California by Golf Digest.
"Your tendency, for the average golfer, is to say, 'What do you want to do that for?' But if Bryson DeChambeau wins a couple of tournaments [on the PGA Tour], there will be a lot of people out there who want to try single-length shafts. People are always looking for answers."
Whether the average golfer can benefit from such a method is very much up for debate.
"It's interesting," Puterbaugh said with a chuckle. "I've spent 43 years teaching the golf swing, and I'm very interested to see what's going to happen. I don't know enough to be able to give you a yay or nay."
To simply grasp what DeChambeau is doing is a chore in itself.
All of his irons are the same length — 37 1/2 inches, which equates to the normal length of a six-iron. Each clubhead weighs the same — just under 10 ounces. His grips are extra-large because he uses his palms rather than fingers to hold the club, and they also counterbalance the clubhead weight.
As opposed to other pros, DeChambeau stands extremely upright and close to the ball and swings on a single up-and-down plane, which requires that he not cup his wrists or roll them after impact.
The method's large upside is that DeChambeau never has to alter his ball position or swing to accommodate a different club length. In theory, it's the same swing every time, which can make him a ball-striking machine when he's on.
"You have to hold your hands pretty stable through the ball," Puterbaugh said. "Because with that much uprightness, the club wants to shut down and you're going to have the ball go left. I don't like the look of a club being that upright — most amateurs are too upright anyway — but he's obviously figured out a way to make it work."
An even larger challenge for amateurs trying the technique would come in managing shot distance.
In a regular set, distance is produced by the length of the shaft and the loft of the clubhead. The shorter the shaft, the less swing speed is required — and that usually means the shorter clubs are more accurate.
For same-length clubs, the swing speed is essentially the same with each club, so the difference in distance has to come through the engineering of the clubhead (more heft for a five-iron; less weight for a nine-iron), and those with average swing speeds might not be able to take advantage of the differences.
"It's going to take a revolution for this to fully take shape," David Edel — whose Texas company, Edel Golf, makes DeChambeau's custom clubs — told Golf Digest. "Basically, it's going to require fitting the ideal length and lie angle to every golfer."
Upon turning pro, DeChambeau signed an endorsement contract with Puma and Cobra, and Carlsbad-based Cobra already has made a couple of sets of single-length irons for DeChambeau. He's not yet using them on the tour, but it figures he probably will at some point, which might then open the door for Cobra to introduce sets for the general public.
As of now, only a handful of boutique club companies — Wishon Golf, Value Golf and 1 Iron Golf — offer single-length sets.
They were either early to the revolution ... or one man's very effective fad.
Get our high school sports newsletter
Prep Rally is devoted to the SoCal high school sports experience, bringing you scores, stories and a behind-the-scenes look at what makes prep sports so popular.
You may occasionally receive promotional content from the Los Angeles Times.