Column: Friedman's long-term vision vs. Dodgers' fans win now mentality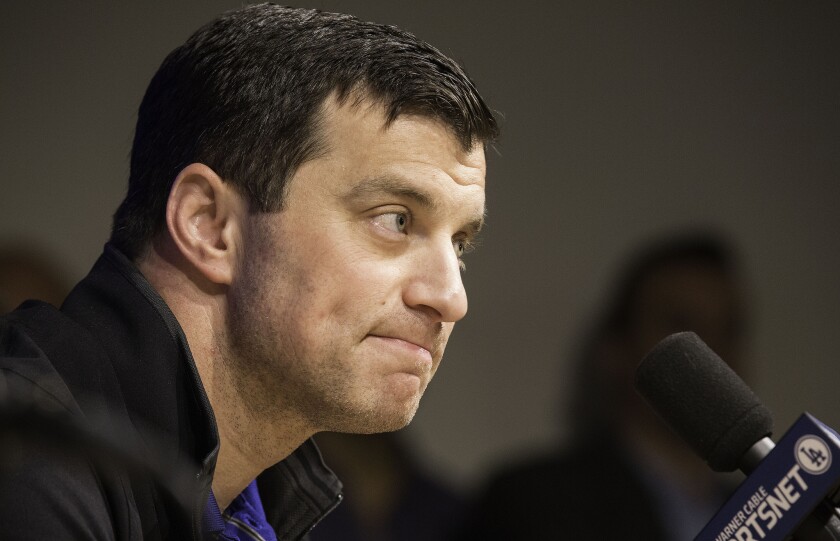 Whatever Andrew Friedman's faults, a lack of courage isn't one of them.
The Dodgers' president of baseball operations offered a reminder of that in an extensive interview with The Times' Bill Shakin last week.
As he explained his plans for the Dodgers, Friedman shared a variety of opinions that didn't sit well with the team's impatient fan base.
Rather than categorize anything short of a World Series championship as a failure, he said he considered a division title a symbol of success.
Rather than say he was all-in for the upcoming season, he spoke of sustainability.
Rather than promise to pursue high-priced free agents, he explained the importance of balance and depth.
What was long suspected became official: His thinking doesn't reflect the fans' wishes.
The fans want stars and championships and they want them now.
The result is that Friedman can't afford to fail, not even for a single season. Fans are already skeptical of him. If the Dodgers don't make the playoffs this year, he will be branded the second coming of Paul DePodesta.
But Friedman believes in his analytics and his long-term vision, and he's determined to stick with his plan.
This uncompromising commitment is worthy of admiration. He isn't making moves for the sake of placating fans, whether it's by re-signing a star free-agent such as Zack Greinke or keeping popular players such as Matt Kemp or Dee Gordon.
But there is significant risk in doing business like this. If the team disappoints, his boldness will be interpreted as arrogance. His mistakes will be used to attack his entire philosophy.
Friedman's plan centers on the development of the organization's top prospects. But a large percentage of them are still in the lower tiers of the minor leagues, delaying the full implementation of his vision for a couple more years. If the Dodgers have a down season before the prospects arrive, how will the team's owners react?
Based on how they have backed Friedman's spending of tens of millions of dollars to sign teenagers from Latin America, they appear to be on board with the plan. But crisis often elicits unexpected responses, and any downturn in the Dodgers' fortunes could be damaging to the brand.
Though Friedman might perceive the upcoming season as the next step of a rebuilding process, it marks a potential crossroads for him. It could determine how Los Angeles defines him.
Speculation is mounting that Jose Mourinho will be the next manager of Manchester United.
Though Mourinho has an incredible track record -- along with winning European championships with Porto and Inter Milan, he ended Chelsea's 50-year title drought in England -- hiring him should be far from a no-brainer for United.
United is known not only for winning, but winning attractively. Mourinho is no stylist, so much so that comedian Will Ferrell mocked his defensive inclinations at an award show last year. But made desperate by two disastrous coaching appointments in the post-Alex Ferguson era, United is willing to sacrifice style if it can reclaim its place atop the English Premier League.
This is a dangerous game, as Real Madrid discovered. Real was long viewed as something like a Tolstoy or Proust of the soccer world, its wealth more admired than begrudged because of how it was used to create the sport's equivalent of high art. But as Real was surpassed by Spanish archrival Barcelona, the club's priorities became less about aesthetics and more about results. So, in 2010, Real turned to Mourinho. His three-year reign was a failure, as Barcelona's dominance continued and Real lost what once made them so endearing. Real still hasn't recovered.
These are sad times for Roy Jones Jr.
The clear-cut No. 1 boxer of his generation, Jones remains active at 47.
Jones is now participating in some kind of weird online pay-for-view publicity stunt, in which he is scheduled to fight a fan on March 20 in Arizona. Aspiring combatants -- Bill Plaschke? -- can apply to be Jones' opponent by submitting a 90-second video online. If the chosen fan defeats Jones, he will receive a $100,000 prize.
Norm Frauenheim of Ring Magazine is reporting that Jones' opponent will be required to have professional fighting experience, but this is still pretty farcical, even by boxing's low standards.
Jones was breathtaking at his peak, as he possessed an unmatched quickness of hand and foot that allowed him to create his own unorthodox style. He threw few jabs, preferring to lead instead with left hooks and straight rights. His ability to leap in from the outside spared him from standing within an opponent's punching range.
This unorthodoxy, which once made him special, explains why he's now doing what he's doing.
---
Get our high school sports newsletter
Prep Rally is devoted to the SoCal high school sports experience, bringing you scores, stories and a behind-the-scenes look at what makes prep sports so popular.
You may occasionally receive promotional content from the Los Angeles Times.