Rafael Nadal withdraws from Paribas semifinal against Roger Federer because of knee injury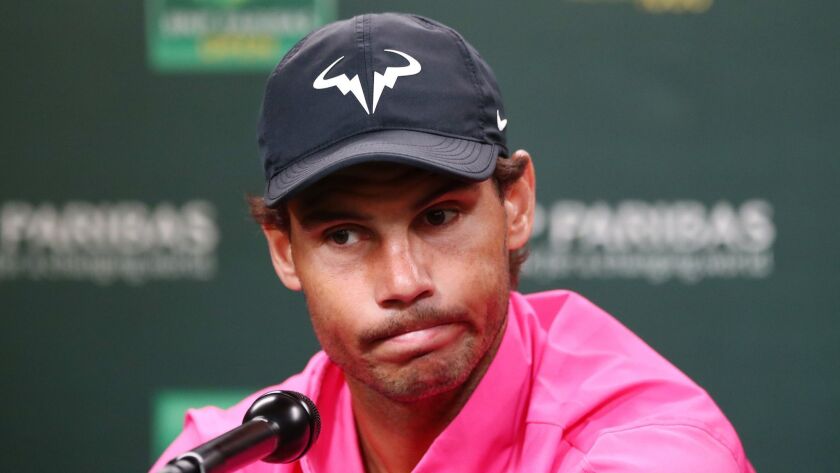 Rafael Nadal withdrew from his scheduled semifinal match against Roger Federer at the BNP Paribas Open on Saturday because of an injured right knee, canceling what would have been the 39th match between the two great players. As a result, Federer advanced to the final Sunday, where he will face Dominic Thiem of Austria.
Thiem advanced to the final with a 7-6 (3), 6-7 (3), 6-4 victory over Milos Raonic. Federer and Thiem are 2-2 in career head-to-head matches. The winner on Sunday will earn $1,354,010.
Nadal, who will be 33 in June, is ranked No. 2 in the world. He holds a 23-15 edge over Federer in a rivalry that has become a classic occasion in sports.
He said at a hastily called news conference Saturday at the Indian Wells Tennis Garden he plans to go home "and try to do a transition to clay and be 100%."
That means he will skip next week's hard-court tournament in Miami. He said he had no doubts he would be ready to play on clay — his favorite surface — in an event in Monte Carlo in mid-April but added he would "need to check with my people what's the best way to proceed now. It is a situation that we were not expecting at this point, so now we need to adjust a little bit all the calendar."
Nadal had indicated after his quarterfinal victory over Karen Khachanov on Friday that he was unsure he'd be able to play Saturday, but he didn't go into great detail after that match.
"I felt that something happened in the knee and was not the moment to talk about that because remain 24 hours before the semifinal and I wanted to try my best to be competitive today," he said Saturday.
"I warm up today in the morning, and I felt that my knee was not enough good to compete at the level that I need to compete, to play semifinals match of this event."
Sign up for our daily sports newsletter »
Missing another chance to face Federer did not bring Nadal extra disappointment because he was looking at the bigger picture. It would have been their first meeting since the 2017 ATP Masters 1000 event in Shanghai. Federer has won their last five matchups.
"For me, is not about only today. It's about what means for me to have to pull out in a tournament that I love so much, like this one, and in the semifinals after playing well during the whole tournament," Nadal said. "You can imagine that I can't be happy. So that's all, yeah.
"Sometimes is tough and can be frustrating, for me, sometimes personally to go through all this stuff."
---
Get the latest on L.A.'s teams in the daily Sports Report newsletter.
You may occasionally receive promotional content from the Los Angeles Times.