Sparks forward Essence Carson aims for the right notes in basketball and music
Grandma's upright piano stood still in her basement, out of tune and time.
The pedals sat disconnected, limiting the instrument's subtlety, and the brown wood was cracked and splintered. Grandma knew only three songs. Soon, so did her granddaughter.
The child fastened the pedals with rubber bands and graduated from the three songs — "Lean On Me," "Heart and Soul" and one more she can't remember — to an array of compositions.
Essence Carson can no longer recall the piano's brand or its specific kinks and crevices. Childhood is well behind the 32-year-old. But after the starting forward for the Sparks plays the defending WNBA champion Minnesota Lynx on Thursday at Staples Center, she may go home and, as she sometimes does, work on musical compositions of her own.
She can thank grandma's piano.
"Of course, there were better ways to connect it," she said of mending the broken pedals, "but when you're 8, you know."
She can also thank her grandfather. His Temptations, O'Jays and Commodores records filled Carson's Paterson, N.J., home when she was growing up. And she can also thank her father, who died when she was 11 but ingrained a love for hip-hop in his daughter by exposing her to artists like Busta Rhymes, LL Cool J and Tupac Shakur, among many others. But her musical journey started with grandma's piano, and it continued when she learned to play the saxophone.
Soon after, she started playing basketball.
It wasn't serious at first. Soon, though, she saw overlap with music.
"I was drawn to the game for the same reasons I was drawn to music, actually. I believe sports is how a lot of kids in the inner city get their creativity. We gotta create something out of nothing all the time. All of the time," she explained in a piece written for the Players' Tribune. "When you have less, you create more."
Carson attended the Rosa L. Parks School of Fine and Performing Arts to hone her musical abilities while competing athletically for Eastside High. When her two great passions came into conflict, there was little doubt recitals came before games.
"[Now] it's just flipped around," the 11-year WNBA veteran said. "But I learned time management at an early age because of that."
Aside from her work as an artist, Carson also works full time as a manager at Priority Records, the label that once featured Compton-based rap group N.W.A. and the fictional claymation-produced band the California Raisins.
Her duties focus on production, but not the creative kind. Rather, she's responsible for "handing all the stuff from before the music comes out." That means distribution, finance and generally ensuring the music is released smoothly.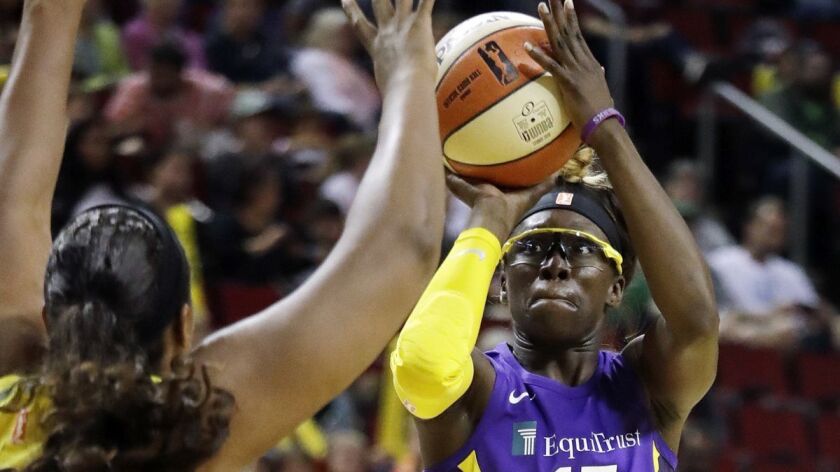 The job started with an internship through the WNBA players' association. Carson has been working full time for the last couple of months.
She hopes to hop over to the creative side and, eventually, win a Grammy.
"Whether it's on the artist side, producer side or executive producer side," she said, "you know, it's kind of like winning a championship."
Carson, under the name Pr3pE, released an album in 2013 titled "Broken Diary," which she described as her "way of opening up to the world."
In her third season with the Sparks, Carson is averaging 7.8 points and 2.6 rebounds a game, slightly above her career numbers (7.6 and 2.3). While playing for New York, she represented the Eastern Conference in the 2011 All-Star game. She also started every game for the 2016 Sparks when they won the WNBA title over Minnesota.
As a self-proclaimed "cool nerd," she can deliver a sound that helps her express herself when she wouldn't be able to otherwise.
Just like basketball does now, and just likes grandma's piano did during her childhood.
"Music is a universal language," she said. "It doesn't matter where you come from, what language you speak, what you look like. People can connect to it. Almost like sports."
---
Get our high school sports newsletter
Prep Rally is devoted to the SoCal high school sports experience, bringing you scores, stories and a behind-the-scenes look at what makes prep sports so popular.
You may occasionally receive promotional content from the Los Angeles Times.