Column: ESPN and other media entities risk their credibility with sports betting deals
There are slippery slopes to continually sidestep on the sports media landscape.
And then there's the bedazzled Las Vegas Slip 'N Slide that ESPN just went barreling down last week, head over billfold.
If all the other crazy kids are taking this crap shoot into the green-tainted pool, what's the problem?
They've tried to at least present some transparency of this business transaction — the Entertainment and Sports Programming Network is more than just entertaining the idea to work with Caesars Entertainment, building an actual branded studio inside the Linq Hotel & Casino on the Strip. In exchange, ESPN gets Caesars' data and branding across all its programming.
Hail Caesars, which forged a similarly dastardly deal with Turner's Bleacher Report franchise a year ago.
It comes on the heels of Fox Sports swimming with the sharks from the Stars Group to create a real-money betting app, Fox Bet, this fall. Then there's the Sinclair Broadcast Group, which just scooped up nearly two dozen regional sports networks from a Disney yard sale, including Fox Sports West and Prime Ticket, and declared an agenda to integrate sports betting into live programming.
But when Disney decides to double down, there needs to be a gasp of some sort, leaving people to wonder how something that for decades was considered to be such a divisive vice continues to be more normalized.
Darren Rovell, who spent nearly 13 years as a polarizing ESPN business reporter, called this branding opportunity inside a Vegas casino "a watershed moment. I remember when they wouldn't let us reference team names [only city names] whenever I referred to odds, concerned about how the leagues would react. Times have changed."
Consider how Rovell's employment has also changed. He took action last year to switch over to The Action Network, which specializes on the business of sports betting.
We can cut some slack for Brent Musburger, the former ESPN play-by-play man, who has retired to the desert to help promote his nephew's Vegas Stats & Information Network (VSiN), whose goal is to be a "trusted source for exclusive sports gambling news, analysis and data."
But when ESPN chief Jimmy Pitaro tells the Wall Street Journal that the foundation for this was laid long ago, its current wagering shows are just an extension of viewer demands, and "we are not going to be a [sports] book [or be] taking people's money," we can't help but wait for Bob Ley to come back from his extended sabbatical and explain it all to us on the next episode of "Outside The [Betting] Lines."
ESPN, anchored in Bristol, Conn., with an abundant studio presence at L.A. Live since 2014, surely did its due diligence on this. It can justify Las Vegas as a burgeoning sports town beyond its boxing history, with the NHL's successful landing, the NFL's coming attraction, a NASCAR stop, plus plenty of college basketball postseason tournaments. ESPN Events owns the Las Vegas Bowl, a Pac-12 Conference college football consolation prize. And there's ESPN's longtime association with televising the World Series of Poker as a ratings grabber.
But ultimately, it becomes another sports media entity with a shortsighted willingness to risk trust and credibility.
This highly legal but ethically challenged polygamous marriage of money and media happens in a city where nuptial vows turn out to be as binding as the toilet paper they're written on and stuck to the bottom of the Elvis impersonator's boot.
They're all caught in a trap. We need more suspicious minds.
Disney CEO Bob Iger said during a shareholder earnings call recently that he doesn't foresee the company "getting involved in the business of sports gambling, in effect, by facilitating gambling in any way."
It's a sweet sentiment.
"We're thinking about the space in very responsible ways," said Connor Schell, an ESPN vice president of content, of the new studio, expected to land in 2020 and align with the prison transfer of the Raiders from Oakland to Vegas.
"We're going to serve those fans with information and analytics. We are not promoting betting in any way. But we know there are sports fans who are interested in that type of content."
This is a service project, of course.
Continuing the party line, Mike Morrison, ESPN's vice president of business development, said in a statement: "The sports betting landscape has changed, and fans are coming to us for this kind of information more than ever before. We are poised to expand our coverage in a big way."
So, it's your duty to ask for another watered-down Old Fashion and find a way to connect with younger consumers, validate their expanding screen-time diversion and enlighten them about the innocence of recreational wagering as the next step past the Fantasy Sports gateway aphrodisiac?
If the media wants to keep some journalistic distance and report on all this with some reasonable skepticism, it can't also be a willing participant in the string.
In the 12 months since the U.S. Supreme Court struck down the federal ban on sports betting and allowed it to become legal on a state-by-state basis, the state of the sports industry needs the media to cover it as a business story, not become business partners.
You'd think someone would have heard the fable of the frog put into a kettle of tepid water that's eventually brought to a slow boil. Look before you leap, and then look again in the mirror, media people. Otherwise you end up as frog legs on an appetizer menu under the fake Eiffel Tower at the Paris Las Vegas Hotel. Yep, that's another Caesars company, and surely it has the future odds of all this ready to post.
Tune it in
The humanizing Fox Sports documentary "Q Ball," focused on a prison-yard basketball team made up of San Quentin inmates, eventually makes its way onto FS1 on May 28. But consider its limited theater run in L.A. that continues at the Laemmle Music Hall in Beverly Hills through Thursday.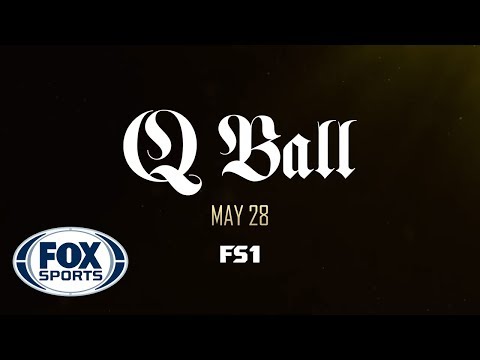 The 96-minute film, which has the Golden State Warriors' Kevin Durant and his Thirty Five Ventures media company as an executive producer, shows basketball as a vehicle of inner peace and accomplishment, even hope, for those coming to terms with their own bad judgments. Included are redemptive stories of several L.A.-based men, such as Compton native Anthony "Ant" Ammons Jr., serving a 102-years-to-life sentence for a gang-related homicide at age 16 but eligible for parole this year.
Tune it out
Don't get too buggy about CBS' uneven launch of a new blimp-equipped Aerial Tracing device that shows the flight of a golf shot from tee to fairway in an annoying video-game sort of way.
It probably shouldn't have debuted during coverage of the PGA Championship — it was all but gone for Sunday's final round with some bugs evident during Saturday's play. It may have some sort of value, but ultimately it becomes less informative if it supplants player reaction to their shots.
Get our high school sports newsletter
Prep Rally is devoted to the SoCal high school sports experience, bringing you scores, stories and a behind-the-scenes look at what makes prep sports so popular.
You may occasionally receive promotional content from the Los Angeles Times.