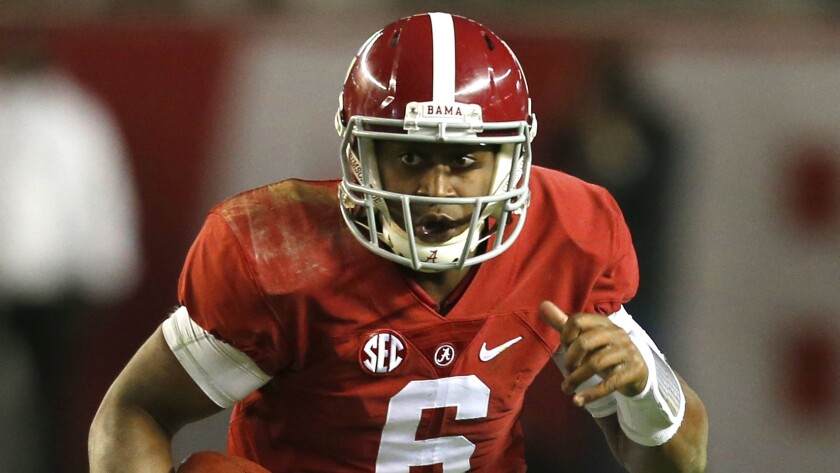 All is right in the world of unfiltered Chesterfield cigarettes and Golden Flake potato chips as UA-BB (University of Alabama-Bear Bryant) returns to the top of the Super 16. As they say of the fixings at Dreamland Ribs on Jug Factory Road in Tuscaloosa, "Ain't nothin' like 'em nowhere." Alabama is back on the throne thanks to a 25-20 victory over Mississippi State that was brilliant on many levels. The Crimson Tide dominated the game but allowed a late touchdown to make selection committee members think Mississippi State was still a top-four team. Mississippi State's best win this season is now against three-loss Auburn; Alabama's best victory is Mississippi State. That's called keeping it in the SEC West family.
1; Alabama 9-1; Reserves giggle in meeting when Saban suggests Western Carolina is a "trap game." (4)
2; Florida State 10-0; Mitt Romney opens office in Tallahassee after hearing about all the comebacks there. (2)
3; Oregon 9-1; Used car salesman in Eugene speaks to team about "the art of closing a deal." (3)
4; Baylor 8-1; Captain Playoff allows Bears to sit in No. 4 cockpit seat and pretend they're flying plane. (6)
5; Mississippi State 9-1; Top play of year may be late touchdown that didn't beat Alabama. (1)
6; Texas Christian 9-1; Coach told players they had 24 hours to shake off the humiliating win at Kansas. (7)
7; Ohio State 9-1; Buckeyes quiz: quarterback before J.T. Barrett was which Miller: Braxton, Barney, or Bode? (8)
8; Mississippi 8-2; Watch out. Red-hot Arkansas has been victorious in one of its last 18 SEC games. (10)
9; UCLA 8-2; Bruins replace Arizona State as Pac-12 South team most likely to lose control of own destiny. (11)
10; Arizona 8-2; If Rich Rod was smart he'd see the Florida job as nothing-to-Gainesville. (12)
11; Arizona State 8-2; Corvallis spelled doom the moment stadium P.A. system blared "Baby it's cold outside." (5)
12; Michigan State 8-2; Introducing new Big Ten rivalry with Rutgers: "Battle of Interstate Offramp Exits." (13)
13: Kansas State 7-2; Trip to West Virginia includes tour of new Burned Couch Factory. (16)
14; Wisconsin 8-2; If Gordon wins Heisman Trophy he can shine it with Formula 408. (NR)
15; Georgia Tech 9-2; "Ramblin' Wrecks" of Atlanta score win big over "Ramblin' Wrecks" of Clemson. (NR)
16; Georgia 8-2; Unforgivable loss to a Florida team that just fired its coach seems like years ago. (NR)
Dropped out: Auburn (9), Nebraska (14), Notre Dame (15).
Moved in: Wisconsin, Georgia Tech, Georgia.
First four out: Clemson, Utah, Oklahoma, USC.
---