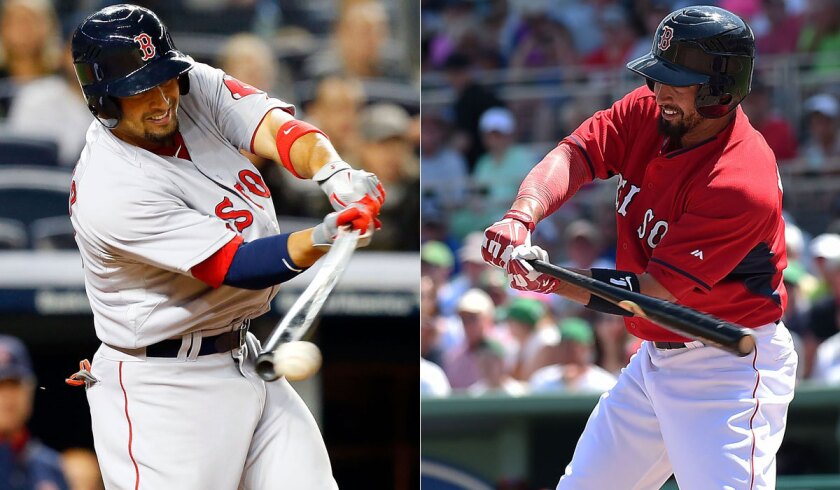 Shane Victorino, acquired by the Angels before the nonwaiver trade deadline last week, is clearly not the same player he was in 2012, the last time he played for a Los Angeles team.
And that's not meant to be derogatory.
When Victorino played for the Dodgers, he was a switch-hitter, just as he was years before that, when he was a two-time All-Star and an offensive catalyst for championship-winning Philadelphia Phillies teams.
------------
FOR THE RECORD:
Switch-hitters: In an article about baseball switch-hitters in the Aug. 3 Sports section, Pete Rose was identified as a member of baseball's Hall of Fame. Rose, the game's all-time hit leader, has not been inducted. —
------------
But halfway though the 2013 season with the Boston Red Sox, after a series of leg injuries, Victorino stopped hitting left-handed, further depleting the number of major league ballplayers capable of batting from both sides of the plate.
The number of switch-hitters has been dwindling over the last few decades. This season, there are 19 switch-hitters on pace to have at least 502 plate appearances, enough to qualify for a batting title.
Although he falls just short of qualifying, this season's best switch-hitter, at least from an advanced metrics perspective, is a Dodger you might have trouble identifying.
"Yasmani Grandal is performing like a star," said Ben Lindbergh, a writer at Grantland and former editor at Baseball Prospectus. "I don't know whether he really has a star reputation, but he probably should. He's an excellent hitter by catcher standards and he's also one of the best defensive catchers in baseball."
Asked recently whether he believes he stacks up to the game's elite, Grandal, who is batting .292 with 15 home runs, replied modestly.
"I feel like I've still got a lot of room to grow and work on it," Grandal said. "I don't consider myself the top switch-hitter in the game, but at some point, I could be one of the best ones."
New York Yankees first baseman Mark Teixeira has 29 home runs, 22 as a left-handed batter. But after Grandal and Teixeira, there's a steep drop-off.
"There are guys who have been stars — Jose Reyes, Jimmy Rollins, Chase Headley," Lindbergh said. "But it isn't really an inspiring crop."
The predecessors of today's switch-hitters are highlighted by plenty of Hall of Fame members, including Frankie Frisch, Eddie Murray and Pete Rose. But it was Yankees slugger Mickey Mantle, who hit 536 home runs over 18 seasons, who set the standard of what's possible for a switch-hitter.
"People were in awe," MLB historian John Thorn said of Mantle's hitting prowess. "Mantle knew that he was much more dangerous from the right-hand side, but he was no day at the beach for anybody when swinging from the left-hand side. No one had seen power like that."
Plenty of players tried to copy it.
About 20 years after Mantle's big league debut, the 1970s brought an influx of switch-hitters in numbers not reached before, rising to an average of nearly 15 players per season who played enough to qualify for the batting title.
Coincidence? Thorn doesn't think so.
"Mantle was the patron saint for the following generation," Thorn said. "They followed his lead, even though they didn't have his physical tools."
The decrease of different-sized ballparks may have also contributed to an increase in switch-hitting.
"In the '70s we had the cookie-cutter parks, not only similar exterior dimensions, but the ballfield appeared to be the same," Thorn said. "When ballparks become neutral, then the other factors become more important — situational relief pitching and platoon play."
The 1980s brought another jump, from 15 switch-hitters who qualified for the batting title to 23. By the 1990s, that number was up to 27, the most of any decade. Chipper Jones, Roberto Alomar, Bernie Williams and Ken Caminiti were among the most productive switch-hitters from that era.
This century's first decade led to a slight drop, to about 24 everyday switch-hitters per season, but that group was better than any previous one.
The average WAR (wins above replacement) rating of qualified switch-hitters from 2000 to 2009 was 3.128, meaning those players were worth an additional three victories per season to their clubs. Jones continued his success from the 1990s and was joined by Lance Berkman, Ben Zobrist, Carlos Beltran, Jimmy Rollins and Teixeira.
The sample size from 2010 to 2015 is far from complete, but so far there has been an average of nearly 20 everyday switch-hitters per season. Among them is Angels shortstop Erick Aybar.
Aybar, who grew up in the Dominican Republic, says he started switch-hitting when he was about 10. Since his first at-bat in the majors in 2006, he hasn't noticed much of a drop-off in the star power of his fellow switch-hitters, but he realizes his skill set is somewhat rare.
"It's good, because not many guys can hit both sides," Aybar said. "I feel comfortable hitting from both sides."
It's probably too early in the new decade to make snap judgments on the future of switch-hitting. As Grandal noted, the last few years have brought an increased emphasis on specialized pitching from the bullpen and strategies that might be countered by a lineup of versatile hitters.
"It's a game of matchups and numbers," Grandal said. "Everyone is always going to try whatever the best matchup is. Having a switch-hitter out there tends to sometimes deviate from whatever it is that they're trying to do."
Ultimately, like most trends in baseball, it's possible the lack of switch-hitting star power in 2015 is part of a natural ebb and flow.
"I would guess that there's sort of a cyclical aspect to it," Lindbergh said, "that there would just happen to be a crop of really good switch-hitters at certain times and not at other times."
---