Column: No. 12 Seminoles still have off-field issues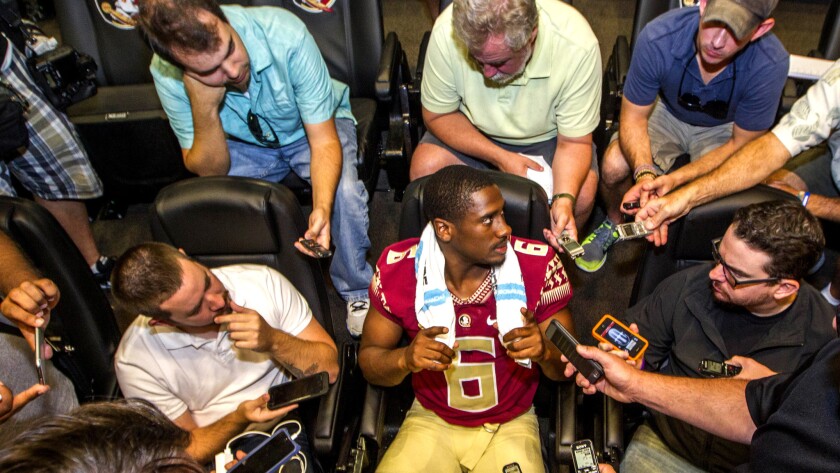 The Times' annual college football countdown continues its march toward No. 1 with our pick for No. 12.
That blast of fresh air that was supposed to come with quarterback Jameis Winston's early departure to the National Football League?
It turned out to be muffler exhaust.
Florida State's program credibility continued to crater after a 39-point loss to Oregon at the Rose Bowl.
The Seminoles fell short on the field in 2014, then easily claimed the honor of "Nation's Worst Off-Season."
Winston was a beat writer's blessing/curse/nightmare in his three years in Tallahassee, a total package of talent and torment. He won a Heisman Trophy and led his team to a national title, but also stole crab legs from a supermarket and saw his reputation sullied with a sexual assault allegation.
Florida State's problems, though, did not disappear when Winston did.
The happy news of landing fifth-year graduate transfer quarterback Everett Golson from Notre Dame, ostensibly to replace Winston and continue roughshod dominance in the Atlantic Coast Conference, was overshadowed by two incidents in which players where charged with punching women.
Only a fool would write these off as two more isolated incidents.
Coach Jimbo Fisher dismissed freshman quarterback De'Andre Johnson after video emerged of that unseemly incident, which was followed by another punch-thrown claim levied at running back Dalvin Cook, the team's leading rusher from last season.
Cook has been suspended indefinitely pending the legal sorting out of his mess
Florida State could be the first program required to hire a video surveillance coordinator.
"We will do better," Fisher promised in a statement released after the charge against Cook. "I will not tolerate anything less."
Cook's trial is set for Monday. Stay tuned.
Fisher, for now, is planning on life without Cook.
"It's just like an injury," Fisher recently told the Orlando Sentinel. "It'd be no different if [Cook] blew his knee."
Florida State President John Thrasher, for what it's worth, has taken a keen interest in day-to-day operations.
"We communicate quite often, once or twice a week," Fisher said at ACC media days in July. "He's in our locker room. He also knows we're the window of this university. ... It takes a village to raise kids."
Projecting Florida State's season is tricky as the Seminoles must replace key components of the offense (quarterback, four linemen, star receiver, star tight end, senior running back and maybe the leading rusher in Cook).
Golson graduated from Notre Dame and chose Florida State, thinking he was the missing piece to a championship puzzle.
No one is sure, yet, which Golson the Seminoles are receiving.
Is it the quarterback who led Notre Dame to the national title game three years ago, the Golson who was also brilliant in last year's near upset at Florida State?
Or, is it the Golson who faded down the stretch and ultimately accounted for 22 turnovers, including eight lost fumbles?
Golson says he needed a scenery change. He will be surrounded by another batch of top-level recruits. And though Florida State lost the early straw-poll vote to Clemson in the ACC, the team also lost Oklahoma State and Notre Dame off last year's schedule.
The nonconference lineup of Texas State, South Florida and Chattanooga almost guarantees a 10-win season, with key road games against Georgia Tech, Clemson and Florida determining what the Seminoles will be playing for in December.
Top 25 so far: 25. Michigan; 24. Nebraska; 23. Utah; 22. Missouri; 21. Arkansas; 20. Tennessee. 19. Boise State; 18. Oklahoma; 17. Notre Dame; 16. Wisconsin; 15. Georgia Tech; 14. UCLA; 13. Arizona.
---
Get our high school sports newsletter
Prep Rally is devoted to the SoCal high school sports experience, bringing you scores, stories and a behind-the-scenes look at what makes prep sports so popular.
You may occasionally receive promotional content from the Los Angeles Times.