Column: Utah has earned respect since joining Pac-12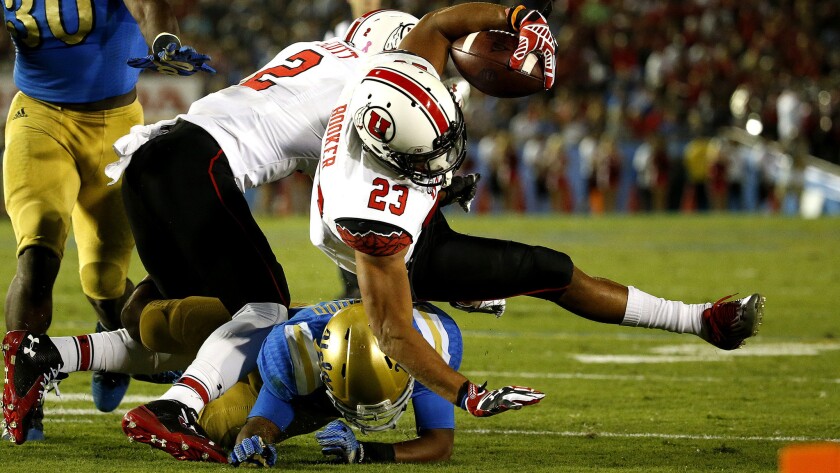 The Times' annual college football countdown continues its march toward No. 1 with our pick for No. 23: Utah.
A few fans got cranky last year when a national columnist suggested on Salt Lake City radio that Utah was the "Ringo" of the Pac-12 Conference.
As in: was asked to join something huge just before it took off.
After Utah completed the season sweep over USC and UCLA, well, that columnist's Twitter inbox started filling up:
Stuff like, "How about those Ringo Starrs?" and "Where does @DufresneLATimes have Ringo ranked this morning?"
The point was missed. It wasn't an insult.
Both Utah and Ringo were lucky, but also took advantage of their timing.
How was Utah fortunate?
The school was not part of Commissioner Larry Scott's original plan to expand the Pac-10 to the Pac-16. The plan was to take six schools from the Big 12 Conference, and Utah was in the Mountain West.
Scott was so sure of his Pac-16 plot that he jump-the-gun offered an invitation to Big 12 member Colorado, which accepted. When the rest of the deal fell apart, the conference needed one more team to get to 12 and split into divisions.
It was only then that Scott turned to Utah.
The Utes joined the league just before it signed a $3-billion television deal.
The only question was whether Utah could handle the drum kit.
After a few rocky seasons, the answer appears to be yes.
Utah is coming off a 9-4 season in which it was in the running for the Pac-12 South title until the final week. In its fourth year, it swept the Los Angeles schools and finished above .500 in league (5-4) for the first time.
This year finds Utah in its strongest position since it became a Pac-12 member. Being part of the Pac-12 has allowed the school to get home-and-home series games against schools such as Michigan, which opens in Salt Lake City on Sept. 3.
"Years ago that would have never happened," Coach Kyle Whittingham said at the Pac-12's media days.
Utah was picked by the media to finish fifth in the Pac-12 South, but that's really no insult in one of the nation's toughest divisions.
Utah, much more than Colorado, has proved it belongs in a first-rate conference. Whittingham's team returns 17 starters if you count two of the nation's top kickers.
Whittingham gets back a Heisman Trophy candidate in running back Devontae Booker, who rushed for 1,512 yards last season. The Utes return eight starters on defense, four on the offensive line and two quarterbacks, Travis Wilson and Kendal Thompson, who started games last season.
"May the best man win," Whittingham said of the competition to be the starter.
Wilson, who has started 34 games, has the inside track, yet has been plagued by injuries caused by his almost complete disregard for his body. Thompson filled in nicely after Wilson was injured last year, only to suffer a season-ending knee injury.
Utah's biggest concerns are its lack of depth at wide receiver and its ability to traverse through the rough-and-rugged Pac-12 South.
We should know plenty about the Utes after the Michigan opener and a Sept. 28 trip to Oregon.
Utah won two double-overtime games last season, against Oregon State and Stanford, and lost in overtime to Arizona State. No one knows how this season will play out but Utah, like, um, Ringo, has passed the audition and is a fully respected member of the band.
You know what Ringo said about earning respect: "It don't come easy."
The top 25 so far: 25. Michigan; 24. Nebraska.
---
Get our high school sports newsletter
Prep Rally is devoted to the SoCal high school sports experience, bringing you scores, stories and a behind-the-scenes look at what makes prep sports so popular.
You may occasionally receive promotional content from the Los Angeles Times.