Column: Passion at Pauley is loud and clear, but rebuilding basketball fan base won't be a simple chore for UCLA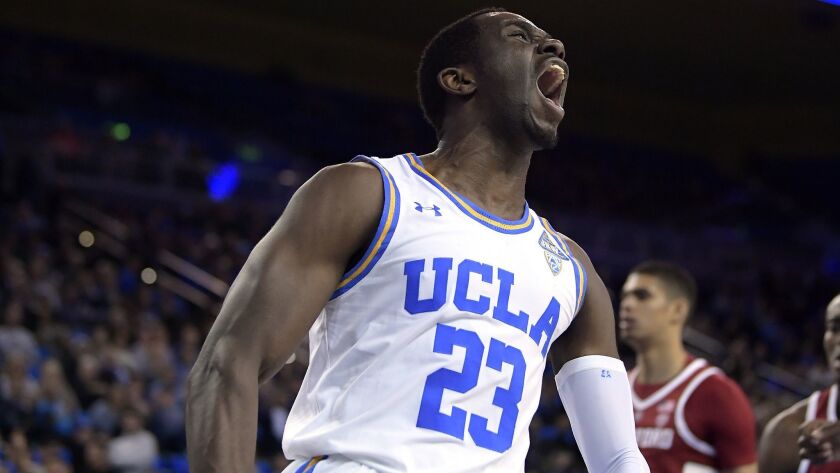 Because so few students participated, the pregame player roll call was barely audible. Pauley Pavilion was about half empty.
Just when it was looking as if recently fired coach Steve Alford had dropped UCLA's basketball program to a point from which there was no return, something unusual happened.
The arena became loud.
With 8 minutes 13 seconds remaining in the opening half of UCLA's conference opener against Stanford on Thursday, Kris Wilkes threw down a dunk in transition that forced the visitors to call a timeout. And for a moment, it was like the good old days again, fans on their feet, fans cheering, the arena rocking.
There is a still a place in Los Angeles for UCLA basketball.
The questions about whether that's still the case are legitimate. Coincidentally or not, as the school has become more competitive academically, the student body has grown apathetic about its athletic programs.
If UCLA's basketball and football teams don't have the oldest audiences of any major sports teams in the city, they certainly look as if they do. They're the newspaper readers of sport fans.
So say that UCLA is by some miracle able to land a Billy Donovan or Tony Bennett to coach its basketball team. There's no guarantee the crowds will return. The school's football program made a program-altering hire in Chip Kelly and attendance still dropped.
This is a Lakers town first, a Lakers town second and a Dodgers town third. At the very least, the shrinking crowds at UCLA's football games this season demonstrated that rebuilding a fan base is a gradual process.
Building gradually is harder to do in basketball, as was evidenced by what happened two seasons ago here. Behind freshmen Lonzo Ball and TJ Leaf, UCLA reentered the national conversation. However, Ball and Leaf departed for the NBA after a single season and the Bruins had to start over.
Thursday night was a reminder that basketball here has one major advantage over football: There's real passion behind it.
Maybe the fans are living in the past, maybe they're delusional, but the powder blue means something to them. The depth of that devotion was heard in the roar that followed Wilkes' dunk. Or in the groans after some sloppy plays later in the games.
That UCLA's basketball program failed to create a consistent winner with this kind of backing speaks not only to Alford's shortcomings, but also the administration's.
Winning here shouldn't be so difficult.
Pulisic watch
Looking for a new Christian Pulisic jersey, now that the American attacker was purchased for $73 million by Chelsea of the English Premier League? You already have one if you have one of those fluorescent training vests in your soccer bag. You know, because that's what's worn by bench players when they warm up along the sidelines. I'm kidding. Actually, I'm only half-kidding.
Chelsea intends to play Pulisic. Regardless of how many jerseys the team thinks it can sell in the United States, it wouldn't have paid as much as it did for him otherwise. But the highest level of European soccer is a particularly ruthless arena, the kind of place where a hefty price tag won't protect a player for long. Better players than Pulisic have become part-time players after making big-money transfers. Chelsea paid more for Spanish striker Alvaro Morata than it did for Pulisic and Morata is stuck on the bench.
Pulisic will be lent back to Borussia Dortmund of Germany for the remainder of the season, after which he will complete his move to England. This is a landmark moment for U.S. Soccer. Pulisic will have a chance to star for an upper-echelon team in what is widely considered the most competitive league in the world. He will be granted an opportunity to establish himself as one of the best players in the world. That's worth something. But considerable risk is attached to that opportunity, especially for U.S. Soccer. This country's lone world-class player could be reduced to a reserve role, which would slow his development and negatively affect the U.S. national team.
Language lessons
Japanese left-hander Yusei Kikuchi answered questions in English at his introductory news conference with the Seattle Mariners on Thursday, the byproduct of the years he devoted to studying the language in anticipation of his eventual move to the major leagues.
Though his preparation was impressive, it was modest compared to what Hidetoshi Nakata did. Japan's first world-class soccer player, Nakata was ready to address reporters in Italian when he moved to Italy as a 21-year-old in 1998. Nakata prepared himself not only for a move to Italy, but other European countries as well. The now-retired playmaker is also said to also speak English, Spanish, Portuguese, French and Russian.
Follow Dylan Hernandez on Twitter @dylanohernandez
---
Get our high school sports newsletter
Prep Rally is devoted to the SoCal high school sports experience, bringing you scores, stories and a behind-the-scenes look at what makes prep sports so popular.
You may occasionally receive promotional content from the Los Angeles Times.