UCLA gymnastics team summons top score of season to win back-to-back Pac-12 championships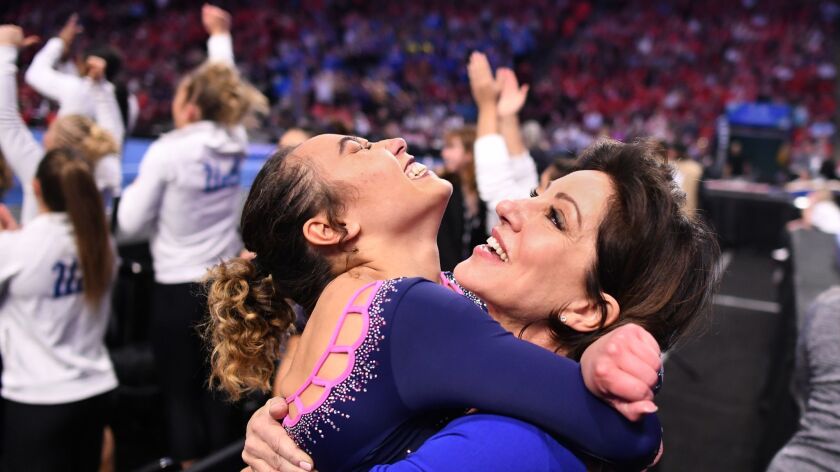 Reporting from WEST VALLEY CITY, Utah —
UCLA won the Pac-12 championship on Saturday the only way it knows how.
With joy.
It was there in Kyla Ross' grin as she tumbled and danced on the floor, and when Katelyn Ohashi beamed to the Beyoncé music in her new routine. It radiated from the Bruins at a practice the day before, as they winked at each other and did jazz hands while rehearsing their beam routines. And it pulsed beside the uneven bars as Margzetta Frazier bounced from side to side, dancing to an Oregon State gymnast's floor music, "Ice Ice Baby."
"We have all really prepared well and come together. ... And we didn't have to try," Ohashi said. "We really do love each other that much, and it was so much fun to be out there with every single one of us."
Amid the exuberance came a season-high score of 198.4, UCLA's 19th conference championship and its second straight. Next up: the NCAA Regionals on April 4 to 6.
"The gymnastics is a mirror," coach Valorie Kondos Field said, "of our culture."
She emphasized that with team meetings entering the Pac-12 championships and watched it come to fruition Saturday.
A leadoff 9.95 on the uneven bars from Frazier boosted the Bruins to a dominant second rotation, claiming a lead over Utah they never relinquished. Still, a 49.7 on floor by the Utes, punctuated by a 10 from MyKayla Skinner, kept the contest close until the final rotation.
The battle for the individual all-around champion was even tighter.
Skinner, the two-time all-around conference champion, sought to defend her title. Ross aimed to continue the momentum she built all season — the seven straight weeks with a 10 that vaulted her to be the nation's top-ranked all-around gymnast.
Starting with a 10 on the uneven bars, Ross did.
"I love the example that she not just gives our athletes, but gives to everyone that watches her," Kondos Field said. "That it's OK not to be perfect. … She's what sport is all about, is get your ego out of it and just do the best you can in the moment."
It came down to floor, to the routine that gave Ross joy in dancing, and in floor. In character as a bandit stealing 10s, Ross held true to the theme of her routine, grinning after each stunt, each solid landing.
Once again, she earned a 10. The score gave her the title of Pac-12 all-around champion.
Ohashi performed last, debuting her new floor routine that is a salute to women, with music from Tina Turner and Janet Jackson too.
With her old routine, Ohashi won the floor title in every meet she competed in this season, earning five 10s. She was named Pac-12 specialist of the year for her efforts, with a renown that has followed her to every arena she has competed in.
With dance moves that channeled Beyoncé, and the all-encompassing smile that has become a staple of Ohashi's gymnastics, she elevated her performance to even greater heights.
She ended her routine — and the Pac-12 championships — with a mic drop. And a 10.
It was her first time doing her new routine with her tumbling passes. She hardly noticed the routine was harder.
Ohashi just celebrated that she clapped on beat.
"I just think that her mind-set was like, 'Oh my gosh, it's harder,'" Kondos Field said. "It was like, 'Oh my gosh, it's funner.'"
That approach made Saturday the calmest Ohashi has been in a competition, and what guided the Bruins to success.
"What we saw today was there was a heightened focus on what they wanted to accomplish," Kondos Field said. "And that was joyful because they worked hard."
Sign up for our daily sports newsletter »
---
Get the latest on L.A.'s teams in the daily Sports Report newsletter.
You may occasionally receive promotional content from the Los Angeles Times.