Column: What new football coach Chip Kelly revealed in his introduction is not what will define his UCLA career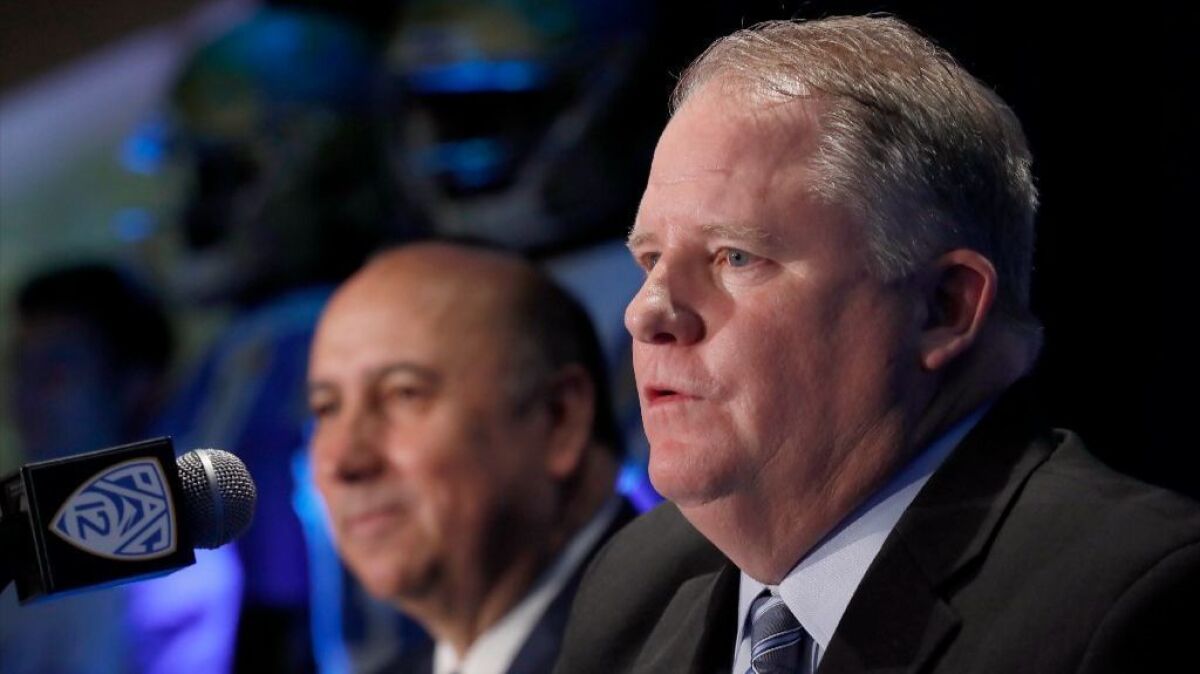 The famously private man who is UCLA's new football coach revealed something about himself at his introductory news conference Monday.
He's funny.
Chip Kelly isn't Richard Pryor funny or even LaVar Ball funny, but he has enough of a sense of humor to crack up a welcoming 300-person room.
"Not a lot going on in L.A. today, as I can see from this crowd," Kelly joked.
OK, so this was an easy audience, made up primarily of UCLA season-ticket holders, donors and staffers, whom Kelly had in the palm of his hand once he paid homage to the likes of John Wooden and Red Sanders. Nonetheless, the 54-year-old coach had enough one-liners to dispel the notion that he was socially awkward.
His opening remarks lasted nearly 4½ minutes, after which he said, "That's the longest I've talked in my life."
More laughs.
Kelly quipped that because housing in Los Angeles is expensive, he would like to make arrangements to live at the on-campus Luskin Conference Center hotel, which is within a short walk to the football offices and practice field.
"We could put 'Luskin' on our backs on the sideline or something," he said.
That joke received a standing ovation. As mentioned earlier, this was an easy crowd.
This glimpse of his playful side was about the extent of what was revealed. When it came time to discuss anything more serious than a joke, Kelly was as guarded as he was portrayed at his previous places of employment.
Kelly was particularly evasive when asked about what the Bruins' offense would look like.
Kelly is best known for the up-tempo offense he implemented at Oregon, which became a national championship contender under his four-year watch. Opponents had trouble defending Oregon's attack because they had little exposure to it, both in games and in practice. But Kelly's ideas spread around college football in subsequent seasons, forcing defensive coordinators around the country to adjust.
Will Kelly have to adjust back? Or can he still run something similar to what he did at Oregon?
He wouldn't say.
"I still think the game of football comes down to fundamentals and can you block, can you catch, can you make cuts, can you do that?" Kelly said.
Follow-up questions were answered similarly, with Kelly saying schemes should be determined by player personnel and that he was too unfamiliar with the Bruins' roster to have any idea of what the kind of offense they might run.
UCLA introduces Chip Kelly as its new football coach at Pauley Pavilion on Nov. 27.
Inquiries about expectations were answered similarly.
"The only expectations you can have is what people do on a daily basis," Kelly said.
As for why he wanted to resume his coaching career at UCLA, Kelly didn't really answer that, either. He spoke about aligning himself with the right people and how the school was the "right fit," but didn't offer any details.
Kelly figures to be able to maintain a lower profile in Los Angeles than he would in, say, Gainesville, home of the University of Florida. Asked if that factored into his decision, he responded with a wisecrack.
"I know I'm not the prettiest face in L.A.," he said.
Kelly wasn't any more open when asked about junior quarterback Josh Rosen, who is expected to declare for the upcoming NFL draft. Kelly said he spoke to Rosen briefly Monday morning, but offered no indication of whether he would try to talk him into staying for his senior year.
"I told him when I met with him, 'I certainly want to be a resource to you,' but it's going to be Josh and his family's decision," Kelly said.
Kelly will have direct access to the Southern California's traditionally-rich player pool, but how much of that will remain off limits because of UCLA's admission standards? The coach steered the conversation away from the original question.
"I agree with them," he said of the school's academic requirements. "That's part of the school. It's not fair to a student-athlete to bring someone to your campus if they're not going to be successful academically. That's a lose-lose for the school. It's not great for the student-athlete, either. I look at that as a positive, the academics here, of what you can attract. No one ever tells any kid, 'Come to my school, it's not very hard.' If they want a challenge and they want to grow, this is a great place for that to happen."
Kelly pushed back against the idea that Rosen lacks the mobility to play for him. He pointed to the success Nick Foles had with the Philadelphia Eagles under him in 2013.
He was also defensive when asked about his reputation as a reluctant recruiter of players.
"I don't know where that came from," he said, pointing to how Oregon recruits Arik Armstead, DeForest Buckner and Marcus Mariota became first-round draft picks.
What Kelly didn't dispute was that as affable as he was at times Monday, he didn't enjoy speaking to reporters.
"I want to do my job, so I should be back in the building right now working, not doing this," he said. "I know there's a part of the job where you have to represent the school. I get that. But I just don't enjoy talking about myself."
Kelly showed up in Westwood largely shrouded in mystery. That didn't change Monday and it probably never will. If his welcoming party was any indication, he won't be the kind of coach who will ever be loved or loathed because of his personality. His reputation will be defined almost entirely by his won-loss record. Maybe that's what he wants. It's hard to tell. He won't say.
Follow Dylan Hernandez on Twitter @dylanohernandez
---
Get our high school sports newsletter
Prep Rally is devoted to the SoCal high school sports experience, bringing you scores, stories and a behind-the-scenes look at what makes prep sports so popular.
You may occasionally receive promotional content from the Los Angeles Times.