UCLA's sloppy ending haunts them in 78-69 overtime loss to Michigan
Reporting from Ann Arbor, Mich. —
Aaron Holiday walked slowly toward the UCLA bench in the game's final moments after his team completed one last empty possession. On the far side of the court, Thomas Welsh placed his hands on his hips and Gyorgy Goloman used his jersey to wipe the sweat from his face.
Their gestures were equal parts frustration and exhaustion at the end of a game they had appeared comfortably on the way to winning Saturday afternoon. A 15-point lead early in the second half and a nine-point advantage with less than seven minutes to play had put UCLA on the verge of its best victory of the season.
Only minutes later, the Bruins trudged up a ramp inside the Crisler Center with what easily qualified as their worst defeat.
Some sloppy play and a missed free throw haunted UCLA toward the end of a 78-69 overtime loss to Michigan that could have repercussions all the way into March for the Bruins.
Holiday blamed himself after committing one of UCLA's two turnovers in the final 53 seconds of regulation that allowed the Wolverines to force overtime. Holiday committed two more turnovers in the extra period.
"It starts with me," said Holiday, who finished with a game-high 27 points but had seven turnovers to go with his seven assists in 43 minutes. "You can put that loss on me. I didn't really take care of the ball down the stretch, and I turned the ball over too many times in overtime, so it's really me not taking care of the ball."
UCLA coach Steve Alford placed some fault on himself for his team's messy finish after playing Holiday for all 20 minutes of the second half and all five minutes of overtime.
"The trust factor when 15 goes to seven or eight, it's hard to take him out then," Alford said, referring to the dwindling lead, "but I've got to be able to do that and we've got the players to do that."
The obvious follow-up question: Who?
The Bruins (7-2) didn't get many contributions from anyone besides Holiday and Welsh, who finished with 22 points on eight-for-12 shooting to go with 10 rebounds. The other seven UCLA players who participated combined for 20 points.
Michigan students reminded the Bruins of their lack of depth by waving Chinese flags and signs referencing the international shoplifting incident from last month that resulted in the indefinite suspensions of freshmen LiAngelo Ball, Jalen Hill and Cody Riley.
One sign purported to tout Ball's career stats, noting that he had zero points, rebounds, assists or blocks but one steal before he withdrew from school in hopes of playing professionally overseas. It was the first taste of what figures to be season-long teasing from rival fans.
UCLA had mostly quieted the arena Saturday before Michigan's Zavier Simpson stole the ball from Holiday and went in for a layup that pulled the Wolverines (8-3) to within 64-63 with 18 seconds left. Fatigue appeared to be a factor.
"I knew his passes were getting lazy," Simpson said. "I used my wing span, got a deflection and put us in a better position."
Michigan then fouled Goloman, who made one of two free throws to extend UCLA's lead to two points. But Welsh fouled Eli Brooks driving to the basket, and Brooks made both free throws to tie the score with 10 seconds left.
UCLA had a chance to win at the end of regulation, but Holiday had the ball stripped, and a contested jumper by Prince Ali was off the mark.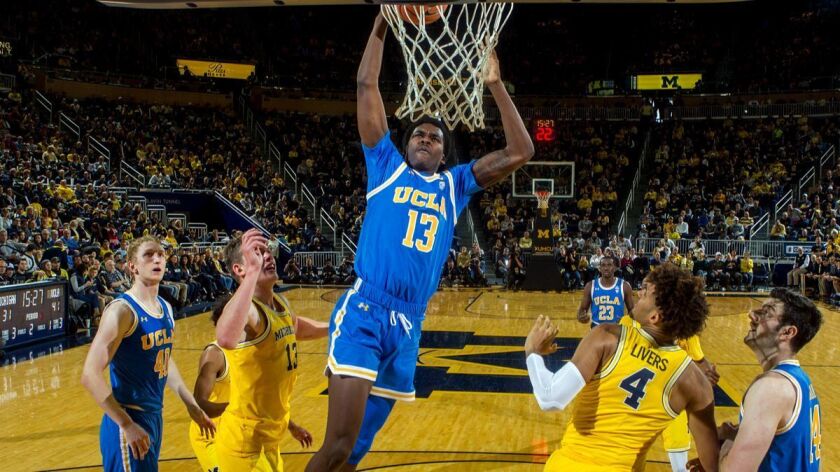 The overtime was a Michigan runaway after the cold-shooting Wolverines made two three-pointers in the first minute. The Bruins collected nearly as many turnovers (three) as points (four) in the extra period, continuing to play like the game was being staged outside in the snowy, slushy conditions.
UCLA finished the game with 20 turnovers to Michigan's 11, more than offsetting the Bruins' 41-30 advantage in rebounding.
"We just didn't make a lot of smart plays," Alford said.
The collapse caused UCLA's early season NCAA tournament resume to go from blah to ugh. The Bruins entered Saturday with a Ratings Percentage Index figure of 108 despite having lost only one game, largely because they had beaten a slew of lackluster opponents.
A victory over Michigan, which entered the game with an RPI of 70, would have provided a boost. Instead, it was a letdown on multiple levels.
"There's no excuses you can make," Welsh said. "It's a learning experience, for sure. It's definitely a tough one, definitely one we should have had, but it's a great experience for the young guys to get them a feel for what it's like on the road."
Follow Ben Bolch on Twitter @latbbolch
---
UPDATES:
2:10 p.m.: This story has been updated with comments from players and coaches.
This article was first published at 11:45 a.m.
---
Get our high school sports newsletter
Prep Rally is devoted to the SoCal high school sports experience, bringing you scores, stories and a behind-the-scenes look at what makes prep sports so popular.
You may occasionally receive promotional content from the Los Angeles Times.