UCLA's Rachel Garcia is seeking the ultimate emotional moment at the Women's College World Series
Rachel Garcia made her mother cry Tuesday, and it wasn't the first time.
In Garcia's 15 years of playing softball, there have been plenty of tear-jerking moments. Like when Garcia won the 2015 Gatorade softball player of the year award in high school. Or when she planted her left knee into the ground and suffered a major injury. Or when, after 18 months of uncertainty, she put on a UCLA uniform for the first time.
But Tuesday, the tears were perhaps the most meaningful. Garcia, UCLA's ace and cleanup hitter, was named the USA Softball collegiate player of the year. She became the second Bruins player to do so, following Stacey Nuveman in 2002.
Her mother, Christine, was nearing Albuquerque when the news broke en route from the family's home in Southern California to Oklahoma City for the Women's College World Series, where UCLA opens play Thursday at 6:30 p.m. PDT against Florida State. She wept.
The Bruins are seeking their first national title since 2010 and their record 12th overall, and Garcia, a redshirt sophomore, is an essential part of their success. Her 1.02 ERA leads the team and ranks seventh in the nation, and it has helped her achieve a 27-3 record with 273 strikeouts in 185 innings. She has a .356 batting average, 11 home runs and 53 RBIs. ESPNW and the Pac-12 also chose her as player of the year.
It was three years ago that Christine wasn't sure if her daughter would ever pitch again.
It happened during Garcia's senior year of high school when Highland was facing Torrance in the Southern Section Division IV title game. Garcia had never won a title of any kind, and she was close to achieving that. She had struck out 24 hitters and given up three hits and no walks in 12 scoreless innings.. The 13th inning was going to be the game's last because of time constraints, and the schools looked poised to be named co-champions.
In the bottom of the 12th, Torrance nearly won it on a hit to left field off Garcia, but the runner was thrown out at the plate. Garcia tumbled after the pitch, and when she got up, her knee felt odd. Not painful, but odd.
She told trainers in the dugout, but she insisted she was OK. She singled as that inning's leadoff hitter. Coaches figured she was fine to pitch the final inning.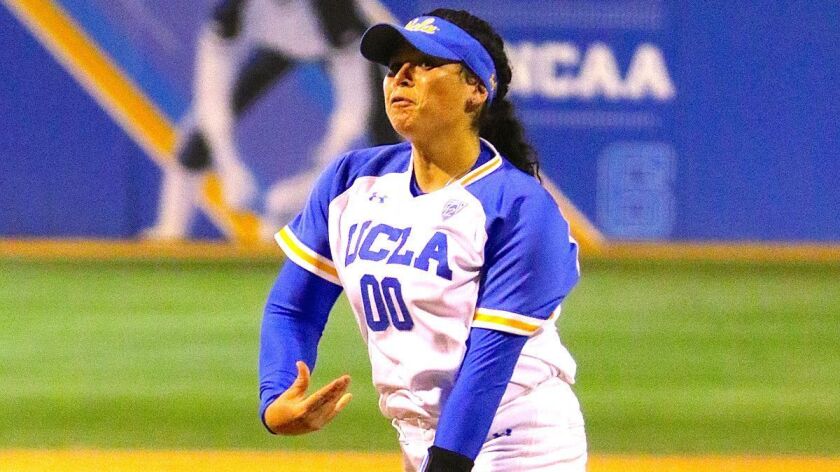 As softball pitchers do, she placed her right foot on the rubber and pointed her left toe into the clay behind it. She wound up and planted her left foot as she windmilled toward home plate. Then she fell.
And then the pain started.
Two coaches carried her off and she was taken to an emergency room while Highland lost the game. Her meniscus was torn, she was told, and she'd have to undergo surgery before doctors could tell if her anterior cruciate ligament had ruptured as well. Her bag that was already packed for Oklahoma and the U.S. junior national team was left at home. She was supposed to depart the next morning.
She awoke from surgery, still feeling woozy, and discovered that her ACL had ruptured and would require another operation about two months later. Her mother had already cried, and so did Garcia.
If the game had ended earlier, she might not have ended up at UCLA on crutches. Her mom never would've wondered if her scholarship was in jeopardy.
Garcia knew she'd never be the same player again. She knew it as soon as she was told she'd have to sit out and recover, and when she suffered a setback in rehabilitation in February 2016 and elected to redshirt. She wasn't going to be the person on the mound who threw 12 scoreless innings while striking out two-thirds of the opposition.
She was going to be better.
"I knew it wasn't gonna be an easy process," Garcia said. "I told myself that I was gonna push harder than ever to get through it."
She emerged the next season as the National Fastpitch Coaches Assn. and Pac-12 freshman of year. She helped UCLA advance to the World Series, where the Bruins fell in three games. Now she wants more.
"She has so much determination," Bruins third baseman Brianna Tautalafua said. "She has grit, and she's just a bad-ass player all-around."
Grit is a common word used to describe Garcia, not only because as she pitched with a brace as soon as she was physically able to, but because of the way she pitches. She attacks every hitter by pounding the strike zone, which has already helped UCLA (56-5) achieve its most wins since 2001 (62). In the midst of the worst title drought in program history, she wants to end UCLA's streak of seven championship-less seasons as well as her own lifelong streak. And she wants to make her mother cry again, once more in a good way.
But if Garcia succeeds, her mother won't just be crying because of the title, but because of how her daughter reached it.
"I knew she'd come back. I just didn't think it would be quite to the level she put herself at," Christine said. "And this year she's even better, and I don't know how that's even possible. I can't even explain it."
---
Get the latest on L.A.'s teams in the daily Sports Report newsletter.
You may occasionally receive promotional content from the Los Angeles Times.