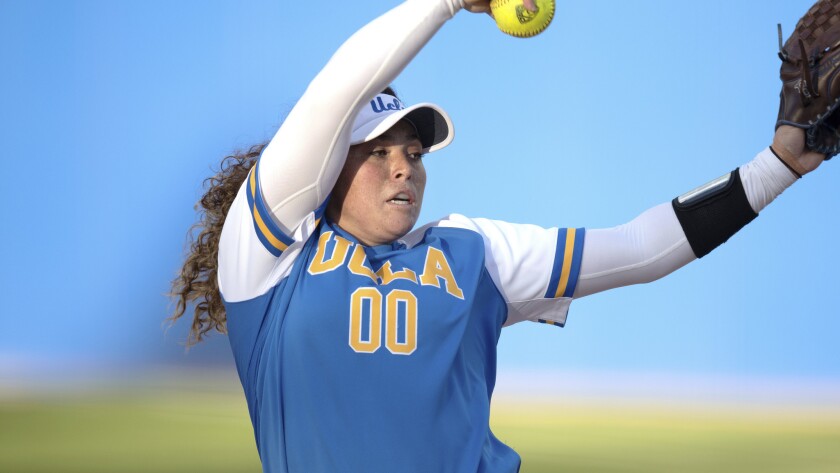 Batter after batter stepped up to the plate for Weber State on Friday night, attempting to spark a run in the NCAA regionals game against the UCLA softball team.
But there was no stopping Rachel Garcia.
The redshirt junior pitched a no-hitter through six innings, boosting UCLA to a 6-0 victory over Weber State in the opening game. The No. 2 Bruins face Missouri at 3 p.m. on Saturday at Easton Stadium.
"We did not play our best softball tonight," coach Kelly Inouye-Perez said. "But we did grow stronger through the game."
The Bruins took a two-run lead in the first inning behind an RBI single from sophomore Briana Perez and a sacrifice fly from Garcia. For the next four innings, UCLA's offense stagnated. Not that it was any cause for concern. Garcia was in the circle, after all, and she was just getting started.
"I just felt, just relaxed," Garcia said.
With 70 pitches, Garcia had 13 strikeouts — two shy of her season high. She seemed unstoppable as she blew through the Weber State batters.
Weber State's hitters didn't stand a chance.
Garcia has been sensational for the Bruins all season, earning her second straight Pac-12 player of the year honors along with conference pitcher of the year.
"It's definitely an honor to catch her…" Paige Halstead said of Garcia. "She's an amazing athlete, so it's just, it's all fun."
In the sixth inning, Garcia struck out the side.
UCLA's offense, meanwhile, finally came alive in the bottom of the sixth inning. Sophomore Kinsley Washington started the scoring with an RBI triple, and junior Bubba Nickles hit an RBI double, while freshman Kelli Godin and Perez each contributed RBI singles. The Bruins finished the game with 12 hits.
Sign up for our daily sports newsletter »
Entering the seventh inning, Inouye-Perez elected to pull Garcia. Inouye-Perez said she made the decision because Garcia will start for UCLA on Saturday. She wanted to give Garcia rest.
"She told me it's not about her personal accolades," Inouye-Perez said. "It's about winning."
Holly Azevedo relieved Garcia for the seventh and completed the no-hitter — UCLA's third this season. Garcia improved to 21-1, her earned-run average to 0.90.
As she has all season, Garcia has proven herself as someone UCLA can count on — especially under pressure. Essential to Garcia's success in the postseason is her outlook. She sees each contest, she said, as "just another game."
"She doesn't make it bigger…" Inouye-Perez said. "She doesn't get too high, too low. She just competes."
---