U.S. Open losses by Novak Djokovic, Roger Federer rock tennis' world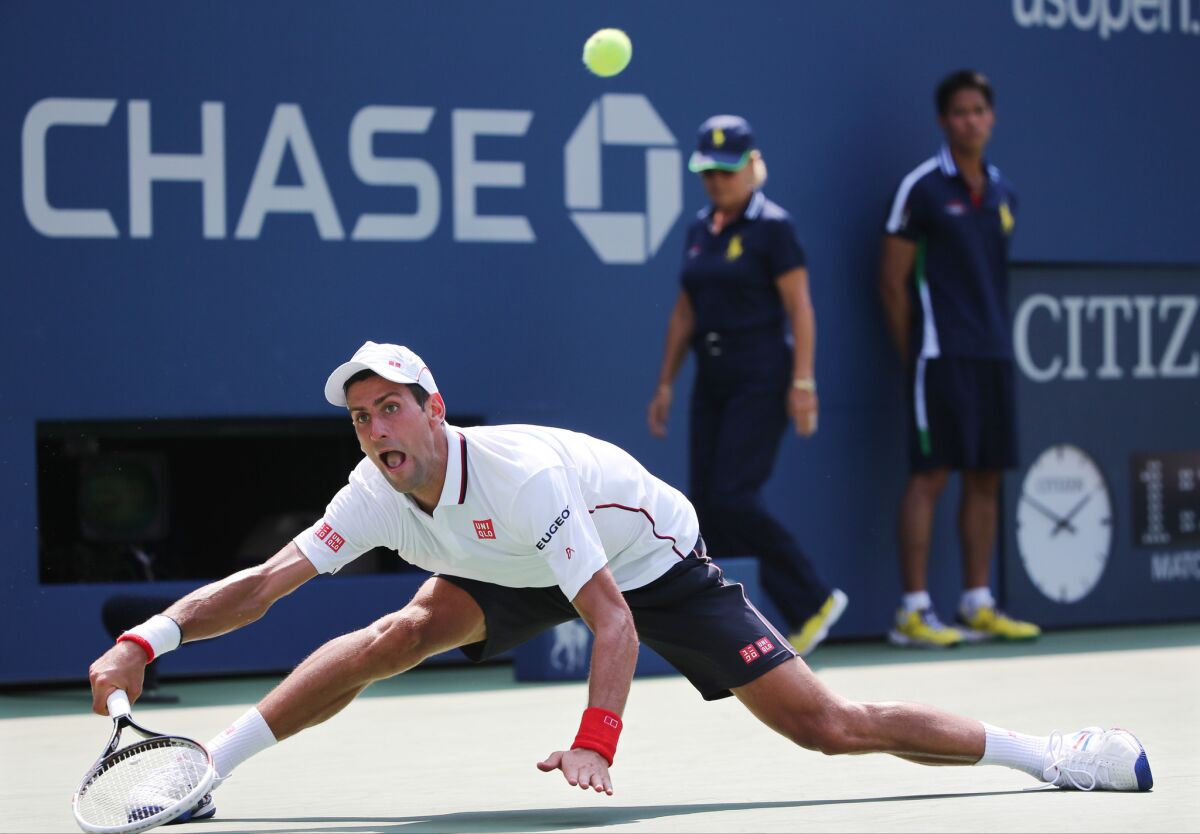 NEW YORK —
— If tennis had a Richter scale, this one would have been a 9.2. Before they play Sunday's women's final, they better check for cracks in the stadium.
There will be tennis fans all over the world who were busy Saturday afternoon and not watching the U.S. Open. That means lots of smartphones dropped in the salad over dinner. Or sudden gasps when picking up a paper or turning on the news Sunday.
The news of the men's semifinals results will not be easily comprehensible: Kei Nishikori of Japan beat Novak Djokovic and Marin Cilic of Croatia beat Roger Federer.
Many will need to read it twice.
The news was not who won, but who lost. If Vegas had offered a bet on a Nishikori-Cilic final and somebody had taken it at the start of the tournament, there'd be retirement planning going on right now.
The scores won't help ease the shock. These were two of the leading men in the sport, getting clobbered. On the same day. On the same court. With the same prize, a Grand Slam title that is the main motivation for both, dangling before them.
Djokovic won a set in his 6-4, 1-6, 7-6 (4), 6-3 loss, but he got no momentum, no bounce out of it.
"I congratulate him for the effort," Djokovic said. "He was the better player today."
Federer lasted only 1 hour 45 minutes. It was 6-3, 6-4, 6-4. Or, about as fast as one of Cilic's big serves.
"Marin played great," Federer said. "He served big, close to the lines. That's tough to beat."
It isn't that Nishikori and Cilic aren't great players. Nishikori is seeded No. 10, Cilic No. 14. It's just that world tennis has gotten used to the Federers and Djokovics — as well as the other two members of the sport's Big Four, Rafael Nadal and Andy Murray — being there at the end.
CBS certainly hoped for that. The TV network is in its last year of holding the broadcast rights to the big matches at Flushing Meadows, yielding for the future to ESPN and its scorched-earth march to world sports dominance.
Now, CBS has to bow out with a Monday men's final that may draw ratings the size of an "I Love Lucy" rerun. Hopefully, somebody is taking razor blades out of the medicine cabinets at CBS headquarters.
CBS had the right to expect a big-name, grand finale. Since Marat Safin of Russia won the 2005 Australian Open, every Grand Slam tournament final has included one of the Big Four, until now. They've won all but two in that span, yielding to Juan Martin Del Potro in the '09 U.S. Open and Stan Wawrinka in this year's Australian Open.
In '09, Del Potro beat Federer here, and in the '14 Australian, Wawrinka beat Nadal. Since Safin's '05 Aussie, that's 38 straight Grand Slams with the Big Four's involvement in the final, winning 36 of them.
When the semifinals began, Federer and his 17 major titles and Djokovic with his seven were facing opponents with an equal number of the same. Zero.
Nishikori is 24 and in his first major final. He is a product of the Nick Bollettieri tennis school in Florida, where he moved to live and train when he was 14. He was born in Shimane, Japan, and lives in Bradenton, Fla.
His best ranking was No. 9, this May. He had little preparation coming into the U.S. Open because he had a cyst removed from a toe and pulled out of lead-in tournaments in Toronto and Cincinnati.
"I started playing points just a few days before the tournament," he said. "I didn't even know if I should come to New York. I wasn't expecting anything here, actually."
Cilic is 25 and also in his first major final. He was born in the city of Medjugorje, in the region of Bosnia Herzegovina, and lives in Monte Carlo. His best ranking was No. 9 in February 2010, following his best previous Grand Slam tournament result, the semifinals of the 2010 Australian Open.
Saturday, he outhit Federer with 13 aces and 12 service winners, as well as 43 winners to Federer's 28.
"First point to the last," a grinning Cilic said afterward, "I was absolutely playing the best tennis of my life."
Last year, Cilic didn't even play in the U.S. Open. He was home, on suspension for testing positive for a stimulant called nikethamide, which he said he inadvertently took with a glucose pill. Tennis officials eventually believed his case and reduced his suspension from nine months to four.
Federer said he had no problem with Cilic and his drug violation.
"I truly believe he didn't do anything wrong in the sense that he did it on purpose," Federer said.
Federer, who had come back from two sets down Thursday night to beat Gael Monfils, said he didn't feel as confident about repeating that. He was right. No Houdini escapes this time.
He broke Cilic's serve early in the third set, and the crowd, always behind this beloved legend, whooped and hollered. But Cilic broke him right back and served out the match with three aces — 129 mph, 123, 117 — that preceded a backhand miss by Federer on the first match point.
A dejected, tired-looking Djokovic summed up his match best when a reporter told him he had won more points, had more winners and fewer unforced errors than Nishikori.
"I lost the match," the Serbian star said.
So the worm has turned in men's tennis. Maybe this is just an aberration or maybe it is the start of a parade of interesting new names and faces in the sport.
There may even be a few fans who will tune in to watch the final Monday, not knowing who is playing.
Talk about a jolt.
---
Get our high school sports newsletter
Prep Rally is devoted to the SoCal high school sports experience, bringing you scores, stories and a behind-the-scenes look at what makes prep sports so popular.
You may occasionally receive promotional content from the Los Angeles Times.