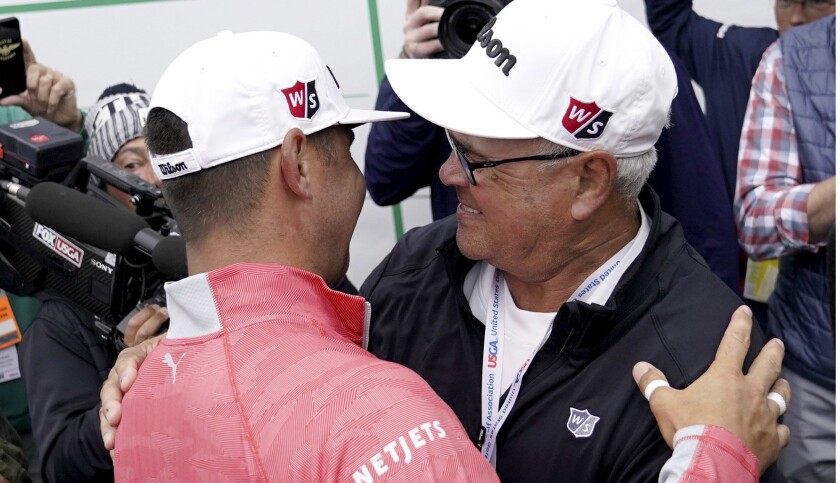 Reporting from pebble beach —
Gary Woodland won the U.S. Open on Sunday, stepped off the 18th green at Pebble Beach and made a beeline for his parents.
Swarmed by photographers, he first embraced his mother, Linda, then delivered a hug to his father, Dan, that was so emotional and vigorous it was closer to a football collision.
"Thank you," Dan told his son at almost a whisper. "Thank you."
The gratitude goes beyond Gary Woodland fending off back-to-back U.S. Open champion Brooks Koepka down the stretch, and beyond the fact the drama came on Father's Day.
Ten years ago, Dan's heart stopped beating for four minutes.
"We almost lost him," Linda said.
Dan had suffered a heart attack a week earlier while playing golf with friends in Scottsdale, Ariz. He underwent triple-bypass surgery there, and it was the hospital staff that resuscitated him after he went code blue.
Coincidentally, his son was playing in the AT&T Pebble Beach Pro-Am at the time, although the elder Woodland had forgotten that part.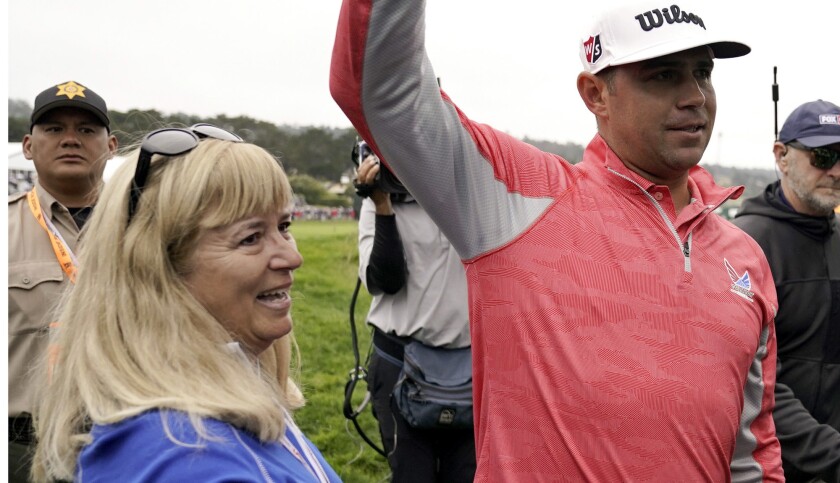 "I don't remember a lot from that week, to be honest with you," said Dan, a onetime star athlete in Topeka, Kan., who married his high school sweetheart and started his own electrical contracting business.
This past week, however, was unforgettable. With the red-hot Koepka in his rear-view mirror, Woodland never surrendered his narrow lead, made a clutch chip on No. 17 that will go down in Pebble Beach lore, and pulled away down the stretch to win by three strokes at 13 under.
The former shooting guard at Washburn University drained a 30-foot putt on No. 18 to seal the victory, raising his arms in triumph before the ball trickled into the cup. His parents were below the green and couldn't see the putt, but they could tell from the reaction of their son and the roar from the thousands of spectators that it had gone in.
"When he raised that putter before it went in, I knew it was on line," his father said. "I knew it had a great chance. What a great feeling."
Throughout his life, Gary Woodland has had a special relationship with his father.
"I wouldn't be where I am without my dad," he said. "My dad worked nights growing up. Growing up I had somebody to shoot baskets with, whatever we did I had somebody to do that with."
His father coached him in baseball and basketball — Gary's first love — but never in golf.
"My dad never forced me to do anything," he said. "But if I did it, if I decided to go play catch or basketball, he was hard on me. You had to do it the right way if you were going to do it. He never let me win."
Sign up for our daily sports newsletter »
That's saying something, because Gary was a tremendous basketball player, a 6-foot-1 shooting guard in Topeka who was all-state two years and won two state titles. He had hoped to play college basketball at Kansas but wound up playing one season at Division II Washburn before transferring to Kansas on a golf scholarship.
Dan and Linda looked deeply nervous as the leader approached the 18th green Sunday — their son had a chance to win the U.S. Open, after all — but they both had to smile when someone in the bleachers broke into the school's "Rock Chalk, Jayhawk" chant.
Glued to the broadcast back in Topeka was Bob Chipman, Gary Woodland's basketball coach for his one season at Washburn. He grew to love Woodland's parents, who only supported and never interfered, and Woodland himself, whose toughness and intensity were legendary.
"I remember one time I was mad," Chipman said. "We had just lost a game or something. It was pretty early in the year. We had a tough practice after a loss. I looked at Gary and said, 'You little freshman, are you ever going to get a floor burn sometime this year? Are you going to earn your scholarship? Are you going to get after a ball? Are you going to get a rebound? What are you going to do, just stand around the whole year?'
"Next play, he dives into a pack after the ball, and I think he might have broken his finger. Now, every time he misses a putt, I blame myself. 'Oh, why did I do that to him?' You challenge Gary and he'll respond. He's a fierce competitor. Fierce."
As close as he is to his son, Dan conceded that he didn't know what to say to him in the run-up to Sunday's final round.
"I've sat here and watched him for I don't know how many years perform like this," the father said. "I never, ever got nervous until about the third round here. I started feeling butterflies. And it's like a pitcher throwing a no-hitter and whatever. I didn't know what to say to him, this and that. So we stayed away."
That ended Sunday evening, under the cool skies of the Monterey Bay. A hug for the ages.
Follow Sam Farmer on Twitter @LATimesfarmer
---