Ronald Jones II, with regrown hair, is ready to lead running backs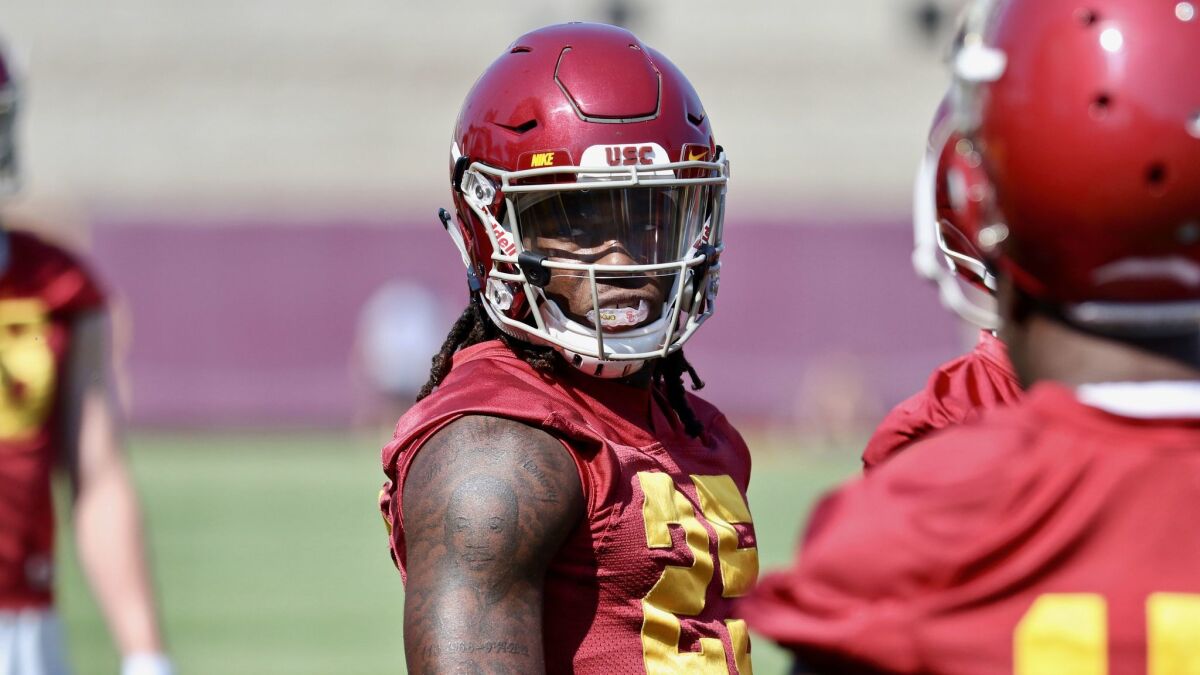 Last season, Ronald Jones II didn't feel like himself.
Jones struggled to run the ball through the first several games, and by the midpoint of the season he was certain he knew why: He had cut off his dreadlocks.
A year later, the USC tailback won't make the same mistake.
Dreadlocks bounced off Jones' shoulders as he ran onto Brian Kennedy-Howard Jones practice field Monday for the second day of training camp.
"I feel like myself," Jones said after practice. "I'm ready to go now."
Said coach Clay Helton: "He told me dreads make him faster and I said I like it."
Jones, a junior, is expected to assume a leadership role and carry a bulk of the handoffs after splitting carries the last two seasons with Justin Davis, who is now with the Rams.
Juniors Aca'Cedric Ware and Dominic Davis are likely to be Jones' backups. After an impressive start to camp, freshman Stephen Carr could challenge for playing time.
"It's different because when the younger guys don't know the play they're looking at me," Jones said, adding, "I know the plays now and it's cool being the older guy."
Jones, a proficient runner, has worked to improve his blocking and pass-catching abilities, but admitted he still wasn't entirely comfortable with his hands. The 6-foot Jones also gained weight — he's up to 205 pounds — in order to endure more hits.
"He has the whole package as far as skill set," said first-year tailbacks coach Deland McCullough. "Right now it's the details."
Darnold picked off
Sam Darnold dropped back, threw a deep pass and then threw his arms up as safety Chris Hawkins intercepted it. Darnold appeared frustrated.
It was his third pass intercepted in the two-hour workout, his fourth in two practices. Last season, Darnold didn't throw a pass for an interception during training camp until midway through August.
Quarterbacks coach Tyson Helton called it a "very, very average day" for the third-year sophomore, but said he wouldn't change Darnold's approach.
"Sam's always going to have free rein," Tyson Helton said. "That's what's going to make him a very good player and so he'll learn from his mistakes."
Darnold must develop a rapport with several young receivers after last season's top pass-catcher JuJu Smith-Schuster made himself available for the NFL and Darreus Rogers exhausted his eligibility.
No specifics on Boermeester
On Sunday, Zoe Katz, the girlfriend of former USC kicker Matt Boermeester, said in a two-page statement that her attorney emailed to the The Times that Boermeester "has been falsely accused of conduct involving me."
Katz confirmed that the statement was hers.
Her attorney, Kerry L. Steigerwalt, said that USC alleged that Boermeester shoved Katz outside her home.
On Monday, Clay Helton said that the situation remained a "university matter" unrelated to football.
"Any time that there is a university matter they take the football coaches and team out of it," Helton said.
Quick hits
Offensive lineman Viane Talamaivao rolled an ankle, Clay Helton said, during practice and was sidelined… After two days of practices that were open to the public, the remainder of workouts will be closed.
Follow Lindsey Thiry on Facebook and Twitter @LindseyThiry
Get our high school sports newsletter
Prep Rally is devoted to the SoCal high school sports experience, bringing you scores, stories and a behind-the-scenes look at what makes prep sports so popular.
You may occasionally receive promotional content from the Los Angeles Times.