JT Daniels gets a break during Trojans' week off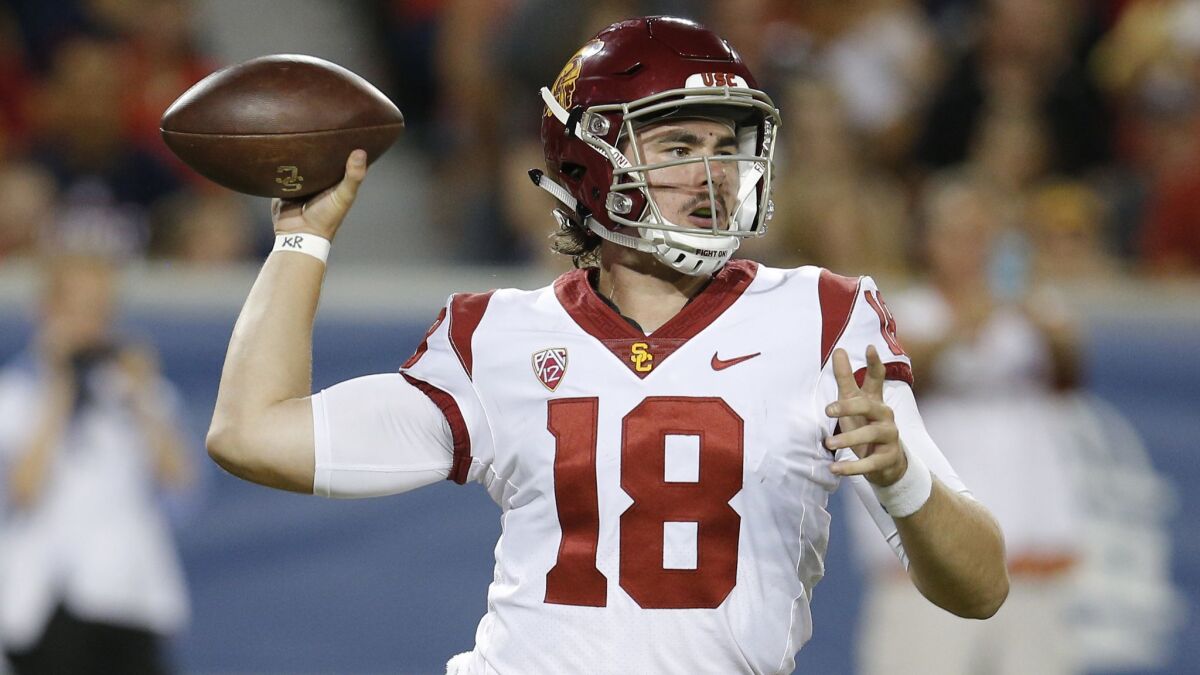 While the other USC quarterbacks ran routine drills as a group, JT Daniels stood aside.
For the first hour of practice Tuesday, he bounced on the balls of his feet during footwork drills, dodged tennis balls to practice keeping focused in a pass rush and sprinted down the sideline for extra conditioning alone.
He did not throw the ball or take a snap.
"If we had a game this week, he'd be practicing, for sure," quarterbacks coach Bryan Ellis said.
Between the first five games and training camp, Daniels has grinded for 10 weeks, Ellis said. His arm was sore in his first season taking a collegiate-level load of reps, so coach Clay Helton decided to rest him Monday and Tuesday.
Helton said he did the same for Sam Darnold during a couple of Monday practices last season. As the team prepares for the back half of the season, starting with No. 21 Colorado on Oct. 13, the bye week afforded Daniels a couple of days of rest.
"It's a daylight-'til-dark job," Helton said.
Daniels instead did footwork and rushing exercises with the running backs. Helton said Daniels will return to throwing Wednesday.
After completing 47% of his passes against Stanford, Daniels improved to complete 66.7% of his throws against Arizona. He recorded one touchdown pass in the Trojans' first three games but threw three against Washington State.
"It's a super-fast game in college, but it is starting to slow down a little bit," Daniels said. "I'm getting more used to in-game feeling."
Ellis can see that speed in action. Daniels is finding the open man quickly and more frequently, minimizing plays where he throws into coverage.
Early on, his timing lagged, giving defenders more time to reach the Trojan receivers and make immediate tackles, Ellis said. Now, Daniels is more frequently beating defenders in the race to the receiver, allowing them to bolt for extra yardage after a catch.
An example was Michael Pittman Jr.'s 50-yard touchdown play against Washington State, Ellis noted.
Amon-ra St. Brown saw Daniels grow confident in his playbook knowledge. It was never an area of weakness, Ellis said, but Daniels' newfound strength allows week-to-week preparation to be more focused. Because the game plan encompasses his attention, it is easier to execute.
"Knowing he knows what he's gonna do with the ball, he's confident in what he's gonna do," St. Brown said, "so it makes you feel good as a receiver."
Of course, Daniels still has room to grow. Ellis saw issues to adjust in the second half against Arizona — turnovers, misread plays, open receivers who escaped Daniels' detection.
But the season has been one of gradual improvement for Daniels, and Ellis expects that to continue.
In the second hour of practice, Daniels joined his teammates but did not don his helmet. He studied the scrimmages from the sideline, soaking up the final moments of his two-day break.
Return to technique
The early portion of the bye week's practices saw USC devote less time to studying schemes, Helton said. Instead, Helton turned the Trojans' focus to fundamentals.
The first two days saw extra work on individual issues with players, one-on-one competitions and development of players on the brink of starting.
Well-timed bye week
Strained from training camp and an early load of games, USC is benefitting from a week of rest and recovery.
Following several injuries against Arizona. Helton said the bye came at "a good spot," especially as the Trojans prepare for the Buffaloes — a battle to lead the Pac-12 South.
"To have the extra week for game-planning and preparation is huge," he said.
Etc.
Linebackr John Houston (neck) will not practice this week and will be evaluated after. St. Brown (shoulder) rested after playing through his injury for a few games and will do a PRP injection to expedite healing, Helton said. Helton said he will know more about the players' status for Colorado next week, expressing uncertainty about defensive lineman Malik Dorton (ankle) and linebacker Porter Gustin (ankle), because ankle injuries are harder to predict recovery times.
---
Get our high school sports newsletter
Prep Rally is devoted to the SoCal high school sports experience, bringing you scores, stories and a behind-the-scenes look at what makes prep sports so popular.
You may occasionally receive promotional content from the Los Angeles Times.