Column: In his battle to fight on, USC's Clay Helton stands as the lone soldier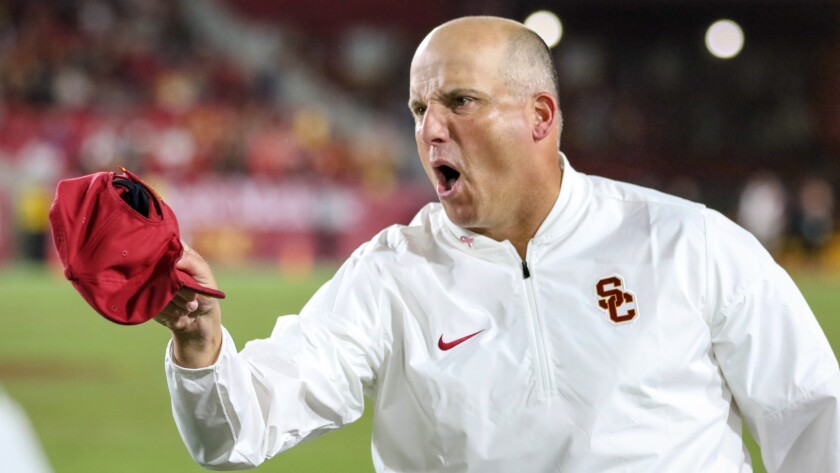 How badly do USC fans want to get rid of their football coach?
This week I asked a prominent Trojans booster how a loss to UCLA would be viewed if it ensures that Clay Helton is fired immediately afterward.
"I'd call it a win," said the booster.
That's bad. That's real bad.
For any self-respecting USC fan to even hint that they could stomach losing to UCLA if it meant ridding the program of Helton, they really, really, really don't like Helton.
But I'm hearing this everywhere, feeling it from virtually every corner of Trojan Nation, a pervading disgust with the program that I haven't seen during USC-UCLA week in nearly 20 years.
The last time folks were this upset, it was 2000, the coach was Paul Hackett, and those fans eventually got their wish. At the end of a 5-7 season, the Trojans beat UCLA, got clocked by Notre Dame, and Hackett was fired two days later.
This year's setting feels the same. Sitting on a 5-5 record after an autumn marked by underachievement on the field and confusion on the sidelines, it appears Helton's Trojans have to at least beat UCLA to save his job.
If they win Saturday at the Rose Bowl, the Trojans still might have to be competitive with mighty Notre Dame the following week to keep him employed.
Bottom line, they have to avoid becoming the first non-sanctioned Trojans team to miss a bowl game in the 18 years since Hackett for Helton to even have a chance.
Even then, he might have no chance.
It seems like the only person who doesn't believe this is Helton himself, who told the media earlier this week that, "Know this: I'm not going anywhere.''
In a conversation with me Wednesday evening after practice, he doubled down. When I asked if he thought he had to beat UCLA to save his job, he said, "No'' and explained again that he had the backing of his bosses.
"I've got a ton of support from not only the athletic director but our president,'' he said, adding that athletic director Lynn Swann has expressed that support on numerous occasions.
"He's in this for the long haul, he really is," Helton said.
Helton then cited his resume and tacked on a guarantee.
"You always judge on production, and we have won a Rose Bowl, we have won a Pac-12 title, and we are going to win a national championship," he said. "It's not going to be this year, but I'm hoping we're looking like some other teams that are just on the doorstep. We have some great young kids and everyone is going to look up one day and say, that's a really good football team."
Those strong words reveal something that most people don't know about the eternally nice-guy Helton. He is also a fighter. He spent 21 years clawing his way up through the coaching ranks to land the head coaching gig at USC, and Swann will have to pry it from his weathered fingers.
"I love those kids in there, and I'm going to fight like hell each and every day for them," Helton said. "I always tell Miss Angela [his wife], 'I'm trying to buy us 24 more hours.' From Day 1, since I was quarterbacks coach until I was a coordinator until I was a head coach, I've always fought like hell to buy 24 more hours, and that's what I'm doing now."
It's impossible not to root for a man like this. His personal fight is the sort of thing that championship teams emulate. The fact that he publicly stared down his critics and offered up a rare first-person vote of confidence this week represented an admirable punch.
Yet this powerful attitude has never seemed to translate to his teams. Helton may live it, but he hasn't seemed to be able to coach it. His teams publicly respect him, but once in the trenches, they don't always respond to him.
Helton has a 32-15 overall record, which includes arguably the most exciting Rose Bowl victory in USC history, but his Trojans have never shown a consistent fierceness to match their overwhelming ability.
With few exceptions, particularly that Rose Bowl victory over Penn State, they've come up flat in the biggest games. Alabama beat them up. Ohio State knocked them silly. Notre Dame ran them over last season.
Without Sam Darnold as his quarterback, Helton's teams are 12-11. When facing opponents who were ranked in the top 25 at the time, Helton's teams are 9-10.
Yes, Swann backed him a couple of weeks ago on the Trojans' weekly radio show, saying, "I believe in Clay Helton. We'll get back on track this week and we'll continue to progress. We have a chance to finish our season strong."
They were 4-4 at the time. But they have since gone 1-1 with a victory over two-win Oregon State and a horrific Coliseum loss Saturday night to California.
That doesn't exactly portend a strong finish. And Swann has always stopped short of publicly saying Helton would be back next season.
And to think, once upon a time, Helton was a perfect fit. He was promoted to head coach by Pat Haden three years ago to stabilize a program that was in chaos in the wake of the Lane Kiffin explosion and Steve Sarkisian debacle. With his kind demeanor and family values, he has done exactly what he was paid to do, and even received a contract extension last winter from Swann as a reward.
But now the plan has changed. It's time to lift the Trojans to the next level, it's time to seriously pursue a national title, and there exists an overwhelming sentiment that Helton is not the coach to get that done.
Also working against him will be that guy walking the other sideline Saturday. Surely the Trojans family is thinking, if UCLA can spend $23.3 million on a big-name head coach, why can't we?
Working in Helton's favor — besides the fact that he is an uncommonly decent man — is that his university's leadership might be too unstable right now to make such a major change.
They have an interim president in Dr. Wanda Austin. They have a politician athletic director in Swann. Is either of them established or engaged enough to fire the school's most visible employee and lead a national search for his replacement?
And about all that money involved in a change, remember, USC recently agreed to pay $215 million in the first of an expected wave of payments to patients treated by Dr. George Tyndall, a former campus gynecologist accused of sexual abuse.
Suddenly, maybe shelling out big bucks to shake up the football program might not be such a priority.
No matter what happens, the USC-UCLA game Saturday will be filled with its annual human drama, this time most of it settled on the shoulders of one man fighting for the next 24 hours.
Will USC fans be fighting on with him?
Don't answer that.
Get more of Bill Plaschke's work and follow him on Twitter @BillPlaschke
---
Get the latest on L.A.'s teams in the daily Sports Report newsletter.
You may occasionally receive promotional content from the Los Angeles Times.