Column: The Golden Knights were supposed to be competitive, not mounting a Stanley Cup run
Reporting from Las Vegas —
Nate Schmidt wondered what he was getting thrown into when the Vegas Golden Knights selected him off the Washington Capitals' roster in the NHL expansion draft last June. He knew one other player, forward Erik Haula, a former teammate at the University of Minnesota, and knew goaltender Marc-Andre Fleury through shaking Fleury's hand when the Pittsburgh Penguins eliminated the Capitals from the Stanley Cup playoffs. Vegas chose players Schmidt respected, but he wasn't sure how effectively they'd mesh.
"You know what we had with each guy. You didn't know what it was going to be like to bring everybody together, in the room," said Schmidt, an offensively gifted defenseman with a gregarious personality. "That's what's been the beauty of this team and why we've had so much fun and had so much success. It's how much our guys have bonded over being here together."
The Golden Knights have obliterated stereotypes about hapless expansion teams while making Vegas the league's hottest market. Playing an entertaining style that relies on speed and teamwork, they finished first in the Pacific Division, third in the Western Conference and fifth overall. In eliminating the Kings in the first round of the playoffs they became the third NHL, NBA or major league baseball team to record a four-game sweep in their first playoff series. They split the first two games of their second-round series against the Sharks. The series resumes Monday at San Jose.
"It was a blank sheet of paper, a blank canvas, I guess you can say, for us to go paint our own masterpiece with," Schmidt said. "This whole year it's been like that."
Vegas was given decidedly generous expansion terms but general manager George McPhee and his staff did their homework well. They found gems that had been left off other teams' protected lists and knew who they wanted when teams feeling a salary-cap squeeze had to leave good players available. The Penguins couldn't afford to keep Fleury, who became Vegas' cornerstone on the ice and in the community work McPhee emphasizes. Cap problems led Nashville to make forward James Neal available, and he scored 25 goals for Vegas.
But as good as the pickings were, McPhee and coach Gerard Gallant still had to transform those parts into a cohesive whole for owner Bill Foley, who paid $500 million for the first major professional sports franchise in a city that likes big, bold entertainment. "It was important to the league that Las Vegas worked," McPhee said. "It was important to Las Vegas as a world-wide brand that would give the NHL more visibility, and we wanted to make sure the market had a chance to grow some roots and dig them deep and see if we can make this successful."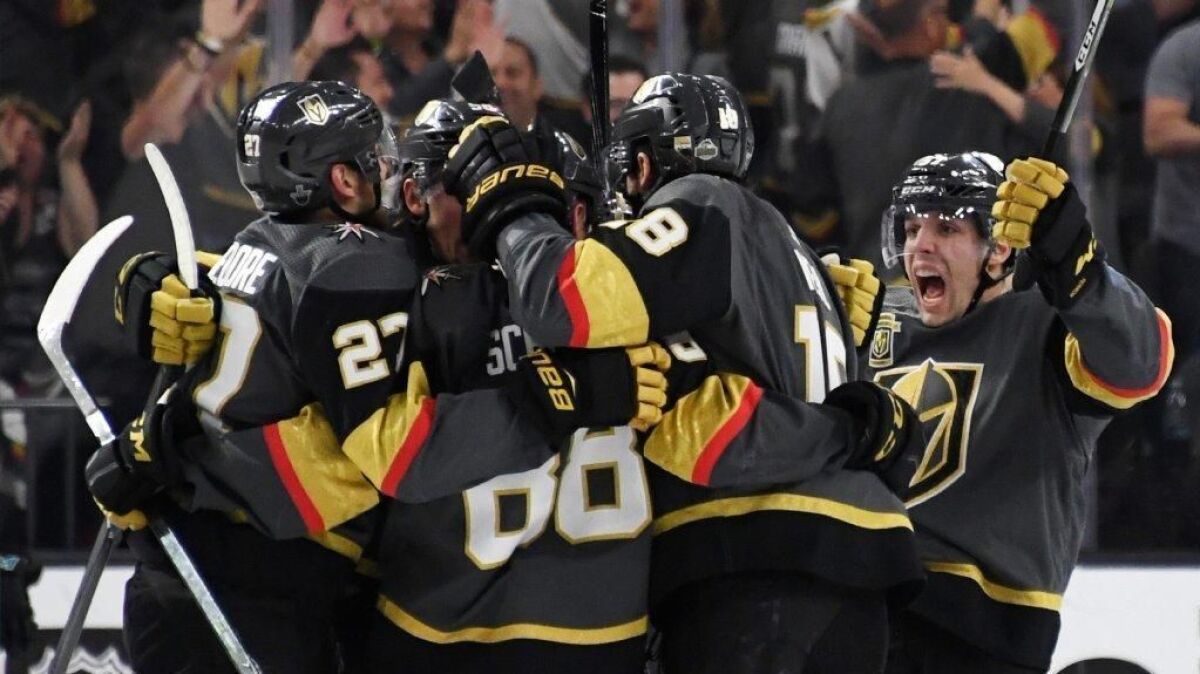 They succeeded much sooner than they'd envisioned. "I knew we were going to be competitive. I didn't know we were going to be … " forward Pierre-Edouard Bellemare said before pausing to find the right words.
Be in the second round of the playoffs? "No," Bellemare said. "This is crazy."
It is, and it isn't.
It started with those favorable expansion rules. Existing teams were allowed to protect one goalie, three defensemen and seven forwards, or one goalie and eight skaters. Teams had to leave available at least one defenseman and two forwards who were under contract and met certain experience levels. First- and second-year pros were exempt, but players with no-move clauses had to be protected. That was a thorn for the Ducks, who had to protect veteran Kevin Bieksa and expose youngsters Josh Manson and Sami Vatanen. McPhee promised he'd pass on Manson and Vatanen if the Ducks traded him Shea Theodore (and injured Clayton Stoner). Theodore became a mainstay of Vegas' mobile defense; the Ducks later dealt Vatanen for valuable center Adam Henrique.
McPhee, determined to build a team on youth, speed and "good guys, willing to work, and low ego," pulled off some steals. When he agreed to leave Minnesota's defensemen alone and instead draft Haula, the Wild gave him prospect Alex Tuch. Both have been standouts for Vegas. Minnesota exited in the first playoff round. When Florida foolishly exposed 30-goal scorer Jonathan Marchessault — a bargain at $750,000 this season — McPhee took him and let the Panthers "dump" Reilly Smith on him. Marchessault had a career-best 75 points and Smith a career-best 60 as wingers on the top line with William Karlsson.
Ah, Karlsson, whose 43 regular-season goals ranked third in the NHL. McPhee got him from Columbus with first- and third-round draft picks in exchange for not drafting Josh Anderson or Joonas Korpisalo and for taking the fat contract of injured forward David Clarkson. Win-win. "We thought he was a very responsible player who played the game right, was very good defensively, and if he could ever generate some offense he'd be a very effective player," McPhee said. "He's generated more offense than we anticipated, but I think we've had about 12 players who have had career years.
"The lesson learned for all of us in the game is give players a second chance, a third chance, whatever it takes to see what you can get out of them and what their ceiling is. We gave a bunch of guys opportunities, and a lot of them came to camp wondering if they were going to make the team. They got opportunities to play and show what they could do and Gerard made them a team."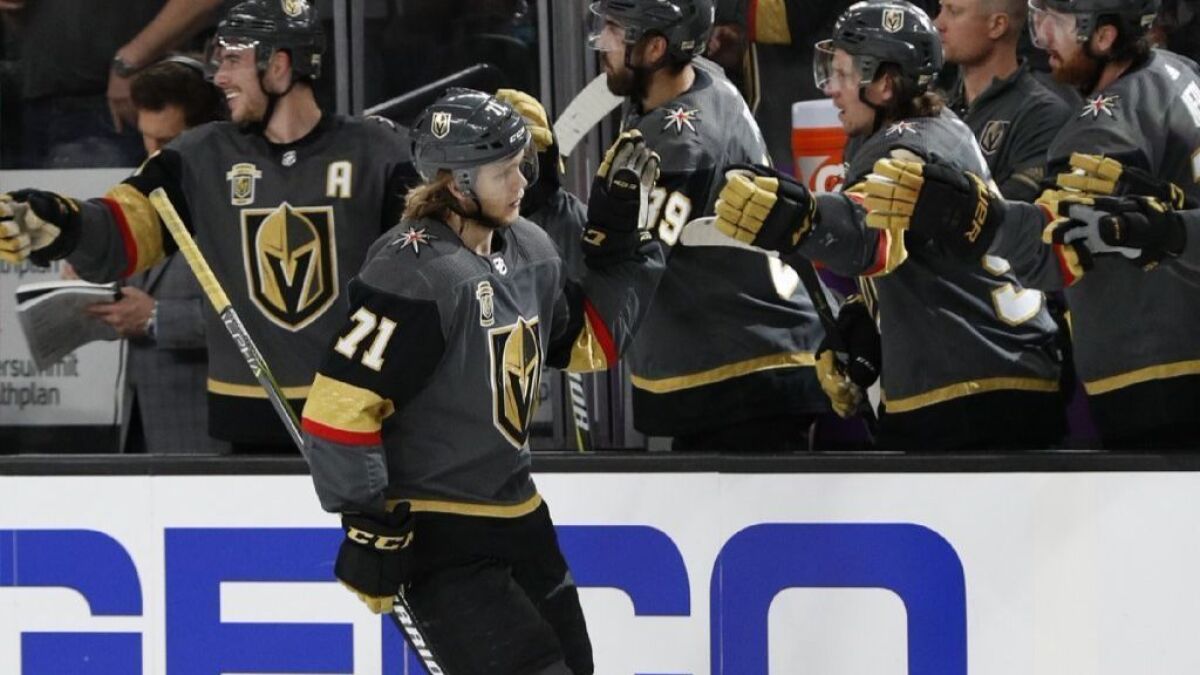 Players bonded over McPhee's message they had been chosen by Vegas for a reason and shouldn't feel they'd been discarded by their old team. That promoted a selfless work ethic. "There is no superstar because we are all brand new in the team," Bellemare said. "If the worst of us is saying to the best of us, 'Hey, get it together,' the other guy can only say, 'Yes, I have to get it together.' That helped all of us be successful together."
The team's early success quashed predictions McPhee would trade assets for prospects or draft picks. At the trade deadline he paid the hefty sum of first-, second-, and third-round draft picks for forward Tomas Tatar, but Tatar didn't produce and hasn't cracked Gallant's lineup lately. During the season, McPhee gave extensions to Marchessault, former Kings defenseman Brayden McNabb and defenseman Jon Merrill. Players liked that McPhee is looking to win now, not in three or five years. "It wasn't like a joke at the beginning of the year, but a lot of guys weren't sure how close to get to other guys. It was so tough," Schmidt said. "There was so much unknown, who was going to get flipped. Half our team was on one-year contracts, so it was difficult in that respect. You see guys get extended, it shows you it's not a one-time thing."
Aside from the Golden Knights' legions of fans, the big beneficiary of their success is the group vying for the next expansion franchise. The 32nd team is expected to be awarded to Seattle and will be stocked under the same rules Vegas had, Deputy Commissioner Bill Daly said. McPhee has set a high bar for any future expansion teams, but he hasn't had time to think about that. He's too busy running a Cup contender. "We wanted to be good," he said. "To make the playoffs, to win the division, have been terrific, and you just hope it never ends."
Follow Helene Elliott on Twitter @helenenothelen
Get our high school sports newsletter
Prep Rally is devoted to the SoCal high school sports experience, bringing you scores, stories and a behind-the-scenes look at what makes prep sports so popular.
You may occasionally receive promotional content from the Los Angeles Times.