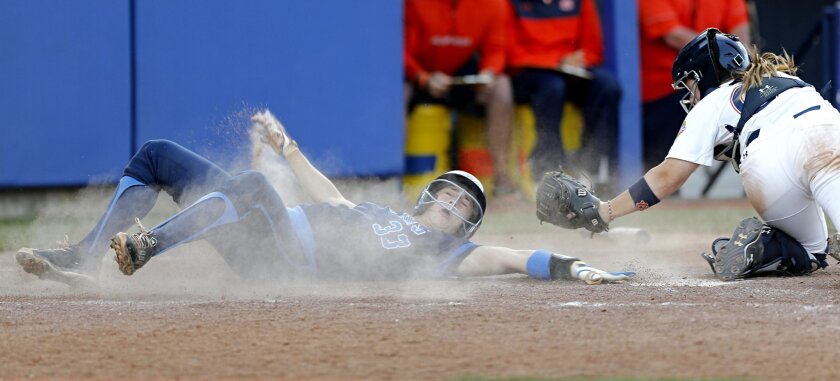 OKLAHOMA CITY —
OKLAHOMA CITY — Auburn closed out the best day in program history a little later than expected.
Emily Carosone scored on Morgan Estell's bases-loaded walk in the bottom of the 10th inning to give the Tigers an 11-10 victory over UCLA on Saturday night that kept them alive in the Women's College World Series.
Auburn had never even been to the event, and the Tigers lost their opener to Louisiana State on Thursday. Facing elimination, the Tigers beat Tennessee early Saturday, then rallied from five runs down to beat UCLA (51-13) in a four-hour game.
Branndi Melero had three hits and four runs batted in, and Carlee Wallace also drove in four runs for the Tigers. The 21 combined runs were the second-most in World Series history.
Auburn (56-10) will play Florida on Sunday for the right to play in the championship series. Auburn must win twice, while defending national champion Florida will need just one victory.
UCLA pitcher Ally Carda gave it all she had against Auburn — she threw 205 pitches. But she walked 12, including two in the 10th inning.
"Not only is the season lost, but I was more mad that I didn't do it for everyone else," Carda said. "So I was mad at myself for not being able to come up with better pitches. Walking people is not the way to do it in those kind of innings. So more so just mad at myself I didn't get it done for my team."
LSU 5, Alabama 3: The Tigers eliminated the Crimson Tide and will face Michigan on Saturday.
Alabama 2, Oregon 1: Alexis Osorio threw a complete game and struck out nine to help the Crimson Tide defeat the Ducks.
Auburn 4, Tennessee 2: Carlee Wallace and Haley Fagan each had two hits to help the Tigers defeat the Lady Vols.
---