Steve Nash ready to step up as Lakers playmaker -- can he do it?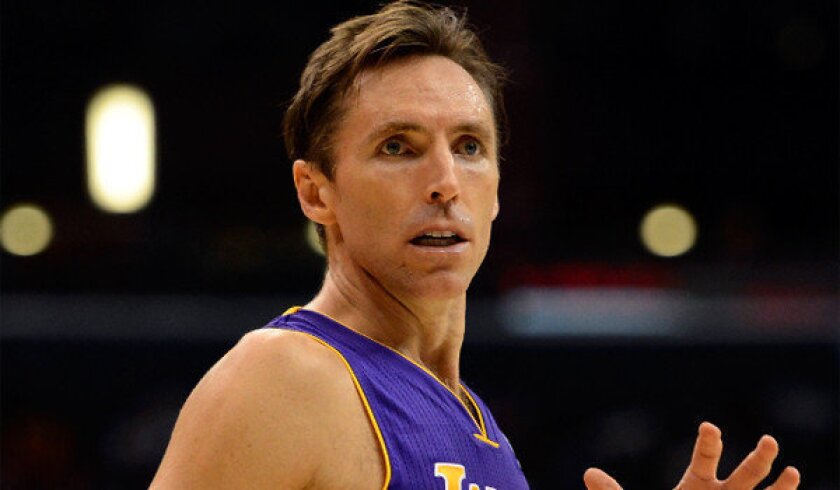 PHILADELPHIA — His life has already been one of amazing accomplishment on and off the court.
So it's a thrill to meet him.
I don't get the opportunity often to talk to someone who is almost my age and still playing professional basketball, with plans following retirement to make motion pictures.
How inspiring to know it's never too late in life; Steve Nash is now considered the savior to pull the Lakers out of a nose dive.
Putting it that way, Nash says, "Hey, if I was in your shoes I know I wouldn't want to bet the ranch on this guy either. But in my shoes, I still feel incredibly optimistic and inspired."
Nice speech. But didn't your brother Martin play professional soccer? Your younger brother? How old was he when he called it quits?
"Thirty-five," says Nash, who will be 39 in February.
"I know at some point my game has got to go, and my game is getting into gaps. And if I can't get there anymore…" says Nash, his voice dropping off, which is certainly a lot better than the old guy nodding off.
"I've got a lot to prove," says Nash, which is kind of funny to hear knowing the old-timer has already been acknowledged twice as the game's MVP.
"I played basketball in October for the first time since April. I trained my butt off all summer, but I didn't play basketball because I wanted to be fresh mentally. Now I've got six weeks of inactivity to overcome and I'm going to be 39."
Did I also mention the Lakers' top shortcoming is defense, and their savior can't play a lick of it?
Twenty years ago, his college coach was calling him the worst defensive player he had ever seen, and that was when he still had life in his legs.
"I'm not a great defender," says Nash, by his very nature not the defensive sort. "Whatever I say, I'm never going to overcome the reputation."
We're sitting together in the lobby of the Four Seasons hotel here. Nash has just completed a two-hour-plus workout. He's been running full speed for a few days now, he says, while quick to point out, "as full speed as I can go."
He says there's still a lot of discomfort in his injured leg. "But I would be extremely disappointed if I wasn't playing in the next week or two.
"Right now I just feel like luggage and they are carrying me around with them."
When he returns, the Lakers' savior will once again lie on his back when not playing.
He mentions some long word I can't spell, and explains it's a condition in which his back stiffens if he sits on the bench.
So he lies on his back, he says, more precautionary than anything, while dismissing the notion his body is shot.
I have to ask him what number he will be wearing when he returns because I missed his cameo appearance early on as a Laker.
"No. 10," Nash says, "Because traditionally in soccer that's the number the playmaker wears."
The conversation shifts to Beckham, so it's going downhill.
It gets worse when a soccer party of 12- and 13-year-old girls notices Nash. The girls are overwhelmed, and they are not quiet about it.
Nash picks up the tape recorder and offers to hold it in front of his mouth for the remainder of the interview. Maybe he just wants to make sure he doesn't have to do the interview again. Or maybe he's just the most considerate athlete one has met.
Later he agrees to join the girls for a team picture, a line of parents asking everyone to remain still while they take picture after picture.
The girls ask if they might pose with Nash one by one. He reacts as if he's been waiting all day for such an invite. He's beyond cool.
It's no surprise after reading about him online. There's a blog detailing a visit with a group of teens who are dealing with cancer.
"We all have disabilities," he tells them. "And yet we all have tremendous good in each one of us. Each of you here is a superstar with a lion's heart. Stay strong."
I ask him about the visit. It's no one-time photo opportunity. It's all part of who he is. The Steve Nash Foundation has raised millions for underserved children.
"It's the way I was raised," he says in crediting his parents. "I remember my dad working with Special Olympics and wiping the bum of a child who needed help.
"It's something that sticks with you; now I'm not going around wiping bums, but there are things that can be done."
By now he's heavy into the self-deprecating humor.
He's already shown me pictures of his 2-year-old son and twin 8-year-old daughters, talked about the inspiration he's taken from Terry Fox, an amputee who, before dying, walked more than 3,000 miles to raise money for cancer, and Kobe.
"He'll probably try to steal the ball away from me," says Nash, and he's joking. He truly is.
"Kobe should have the ball a lot," he says. "And Dwight Howard is so good he doesn't need the ball to be good. If he sacrifices a little and is just a touch more like Bill Russell, and if Kobe is a touch more like a playmaker, and Pau Gasol plays off Dwight, this team can be awesome.
"But if everyone doesn't give in a little and accept change, it won't work. There are too many old dogs with old habits."
Does he realize Coach Mike D'Antoni's future is probably tied to Nash's effectiveness in orchestrating the Lakers' superstars?
"The way it's going now, nobody is going to end up walking out of here looking good," Nash says. "We're at that point where we've got to get things rolling or we're not going to make the playoffs."
He's already done the amazing, too much to document here, so who is to say he can't do it again?
Doesn't the good guy always win in the end?
twitter.com/latimestjsimers
---
Get our high school sports newsletter
Prep Rally is devoted to the SoCal high school sports experience, bringing you scores, stories and a behind-the-scenes look at what makes prep sports so popular.
You may occasionally receive promotional content from the Los Angeles Times.