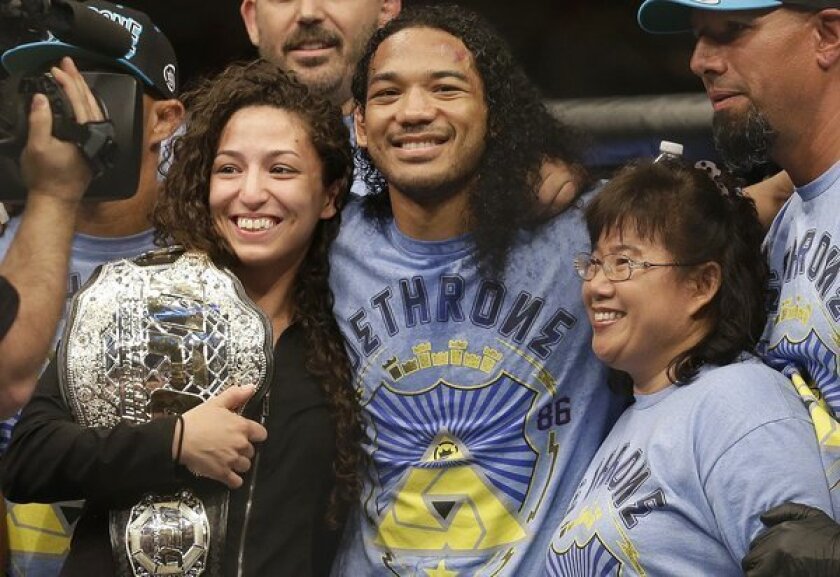 Benson Henderson not only won a split decision over Gilbert Melendez during "UFC on Fox 7," but he decided to propose to his girlfriend after the fight.
Henderson admitted that he was nervous about whether he should pop the question after successfully defending his Ultimate Fighting Championship lightweight title, but he quickly cut off the post-fight interview in the octagon to get his girlfriend's attention.
"I love you," he said, getting down on one knee. "I'm not perfect. I never had been, but you make me happier every single day, more than any man has a right to be."
Well, you can see the rest of the proposal in the video below.
"Seriously, my heart was a like a butterfly," Henderson said afterward. "That was definitely bigger stakes. I was on the fence, going back and forth. Today I said, 'I'm going to do it.'"
The judges all agreed on the scoring of the five-round main event, 48-47, although one gave the decision to Melendez.
ALSO:
L.A. Kings clinch playoff spot ... now what?
UCLA pitchers come through again in 1-0 win over Oregon
Bruins broadcaster Jack Edwards compares Matt Cooke to an assassin
---