Dustin Penner escapes Kings' doghouse, set to play against Ducks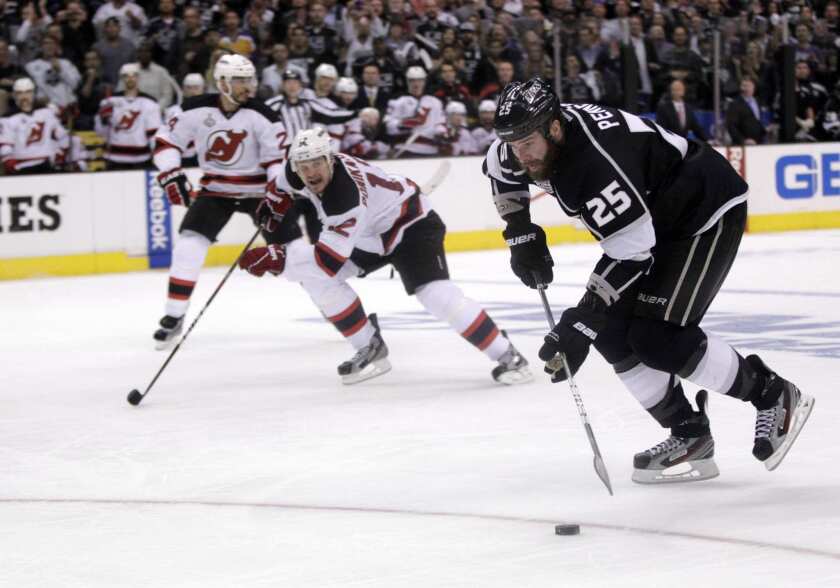 Kings Coach Darryl Sutter has opened the door to the chateau de bow-wow.
Left wing Dustin Penner, who said this week he was "waiting like a dog in a car, waiting to be let out" while scratched from the lineup, will return on Saturday when the Kings face the Ducks at Anaheim.
Penner, who sat out four consecutive games, had no points and a minus-2 defensive rating in the first two games of the season. He practiced on Friday alongside Mike Richards and Jeff Carter, and Kyle Clifford moved back on a line with Colin Fraser and Jordan Nolan. Dwight King and Brad Richardson were the extra forwards.
Sutter confirmed after practice at El Segundo that Penner will play. Sutter added that he's looking for "the elements he can bring that we need in our lineup."
Penner, no stranger to being benched in order to motivate him to more consistently use his hulking size and proven scoring ability, said he welcomed the chance to get back in the lineup and into Sutter's good graces.
"Hopefully I can contribute the way the team needs me to and wants me to," he said. "The same goes for myself."
He also said facing his former Ducks teammates "will be emotional, I'm sure. Freeway Face-off. Leave early for traffic."
Penner said the crucial aspect of Saturday's game for him will be to "keep the RPMs up," a reference to his tendency to fade and get tired quickly. "Especially toward the end of shifts is when I can use my size to my advantage…. if the next guy is five inches shorter and 40 pounds lighter, the bigger guy is going to win."
The other lines were Dustin Brown-Anze Kopitar-Justin Williams, and Simon Gagne-Jarret Stoll-Trevor Lewis. The defense pairs were the same: Rob Scuderi-Drew Doughty; Alec Martinez-Slava Voynov, and Jake Muzzin-Davis Drewiske.
Willie Mitchell (knee surgery) again did not skate with his teammates.
ALSO:
Some Super Bowl commercials have been leaked
NBA suspends Clippers forward Matt Barnes for one game
Manti Te'o hoax perpetrator says he was molested as a child
---
Get the latest on L.A.'s teams in the daily Sports Report newsletter.
You may occasionally receive promotional content from the Los Angeles Times.