Kings' Darryl Sutter doesn't always go by the numbers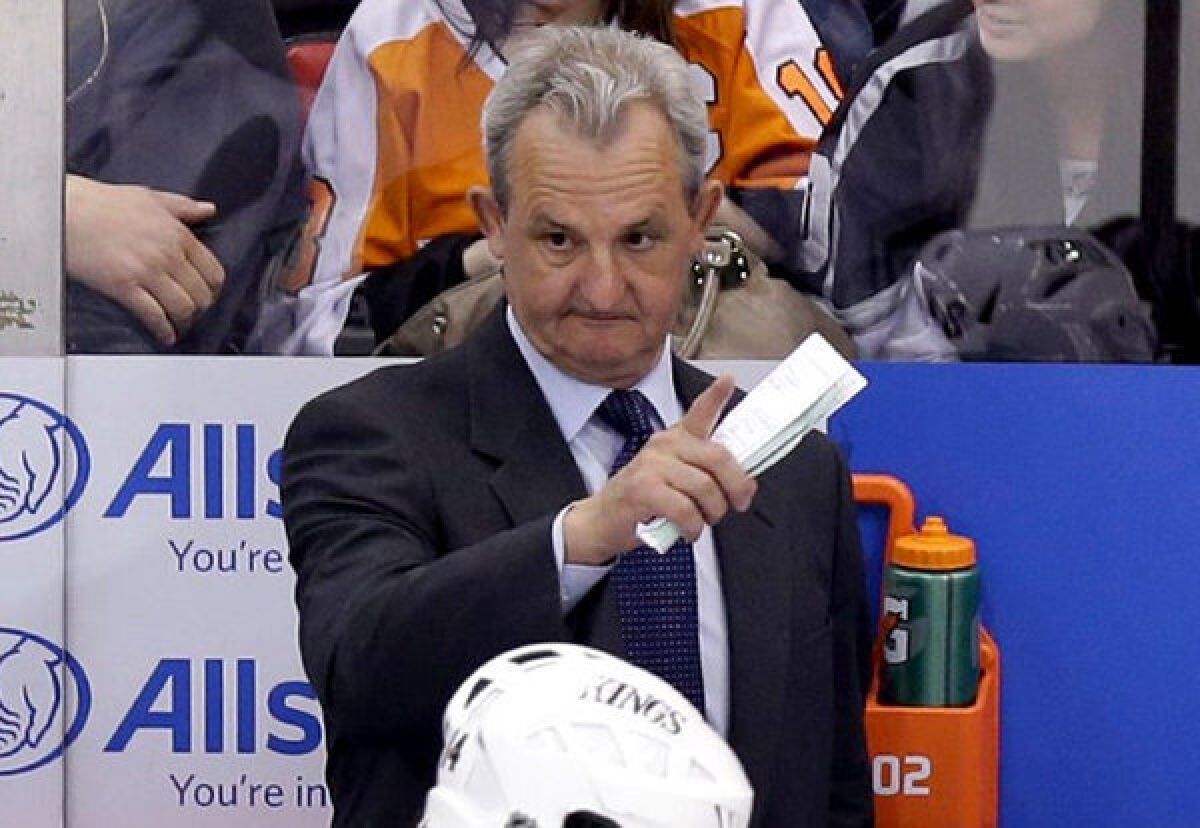 Kings Coach Darryl Sutter doesn't seem to give much credence to the NHL's official statistics, and he has good reason for his skepticism.
The stats are only as good as those who record them, and it has been known to happen that statistics such as hits favor the home team and that apparent giveaways simply aren't credited.
So Sutter was less than enthusiastic Sunday when asked whether he was pleased about the Kings' improved faceoff numbers in their 1-0 playoff victory over St. Louis, which cut the Blues' series lead to 2-1. The Blues were credited with a decisive edge in each of the first two games, but their official margin was only 29-28 on Saturday, for a 105-79 series lead.
"You get the stat sheets and it's always this guy is 5-9 and all that," Sutter said. "But when you break it all out, it's a little different.
"There's a lot of faceoffs in this series and because you have 10 good center men a lot of faceoffs are not won or lost, just in the feet, and somebody coming in and getting the puck. It's not the center man. That's a big part of what goes on there."
He also downplayed the fact that the Kings were credited with only two shots in the third period Saturday.
"Whatever. You count shots, I don't," he said. "You've got to understand it's playoffs. It's one-goal games. All three of them are one-goal games. Everybody's trying to score a goal but it's not that easy when it's the two best defensive teams in the conference."
Strictly speaking, they weren't the two best by goals-against average during the regular season, but they did give up the fewest shots: the Blues 1,161 and the Kings 1,198. Still, he's right in saying that defense is the name of the game at this point. It's also a reason Sutter said he wasn't worried that Jeff Carter and Anze Kopitar have no goals in this series.
"You guys are way too caught up in the offense part of it," he told reporters after the team's optional practice Sunday. "You haven't watched enough playoff games yet."
We've all seen enough of this series to know how physical it has been. Players have been credited with 247 hits, 132 by the Kings and 115 by the Blues.
Sutter isn't surprised. "I thought playoffs were supposed to be about that and it is physical and it is about staying out of the penalty box and it is about winning battles, but that's what the two teams do," he said. "I really don't think it's been a confrontation series at all."
Blues Coach Ken Hitchcock told the St. Louis Post-Dispatch that his team's unofficial review of Saturday's game found 21 scoring chances for the Blues and 13 for the Kings. Scoring chances are, by far, the most subjective statistic of all and they're kept by teams, not by the league.
"I think what would concern both teams is if there was no scoring chances in the game, but that's the furthest thing from the truth right now," Hitchcock said. "There's arguably almost 40 scoring chances a game, which is a lot for such low-scoring games."
He told St. Louis reporters he was considering changing his lineup for Game 4 on Monday to add dynamic rookie right wing Vladimir Tarasenko, who hasn't played in the series. Tarasenko had an excellent start this season but was slowed by a concussion; he scored two goals against the Kings on March 28 but didn't score any goals after that.
"I'll have to sleep on a lot of that stuff just to see what we need," Hitchcock said Sunday. "I think he looks hungry and ready to play and I'm sure he's going to play well when he gets in. But you're not really sure if you want to screw around with the lineup right now when we're playing so well, so I've got to balance that out right now."
Sutter, of course, gave no hints about his lineup for Monday and whether he will again use seven defensemen, as he did Saturday by bringing Alec Martinez into the lineup and scratching fourth-line right wing Jordan Nolan.
Defenseman Drew Doughty welcomed the return of Martinez.
"He's a solid puck-moving guy and he can skate. I thought he played pretty well," Drew Doughty said. "He hasn't been in the lineup for awhile and to come into a playoff game is tough and I thought he handled it really well. He moved the puck well, he joined the rush when he could, and I think he even got an assist, so it was a great job by him."
But Doughty said it took some adapting.
"It was different. I think it was a challenge for all of us," he said. "Some guys weren't getting as many minutes. Some guys kind of lost their rhythm probably because they were sitting on the bench for a little while. But I think it worked out well. I was playing with a lot of different partners, which I enjoy to do. I just want to be on the ice. It doesn't matter who I'm with. I enjoyed it."
ALSO:
Red Wings' top line takes big hit with suspension of Abdelkader
Ducks shut out Red Wings, 4-0, in Game 3
---
Get our high school sports newsletter
Prep Rally is devoted to the SoCal high school sports experience, bringing you scores, stories and a behind-the-scenes look at what makes prep sports so popular.
You may occasionally receive promotional content from the Los Angeles Times.