Kobe Bryant's rich new contract may be Lakers' Achilles' heel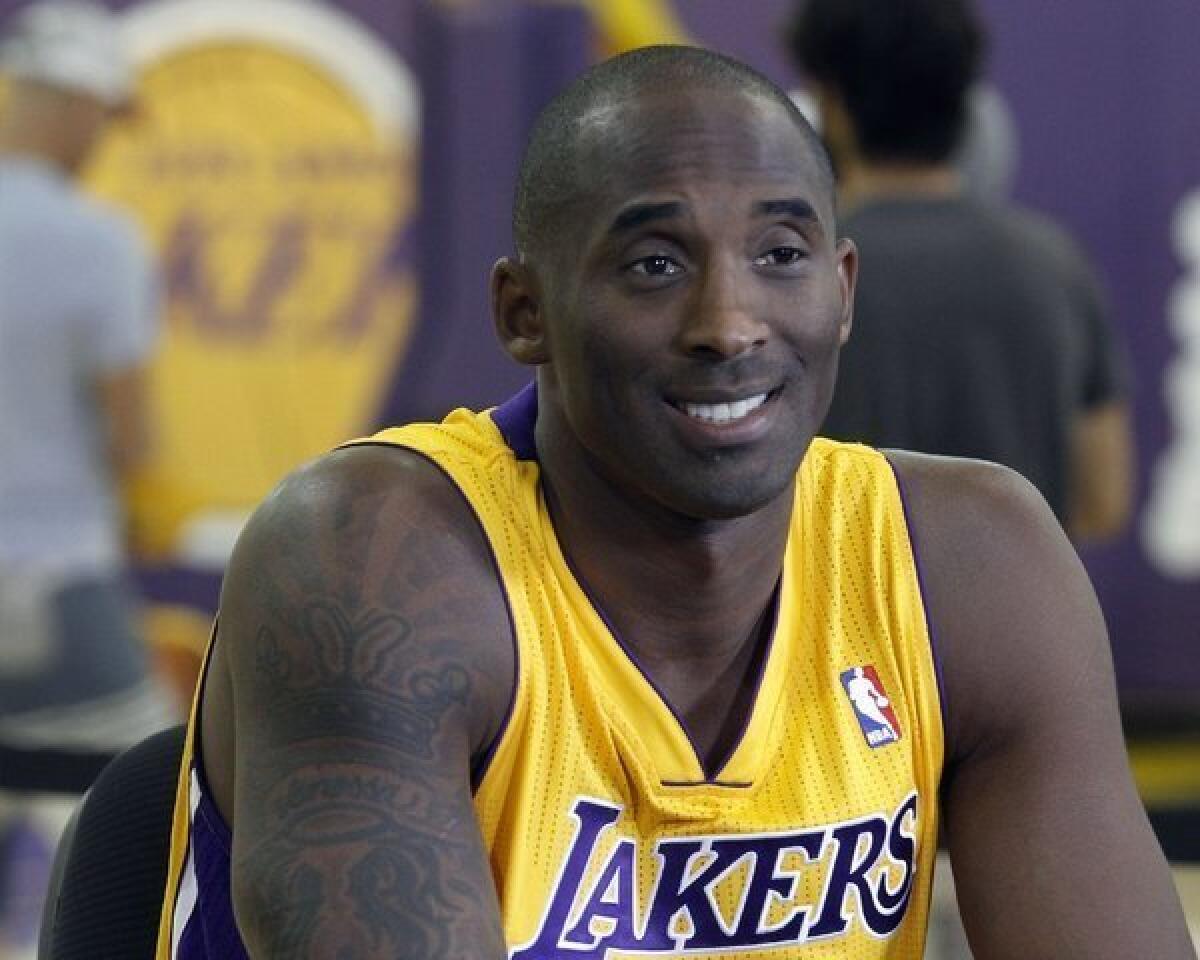 Happily for Kobe Bryant, he is now going to be a Laker for life.
Sadly for the misguided Lakers, it probably won't be much of a life.
The news Monday that Bryant had signed a two-year contract extension worth $48.5 million – twice his market value, eight months before it was necessary – was a startling celebration of individuality by a decorated franchise and veteran leader who both should have known better.
PHOTOS: Kobe Bryant through the years
The Lakers have proven they are about championships, yet they just handed out the sort of hefty contract to an aging and injured star that will likely prevent them from adding the free agents necessary to win another one with him.
Kobe Bryant has also said he is about championships, yet he signed this extravagant deal instead of following the lead of wealthy veteran athletes like Tom Brady and Tim Duncan who agreed to take less money for the sake of improving the team.
It may seem crazy to question any sort of deal that keeps a Laker uniform on the broad shoulders of the greatest scorer in Lakers history, but a combination of age, Achilles and salary cap issues drain this contract of all common sense.
Think about it. The Lakers just gave nearly a third of their payroll to a 35-year-old guy who is still recovering from a torn Achilles tendon and whose contract will eat up so much of the salary cap, they will be able to afford to add just one highly paid star to this mediocre team next summer. They were supposed to have the room to sign two, remember? Dwight Howard's departure was supposed to give them the freedom to give Bryant a team he could lead back to the Finals before his retirement, right?
Forget all that. The summer of 2014 has been deadened. The highly anticipated remodeling has been delayed. Kobe Bryant must now carry this team for the next two seasons even though it's been nearly seven months since he even carried a ball into an official NBA game. Bryant must now spend the next two years as the Lakers superhero even though nobody knows how fast he can run or how high he will jump.
Check that. The Lakers feel they know. The Lakers reportedly gave him this contract after being impressed with his work during his first couple of practices last week.
Sorry, but unless LeBron James led the shirts and Bryant led the skins, it is difficult to see the $48.5 million value in a couple of practices.
POLL: Is Kobe's contract extension a smart move by Lakers?
By paying Bryant so much money to return, the Lakers would now be bettter off if he took a deep breath and didn't show up until later this winter so they can lose a bunch of games and fall into the lottery for the strongest NBA draft in years.
Certainly, the Lakers would have been roasted this summer if they allowed Bryant to use his free agency to leave for another organization, but to turn this fear into this sort of contract might cause their fans to do an equally slow burn. Bryant has amazed Los Angeles in so many ways over the last 18 years, but to be able to turn this new expensive contract into a championship would be his most amazing feat yet.
Bryant isn't scheduled to address questions about the contract until Tuesday morning with the team in Washington, D.C., but he's already begun his defiant argument in a message to a critic Monday on Bryant's Instagram account.
Bryant wrote: "U obviously can't count . . Or read. Let's try this again. The offer presented me by the Lakers ensures the ability to bring in max talent."
But the max talent required by Bryant for a championship four years ago – a guy by the name of Pau Gasol – is far less than what is required today. Bryant's age and uncertainty requires more than one sidekick. He actually might need a couple of guys who could make him the sidekick.
This is not about doubting Bryant. With his five championships and bottomless competitive spirit, who could ever question his attempt to make this work?
This is about having more faith in a system where Bryant would have returned to the Lakers this summer for his market value of $10-12 million a year so the Lakers could afford to get him the proper help.
This about looking at what happened in San Antonio last summer when Duncan, at age 36, signed a three-year extension worth about $10 million a year, allowing the team the salary cap freedom to make the improvements necessary to help the team return to the NBA Finals.
This is about the looking what has happened in Chicago with Derrick Rose, whose comeback from one serious knee injury has led to another serious knee injury that could stunt the growth of the franchise for the next five years.
Heck, this is about looking at what has happened right in the Lakers own gym, with Steve Nash, an aging Hall of Fame guard whose shiny one-year-old contract has quickly become a huge burden.
Why the expensive rush? It is worth noting that in General Manager Mitch Kupchak's statement lauding the new contract, he didn't once mention a championship.
"To play 20 years in the NBA and to do so with the same team is unprecedented and quite an accomplishment," Kupchak said. "More importantly, however, it assures us that one of the best players in the world will remain a Laker, bringing us excellent play and excitement for years to come."
The keyword here, it seems, is excitement. The Lakers have long been built on excitement, and Bryant epitomizes the word, and the recent ending of their 320-game sellout streak shows how dull things can be without him.
It appears the Laker management, in its first full season without the brilliant and beloved Jerry Buss, feared the team was losing its buzz and nervously put together a deal to bring it back.
But the late owner Buss, who practically invented buzz, knew the greatest entertainment was titles. Buss, you'll remember, was even willing to trade the biggest buzz of all, a guy named Shaquille O'Neal, for the sake of rebuilding a new champion.
This seems like a different organization, a different family, one which operates more impulsively – firing Mike Brown, hiring Mike D'Antoni – without a thoughtful blueprint for the future.
Kobe Bryant will indeed bring back that special brand of Laker excitement. Far less certain today is the return of that special brand of Laker greatness.
Twitter: @latimes.com
Get our high school sports newsletter
Prep Rally is devoted to the SoCal high school sports experience, bringing you scores, stories and a behind-the-scenes look at what makes prep sports so popular.
You may occasionally receive promotional content from the Los Angeles Times.