Manny Pacquiao intends to put the questions to rest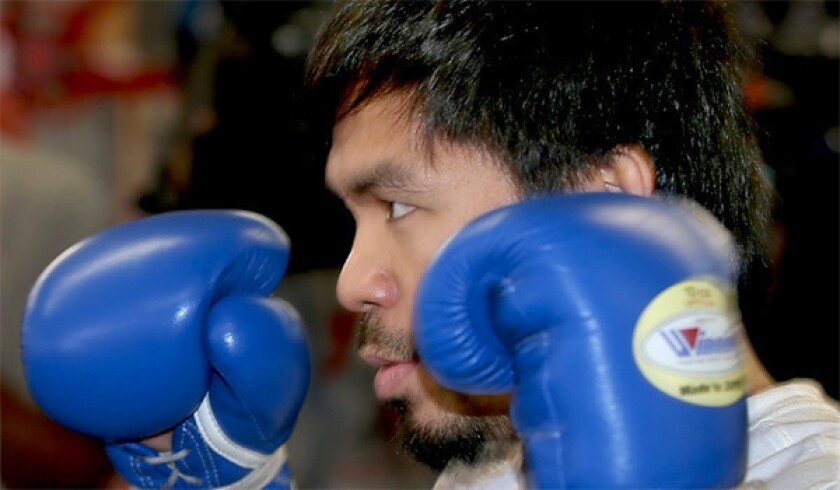 LAS VEGAS — Theories abound as to why Manny Pacquiao has gone seven fights since 2009 without knocking out an opponent.
The effects of age on the 35-year-old, the talent and size of the opponents, conditioning flaws and distractions in his personal life and in his public life as a congressman in the Philippines are among the most cited reasons.
Pacquiao's opponent Saturday at the MGM Grand, World Boxing Organization welterweight champion Timothy Bradley, has called out Pacquiao (55-5-2, 38 knockouts) for losing his "killer instinct."
"It's reality," Bradley (31-0) said Thursday. "His fans are saying the same thing: 'He doesn't have the fire,' 'He's had guys pinned in the corner and lets them get away.' That never happened before. He's not finishing guys. Something's changed."
Though the tangible effects of age cannot be discounted, Pacquiao's trainer Freddie Roach points to a mental shift as the reason. Roach surprised some this week when he publicly floated the theory that the Bible was "getting in the way" of how Pacquiao was approaching his fights.
"He has lost the killer instinct," Roach said. "His religious outlook on life … is the major reason why he hasn't knocked people out. I'm sure of it."
Pacquiao's 5-2 record since he scored a 2009 technical knockout of Miguel Cotto started when Joshua Clottey went into a defensive shell, covering his head with his arms and gloves.
Then Pacquiao's compassionate nature took over when he saw damage to Antonio Margarito's eye in the 12th round of their 2010 fight and asked him, "Are you all right?," hoping to no avail that the referee would stop the bout.
Decisions over Shane Mosley and Juan Manuel Marquez followed, and Pacquiao mistakenly thought he'd done enough to beat Bradley in 2012 before judges awarded the Cathedral City fighter a split-decision win.
"Manny's told me, 'If I don't need to knock them out, I really don't want to hurt them,'" Roach said. "I've told him that's not a great idea in boxing. … People want to see knockouts, and you can get hit the longer you let it go."
Pacquiao said he wanted to knock out rival Marquez in late 2012, but instead was knocked out himself. He then got a unanimous decision over Brandon Rios in November.
"It's just happened like that," Pacquiao said. "I want all my fights to be a knockout, but you can't control what happens in the fight. I'll convince people this weekend, prove to them I still have the killer instinct."
Such a performance would aid Pacquiao's dipping pay-per-view sales and move him closer to unbeaten Floyd Mayweather Jr. in the mythical pound-for-pound rankings.
But is this Pacquiao capable of finding the sneering warrior who retired Oscar De La Hoya on his stool, who flattened Ricky Hatton in the second round, and who beat up Cotto at his peak in three successive fights?
"I haven't changed my style, the way I fight in the ring," Pacquiao said. "All I can say is [religion] has not hurt my boxing career.
"It's helped me. I stopped gambling, stopped drinking, stopped with the girls.
"All of us need a relationship with God, that's the most important thing. I'm not introducing a religion, I'm just reading the Bible, day and night. It's our manual to life. When you have trials in your life, you lean on God."
Some in Pacquiao's camp are critical of the presence — as a possible distraction — of seven Christian pastors the fighter has around him. One Pacquiao associate close to the boxer but not authorized to speak publicly on the nature of the relationships said Pacquiao pays the pastors a combined $10,000 monthly, with three of them in Las Vegas this week.
"When you have Bible study every night, that's wearing," Pacquiao promoter Bob Arum said. "You can't prevent moochers."
Roach said Pacquiao's mother was quoted in the Philippine press as saying he was knocked out by Marquez because he's turned from his Catholic upbringing.
"We usually just leave [religion] alone," said Roach, who says he's agnostic.
"But I've told Manny there's payback in the Bible, there's eye for an eye, there's murder in the Bible, and if you go to the right page, you'll find it."
Despite the concerns of slippage, the Pacquiao camp is pleased the fighter has such disdain for Bradley. They believe Pacquiao is highly confident Bradley, with just 12 knockouts, can't hurt him, so he can fight with the old abandon.
Arum said Pacquiao's reunion with conditioning coach Justin Fortune is important.
"His big problem before with [a different coach] conditioning him was stamina, that he didn't think he could go the full 12 rounds, so he paced himself in fights," Arum said. "Knowing he can go 20 rounds now is the biggest thing."
Pacquiao left a face-to-face meeting in which Bradley questioned his desire and asked Roach, "Can you believe he said that?"
"I'm not angry, but it's a challenge to me to prove he's wrong, I'm right," Pacquiao said. "It will inspire me to focus. Those who follow God see the fruits of life."
Who: Timothy Bradley (31-0, 12 KOs) vs. Manny Pacquiao (55-5-2, 38 KOs) for Bradley's World Boxing Organization welterweight championship.
Where: MGM Grand Garden Arena, Las Vegas
Television: HBO pay-per-view, $59.95 high-definition
When: Saturday, pay-per-view portion begins at 6 p.m.
Undercard: Jose Felix (26-0-1, 21 KOs) vs. Bryan Vasquez (33-1, 17 KOs), super-featherweights; Jessie Vargas (23-0, 9 KOs) vs. Khabib Allakhverdiev (19-0, 9 KOs), super-lightweights; Arash Usmanee (20-1-1, 10 KOs) vs. Ray Beltran (28-6-1, 17 KOs), lightweights.
Twitter: @latimespugmire
---
Get the latest on L.A.'s teams in the daily Sports Report newsletter.
You may occasionally receive promotional content from the Los Angeles Times.