Dodgers make the right and smart move on Clayton Kershaw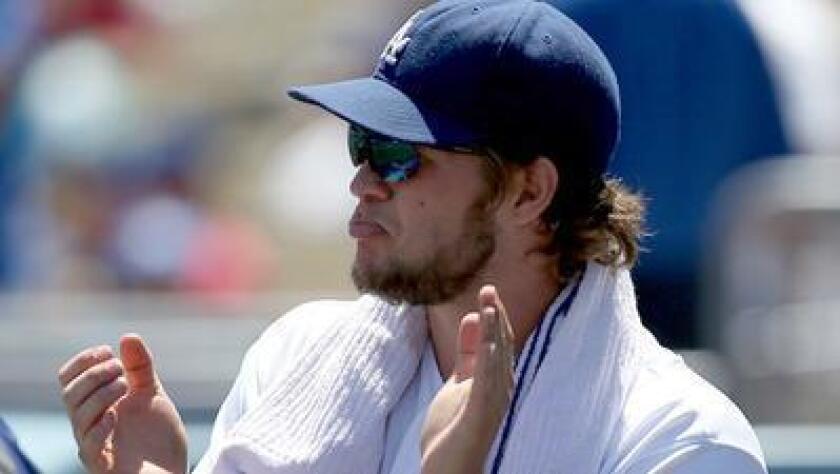 By all accounts, Mark Walter is rare among baseball owners. When he says he lets the baseball people make player personnel decisions because he is not a baseball expert, he actually means it.
However, in his early days as the Dodgers' controlling owner, Walter expressed skepticism about long-term contracts for starting pitchers.
"Pitchers break," he said.
On Wednesday, the Dodgers agreed to make Clayton Kershaw the highest-paid pitcher in baseball history. Walter declined to confirm the $215-million deal — the Dodgers are expected to make an annoucement Friday — but he was succinct in explaining why he would even consider approving it.
"Greg Maddux," Walter said.
Walter lives in Chicago, where the Cubs abandoned Maddux to free agency in 1992, when he was 26. He had just won the Cy Young Award. He won the next three years too — for the Atlanta Braves.
In the 21 years since they let Maddux go, the Cubs have won one postseason series. In Walter's first full year of ownership, the Dodgers won one postseason series.
Kershaw is coming off his second Cy Young Award, the first pitcher since Maddux to lead the major leagues in earned-run average in three consecutive years. Kershaw would have hit free agency next fall, at 26.
For all the good Walter and his ownership group have done — close to $1 billion in player investment and luxury-tax payments, $150 million in Dodger Stadium renovations, the launch next month of an all-Dodgers, all-the-time TV channel — that could have rung hollow if Kershaw had left the building.
Kershaw is the face of the franchise, and of the strategy for Walter and Co. to turn the Dodgers from a machine that spits out cash into a machine that spits out prospects. You cannot import high-priced talent from Boston and Miami, from Cuba and South Korea, then draw the line at the guy who might turn out to be the best pitcher ever produced by the Dodgers' distinguished player development system.
Kershaw has been so consistent in his excellence that his catcher, A.J. Ellis, put the record contract into perfect perspective.
"He's the highest-paid pitcher of all time, and it still feels like he's underpaid," Ellis said Wednesday.
There is no hometown discount in $215 million, but Kershaw might have gotten more in free agency, with the New York Yankees and his hometown Texas Rangers among the potential bidders. On the other hand, Kershaw would have had to endure a season of reporters from two dozen cities pestering him about whether he might like to play here, there or everywhere.
"It would have been a huge distraction the entire season," Ellis said. "You wouldn't have been able to get through a series, or a start, without somebody wanting to talk to him about it. Clayton doesn't need distractions while he's performing. He's single-minded. I think it's great for everybody that it worked out.
"It's really awesome for the team to have Kershaw, [Hyun-jin] Ryu and [Zack] Greinke wrapped up, and to have those three guys locked up in the prime of their careers. We should win a lot of games."
This is about winning, as it should be, not about branding and not about a cost-benefit analysis. Kershaw would defy the track record of every big-money pitcher if he is not injured or ineffective, or both, at some point during the life of the contract.
There might be more glamour in Yasiel Puig or Matt Kemp or Hanley Ramirez or Brian Wilson. For now, Kershaw is the most reliable, responsible and successful of all the Dodgers, on and off the field.
By committing to stay in Los Angeles and starring for the dominant team in town, Kershaw could become a civic icon. Magic Johnson, one of the Dodgers owners, knows a bit about that.
"When I see Mark Walter, I see the next Dr. Buss," said Johnson, referring to Jerry Buss, the owner behind the Lakers' dynasty.
The way Johnson tells it, the Dodgers are poised to reclaim their stature as kings of L.A. sports, pun intended.
"This town is fired up and ready," Johnson said, "because of the Lakers' situation. Everywhere I go, that's what we talk about: 'What's wrong with my Lakers?' and 'I can't wait for my Dodgers.' "
Kershaw's Dodgers, for this year and beyond.
Twitter: @BillShaikin
---
Get our high school sports newsletter
Prep Rally is devoted to the SoCal high school sports experience, bringing you scores, stories and a behind-the-scenes look at what makes prep sports so popular.
You may occasionally receive promotional content from the Los Angeles Times.