Column: With Anthony Davis' official arrival, Lakers are a portrait of peace
Two months ago, could you have even imagined?
You're sitting in a folding chair on a basketball court in El Segundo on Saturday, and on a stage in front of you sits a giant smiling kid in jeans, tennis shoes and a sport jacket.
His name is Anthony Davis, and he's officially a Laker.
"It's going to be fun," he said. "It's going to be fun for sure."
Then you look back and standing against a distant wall under a basket is a big guy in colorful shorts and a bright yellow "Crenshaw" hoodie. Davis eventually leaves the stage, walks over to this guy, and together they talk with backs turned and mouths covered.
His name is LeBron James, and maybe for the first time since Christmas, he appears to be a happy Laker.
"When it happened, obviously we were both excited," Davis said.
Unimaginable, indeed. About two months after a news conference on this exact spot portrayed a team in chaos, on Saturday afternoon the Lakers were a portrait of peace. In the middle of a turbulent summer when the focus has been on everything they needed, or wanted, or couldn't get, they finally celebrated what they actually do have.
Instead of harping on what they aren't, the story line instead became who they are. And who they are is a team with two of the five best players in the NBA, with a strong complementary cast, and with real championship hopes.
Lakers general manager Rob Pelinka, Anthony Davis and head coach Frank Vogel, from left, at a news conference introducing the Lakers' new star in El Segundo on Saturday.
(Marcus Yam / Los Angeles Times)
Davis addresses reporters.
(Marcus Yam / Los Angeles Times)
Anthony Davis at the news conference, held at the UCLA Health Training Center in El Segundo.
(Marcus Yam / Los Angeles Times)
Laker LeBron James looks on in the background at Davis' introductory news conference.
(Marcus Yam / Los Angeles Times)
General manager Rob Pelinka, Anthony Davis and head coach Frank Vogel, from left.
(Marcus Yam / Los Angeles Times)
Anthony Davis displays his Lakers jersey -- No. 3.
(Marcus Yam / Los Angeles Times)
Anthony Davis greets LeBron James and a friend after the news conference.
(Marcus Yam / Los Angeles Times)
New teammates Anthony Davis and LeBron James.
(Marcus Yam / Los Angeles Times)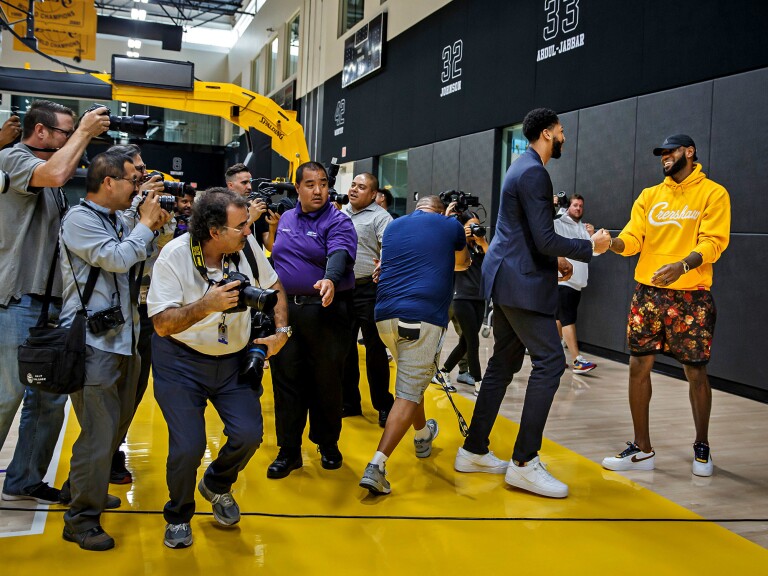 Anthony Davis and LeBron James, who will move to point guard next season.
(Marcus Yam / Los Angeles Times)
For once, it was a good day to be a Laker.
"A landmark event," said Rob Pelinka, and this time, the hyperbole-stuffed general manager was probably right.
They finally introduced their newest superstar who was acquired in a bold trade that could have a Shaq-size impact on the future of this franchise.
"What we think about Anthony Davis is this: There's no more complete player in the game. There's nothing he can't do," Pelinka said.
This newest superstar, who was cast as a villain when he demanded that trade from New Orleans in an effort to take control of his career, was humble and charming.
"I just want to win," he said when asked what kind of players he wanted around him. ''No egos. Guys who are just all in with the team."
There were back slaps and jokes and a jersey posing, and none of it felt forced or desperate or just weird, not like two months ago, when the Lakers held a news conference to announce that they were officially a mess.
Remember that? It was the third week in May, and they were introducing Frank Vogel as a third-choice head coach who might not even be the real head coach. They were wading through the muck of Magic Johnson's franchise-leveling comments on national television earlier that morning. James was there, but he never approached Vogel and mostly brooded in the background.
Back then, Pelinka stumbled. This time, he mostly stayed out of the way, except to thank 14 different people during an opening statement that contained a devilish twist.
After thanking owner Jeanie Buss and business boss Tim Harris, he pulled a piece of paper out of his pocket to help him remember others, at which point he thanked … Magic Johnson?
"Just for the goal he set for this franchise," Pelinka said.
Oh, yeah, and Pelinka also thanked Johnny Buss, a member of the family ownership group. Pelinka said Johnny invited him to lunch, where they discussed "the pillars of the Buss family." It is unknown whether Johnny explained why he attempted to topple one of those pillars in the failed coup against his sister.
Did I write that Saturday wasn't weird? Maybe it was a little weird.
It was still far more stable than two months ago, when Vogel looked lost as the leading man. This time, he looked content being a sort of gregarious sidekick.
When Davis talked about playing with James in the 2012 Olympics when he was 18, he laughed and said, "I was like the towel guy, just waving towels."
Vogel chimed in: "I would say if you were the towel guy, they were misusing you. I don't care how old you were."
How did Anthony Davis find out he was going to be a Laker? Davis was watching a movie when his agent called him. Twice. He let the calls go straight to voicemail. He then went to Instagram where he first saw the breaking news.
Also, two months ago, there was a great question about who was actually running this team. On Saturday, that question was definitively answered. It's James and Davis with their agent Rich Paul. Just listen to Pelinka talk about how he filled out the roster around his two stars.
"He, I and LeBron talked so much about, 'Hey, how do we want to optimize that [cap] space?" said Pelinka, later turning to Davis and adding, "I mean, how many calls did we have between me, you and LeBron?"
Davis replied. "It was like every day. On the hour."
Remember when Kobe Bryant wasn't even consulted when the Lakers would hire somebody as important as a head coach? The Lakers are treading on dangerous territory by putting their franchise in the hands of two players with their own agendas, but at this point, lacking a strong leadership figure, they don't have a choice.
There was one more nagging thought on this glorious Saturday, and, sorry, but you just know we have to mention it. It's the awkward situation of Davis having just one year left on his contract, yet Pelinka talking as if he's already signed a long-term deal and how they want to build around him because, "We want a decade of dominance.''
Look, Davis clearly wants to be a Laker, and even though he politely told me Saturday that he didn't want to think beyond this season, something drastic would have to occur for him to bolt town, right? The Lakers only hope. Expect this entire year to be one long recruiting pitch.
But, back to the positives, did you hear Davis' refreshing response to the question of load management?
"I'm playing," he said. "I'm 26 years old. I love the game of basketball. I'm ready to play."
And let's finish with the hoot of a story of how he learned he was traded. He said it all went down when he was watching a movie on his TV in a Malibu hotel, sheepishly noting: "I don't know the name of the hotel. The one right next to Nobu."
Sign up for our Lakers newsletter »
That would be the exquisite Nobu Ryokan, and, seriously, it must be nice to be so rich you can pay at least $2,000 a night for a room and still don't remember the hotel's name. Hope they left the light on for you.
The Times' Tania Ganguli used her investigative chops to follow up Davis' hilarious hotel admission with the probing question: "What movie?"
Once again, our newest hero was stumped, honestly admitting: "I don't even remember…like some sailor movie, or something like that. I don't know why it was on, but it was pretty good.''
Well, it couldn't have been that good. But let's see, a sailor movie, a sailor movie ...?
For the sake of a lovely Lakers Saturday, let's believe it was "Captain Ron.''
For once, we won't guess it was "The Perfect Storm.''
Get more of Bill Plaschke's work and follow him on Twitter @BillPlaschke
---
All things Lakers, all the time.
Get all the Lakers news you need in Dan Woike's weekly newsletter.
You may occasionally receive promotional content from the Los Angeles Times.