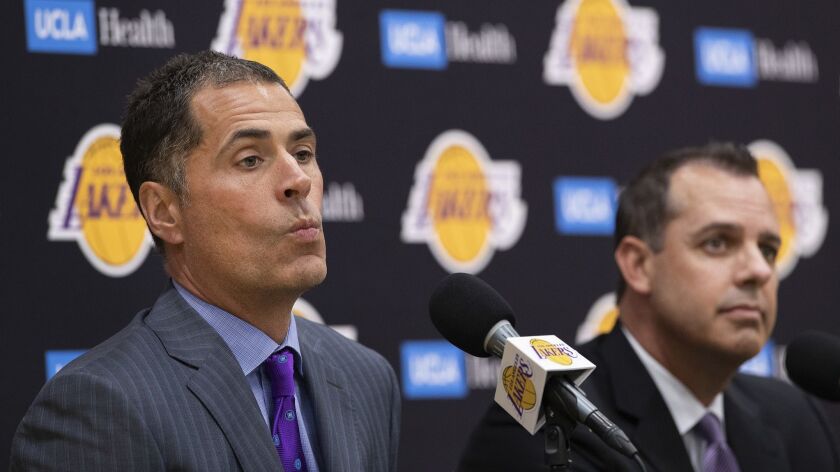 The Lakers held a news conference Monday to introduce new coach Frank Vogel. But by the time the event took place at the UCLA Health Training Center, people were more focused on comments made by former president of basketball operations Magic Johnson, who said on national TV that he felt general manager Rob Pelinka had betrayed him and that the large number of people who had Jeanie Buss' ear eroded his power within the team.
So the news conference came at a significant time for the franchise — and "Arrive Early, Leave Late" was there (just like it was last month when Johnson abruptly stepped down from his position with the Lakers). This week's podcast features clips from Pelinka's and Vogel's comments during the news conference, as well as analysis from all angles by the reporters and columnists who covered the event — Bill Plaschke, Tania Ganguli, Dylan Hernandez and Arash Markazi.
Who's making the decisions for the Lakers? It's complicated »
Plaschke | Magic Johnson makes Lakers situation messier by citing Rob Pelinka's 'betrayal' »
Hernandez | Frank Vogel shows ability to 'roll with the punches' during Lakers intro »
Markazi | Jeanie Buss needs to play a bigger role in Lakers' reality show »
The Times launched "Arrive Early, Leave Late" in October to take listeners closer to the action of L.A.'s home teams. Hosted by Beto Durán and featuring The Times' award-winning reporters and columnists, the podcast combines in-depth interviews, the best moments from the games and a look inside the front offices.
Subscribe to "Arrive Early, Leave Late" on iTunes »
---