Remembering the night Kobe Bryant scored 81 points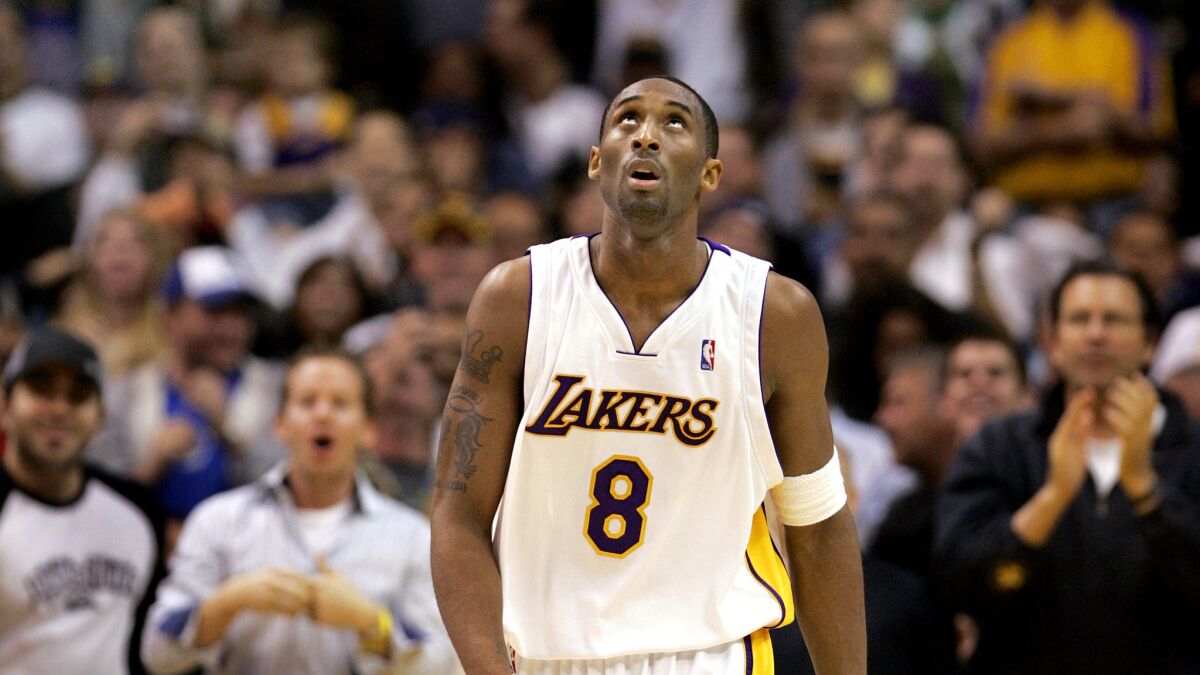 Time flies when you score 81 points.
Friday marks the 10-year anniversary of Kobe Bryant's outburst against the Toronto Raptors at Staples Center. It was historic, remarkably efficient and it happened at a time when Bryant had very little help on a mediocre Lakers team.
Smush Parker played alongside him in the backcourt (this was bad) and former No. 1 overall pick Kwame Brown was trying to revive an already stumbling career (he wouldn't).
The Lakers were reeling from the gradual dispersal of the roster on their run of three consecutive championships, and would barely make playoffs in the 2005-06 season, the start of Coach Phil Jackson's second tour with the franchise.
Here's the breakdown of how Kobe Bryant scored 81 points against the Toronto Raptors on Jan. 22, 2006.
They were a humdrum 21-19 before playing the Raptors (13-27), but the only stats that mattered that night were the ones across Bryant's line: 81 points, 28-of-46 shooting (60.9%), 18 of 20 free throws, six rebounds, two assists, three steals, three turnovers and, sure, one blocked shot in 42 minutes.
Lakers owner Jerry Buss said it was "like watching a miracle," and he might have been right. Only Wilt Chamberlain ever scored more points, 100 to be exact, at a sparsely attended game in 1962 in Hershey, Pa.
No one has since come close to Bryant, New York's Carmelo Anthony making the biggest run with 62 points against Charlotte two years ago.
Here are seven stories, one for each three-pointer Bryant made that night.
The guys at the scorer's table
Lawrence Tanter had already witnessed plenty from his courtside view as the Lakers' public-address announcer.
He was there when the Lakers beat the hated Boston Celtics at the Forum for the 1987 championship. He saw Bryant throw a lob to Shaquille O'Neal in a back-from-the-dead rally in the 2000 playoffs. And he watched the Lakers somehow outlast Boston in Game 7 of the 2010 NBA Finals.
For Bryant's 81-point outburst, though, Tanter remembered the pen-on-paper challenge for official scorer and longtime friend John Radcliffe.
"He was having a very difficult time finding room in the boxes on the scorebook to put all these points down that Kobe was scoring," Tanter said. "It was a tedious effort on his behalf to do that because he'd never faced anything like that either. He just kept going, 'Man, I've got to write smaller.'"
A detailed look at the official box showed Radcliffe had to wedge in 11 Bryant field goals in the third quarter and, of greater difficulty, his 13 free-throw attempts in the fourth.
Radcliffe, who died in 2009 at age 73, gave Bryant a framed copy of the scorebook as a memento.
As fans chanted Bryant's name over and over before he left with 4.2 seconds to play, Tanter implored them to keep their ticket stubs from the "historic night at Staples Center."
"As time moves on, a lot of people say they were there," Tanter said recently, adding a deep laugh. "But they weren't."
The teammate-turned-fan
Suddenly, Luke Walton wasn't the cool, collected guy with the quick wit and stentorian voice.
Long before he became the successful interim head coach of the Golden State Warriors, he was a reserve Lakers forward. A pass-first player his entire career, he asked for an assist from Bryant after the Toronto game.
"It was one of the few times I felt like a fan instead of his teammate. I had him sign a ticket for me after the game," Walton said. "It was incredible. You look up at the scoreboard and see it at, like, 72 and then 78 and then all of a sudden it says 80, and it looks like the scoreboard is broken. I really didn't even fully grasp it until I went home and watched it on tape that night."
Walton still has the signed ticket. Even the cool guys were impressed that night.
The 'rookie' broadcaster
Bill Macdonald was the ebullient host of Lakers' pregame shows for Fox Sports West.
He was asked to step up a bit that night and took the place of Lakers play-by-play announcer Joel Meyers, who was contractually allowed by the team to call three NFL playoff games, including the NFC championship on radio that day in Seattle.
Macdonald had experience broadcasting other sports, but nothing like the Lakers. Certainly nothing like that night.
"I figured this was going to be the only Laker game I ever broadcast. It didn't matter to me that it was a nondescript Sunday in January, a bad Laker team against a not-very-good Toronto team," Macdonald said. "The first half was just awful. The Lakers were horrible. They needed every single one of Kobe's points in the second half to come back."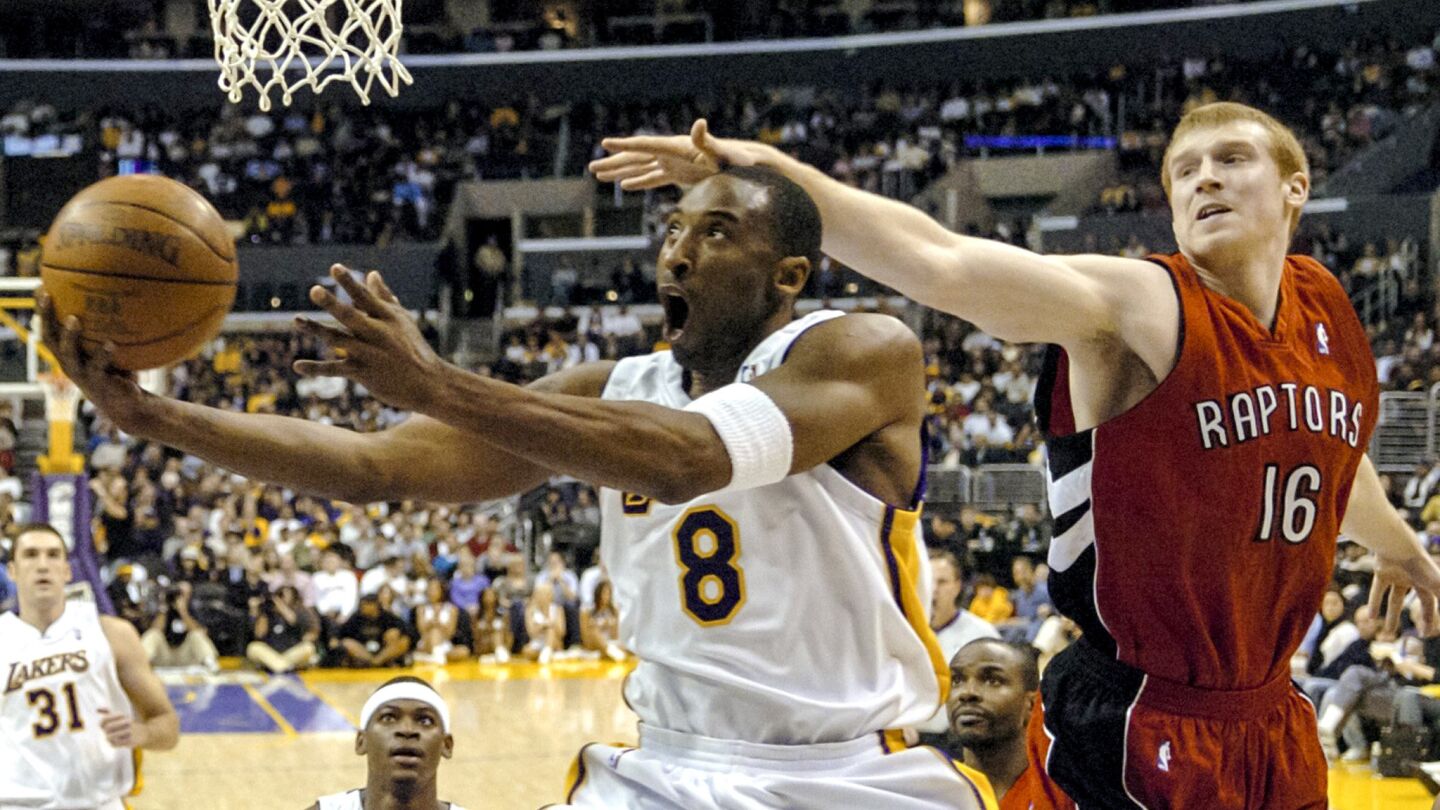 Lakers guard Kobe Bryant gets past Raptors forward Matt Bonner for a reverse layup in the first half.
(Matt A. Brown / Associated Press)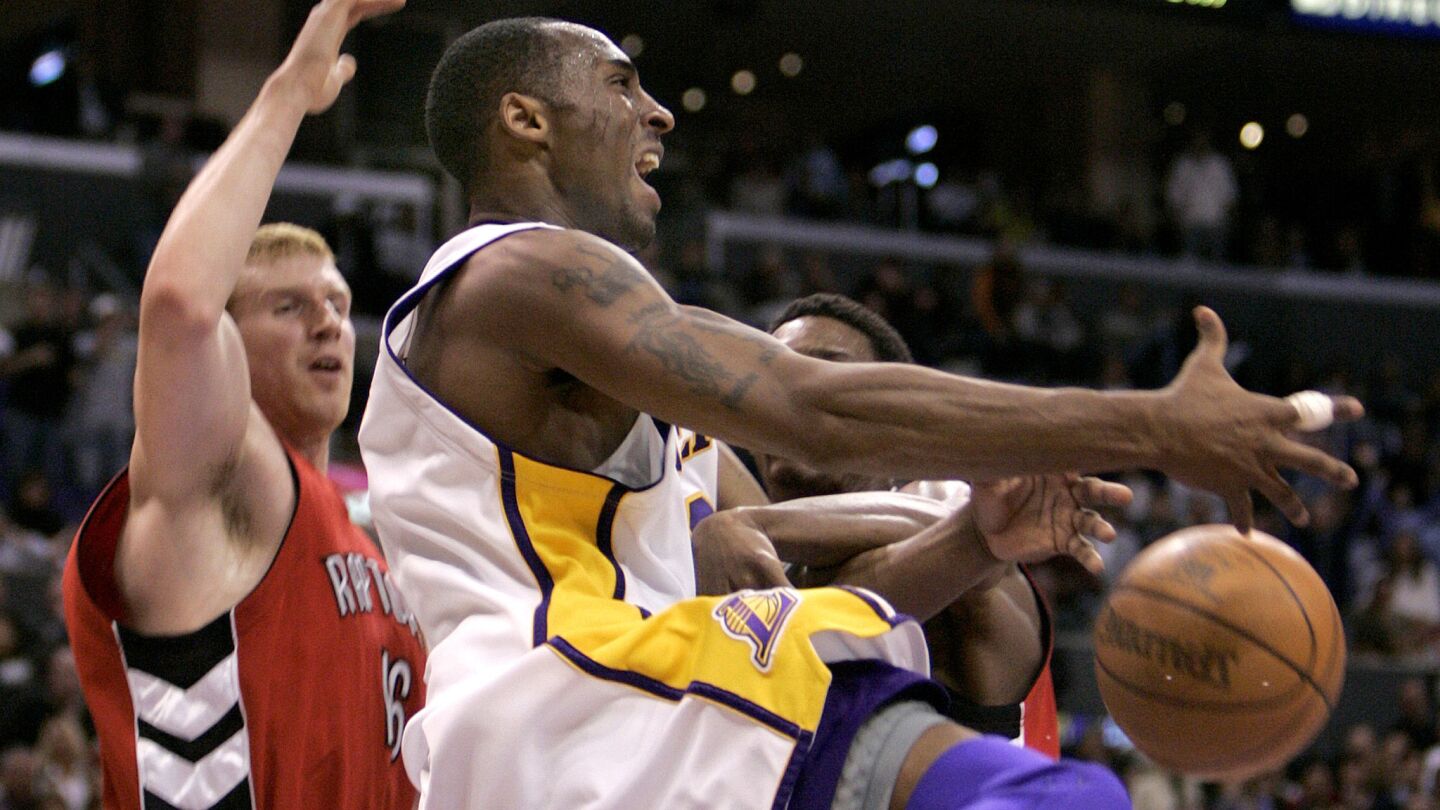 Lakers guard Kobe Bryant gets fouled late in the fourth quarter. He made 18 of 20 free throws during the game.
(Lori Shepler / Los Angeles Times)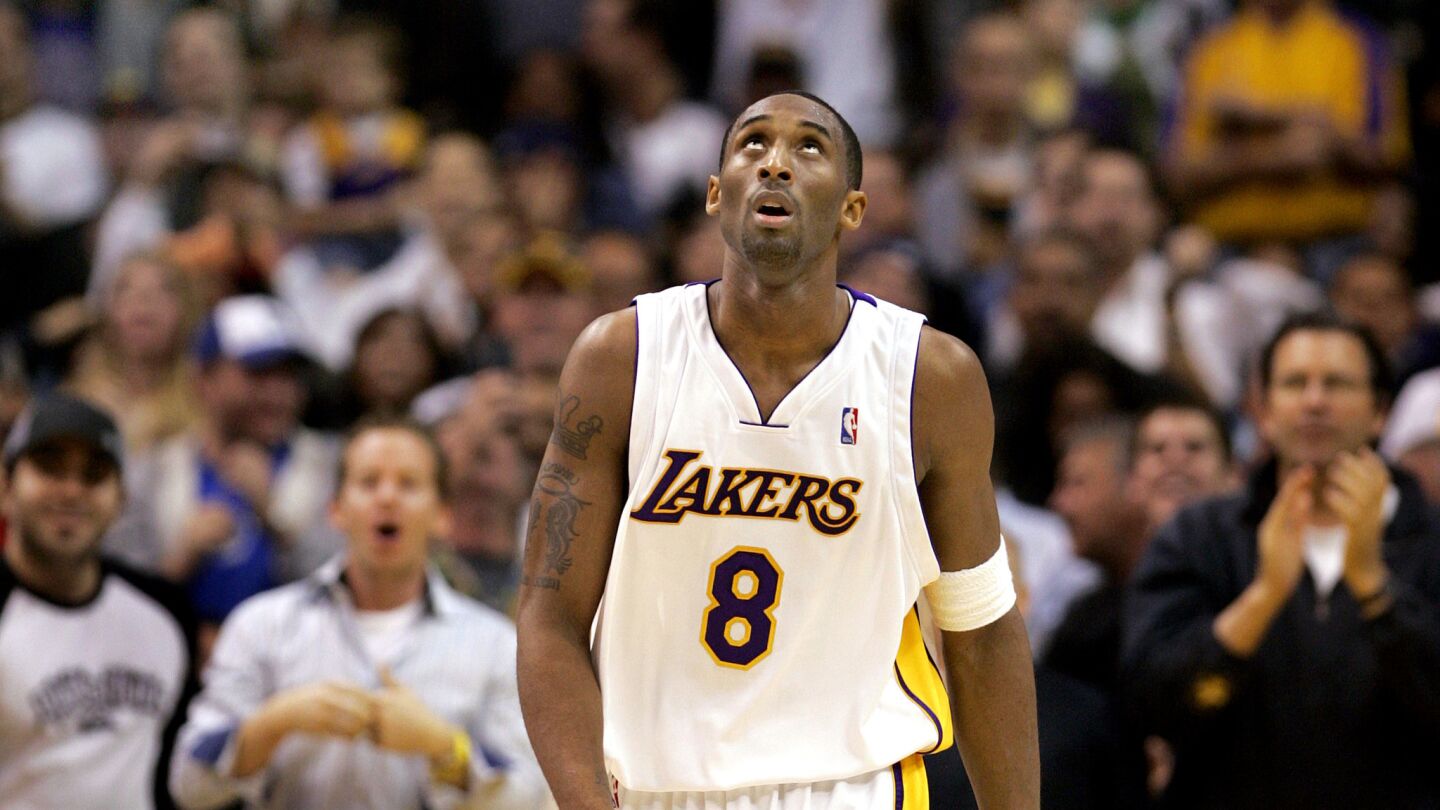 Kobe Bryant looks up at the Staples Center scoreboard and his 81-point total during the final seconds of a 122-104 victory over the Toronto Raptors on Jan. 22, 2006.
(Lori Shepler / Los Angeles Times)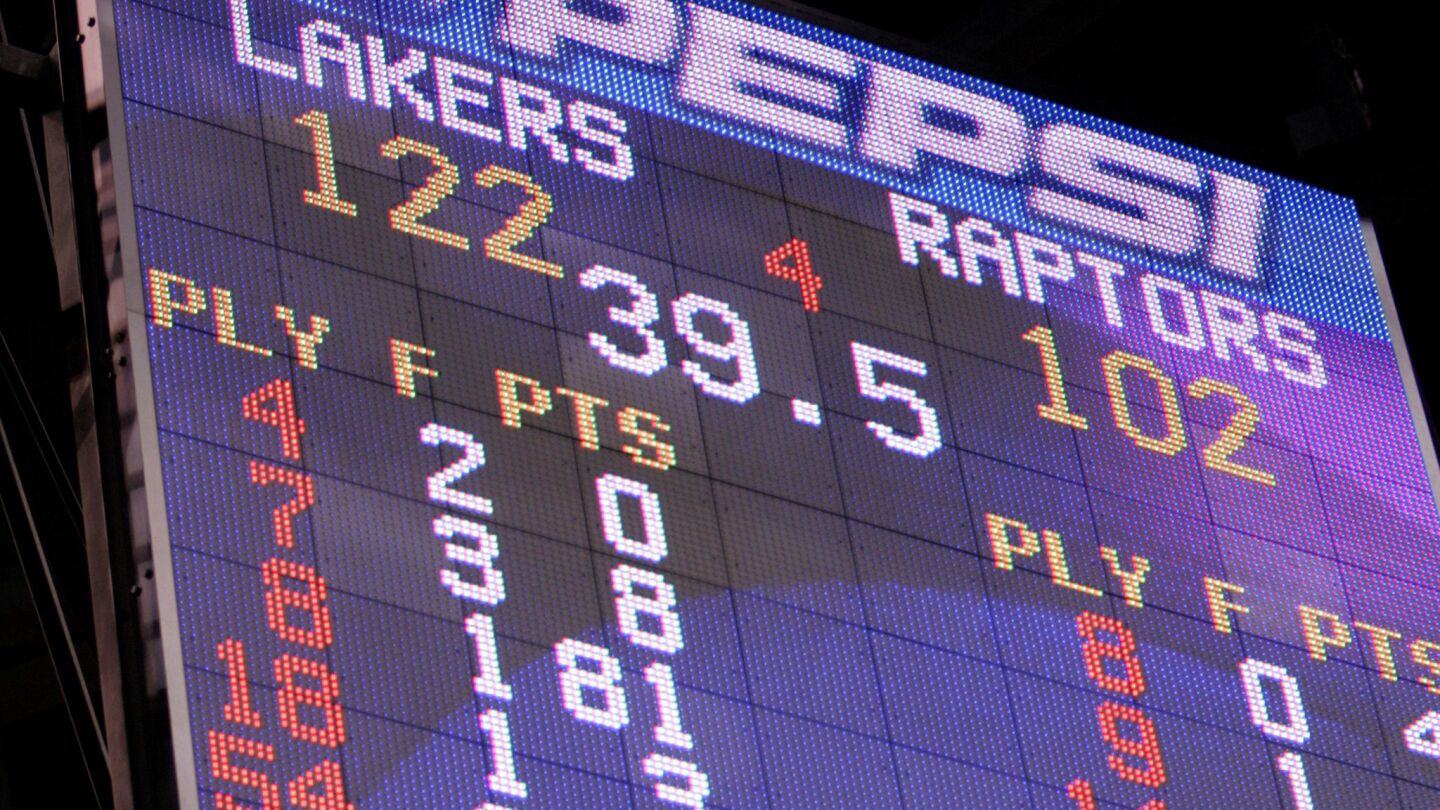 The Staples Center scoreboard shows the 81 points scored by Kobe Bryant against the Toronto Raptors.
(Lori Shepler / Los Angeles Times)
Macdonald, who eventually took over as the Lakers' play-by-play guy in 2011, still couldn't fathom how the Raptors defended Bryant in the Lakers' 122-104 victory.
"If they doubled Kobe once or twice, that was all they doubled him the whole game. It was crazy. They played him straight-up almost the whole game," he said.
A Lakers fan all his life, Macdonald was thrilled that night just to sit next to TV analyst Stu Lantz, the franchise's connection to former play-by-play man Chick Hearn, one of Macdonald's inspirations for becoming a broadcaster.
"I remember halfway, maybe three-quarters of the way through the third quarter, Stu and I looked at each other and we knew something special was happening," Macdonald said. "Twitter wasn't the rage that it is, so I think we made a comment, 'That noise you hear is everybody picking up their cellphones and texting or calling somebody and saying that something pretty special is going on in Los Angeles right now.'
"It was almost over, and Stu took off his headset and said, 'I've never done this before,' and he gave Kobe a standing ovation. So it was dead air for Stu and I'm sitting there and Stu's standing and he's applauding Kobe because it's like something he's never seen."
The legendary coach
Jackson, a share-the-ball proponent who won 11 championships in 20 seasons as an NBA coach, including five with the Lakers, was complimentary of Bryant's effort at the time but noted, "it's not exactly the way you want to have a team win a game."
He chuckled this week when that quote was read back to him. He did it again when told Bryant's score by quarter — 14, 12, 27 and 28. And again when reminded of Bryant's shot total — almost one per minute.
"That's exhausting," Jackson said. "That's pretty amazing. The kid is unbelievable."
Someone needed to do something on that Sunday night, Jackson recalled. The Lakers faced an 18-point deficit in the third quarter. At home. Against Toronto.
"It got to be desperation, where no one else could get anything done, and we had to go to the guy with the hot hand," he said. "And this guy had an unbelievably hot hand."
The opponent
Toronto swingman Jalen Rose was the one who guarded Bryant the most. Maybe it's a form of psychological self-defense, but rather than dwell on Bryant's point total, he remembers Bryant's demeanor.
"Kobe never bumped his chest. He never pointed in the crowd. He never trash-talked," said Rose, now an ESPN analyst. "If Kobe had behaved like that, he wouldn't have got to 51, let alone 81, because we would have wanted to physically harm him on the court."
Oddly, though, Rose said it wasn't Bryant's top effort, even though Bryant outscored the five Raptors starters, including Rose and Chris Bosh, by a point.
"The greatest thing about Kobe's 81-point game was that actually wasn't his best game to me. His best game was actually against a good team, the Dallas Mavs, when I think he had like 60 in three quarters."
Close. Bryant had scored 62 points before sitting out the fourth quarter a month earlier against Dallas.
The Tennessee teenager
The buzz at Ridgeway High was unbelievable the next day. This was weird because it was in Memphis, Tenn.
But Tarik Black remembers it clearly.
"Everybody was amped because everyone I grew up with were big Kobe fans," said Black, who was 15 at the time. "All the basketball players were going crazy — 'Man, Kobe scored 81 last night!' "
For the record, nobody tried to mimic Bryant's effort that day at Ridgeway.
"I don't think anybody was sitting in their chair in class, like, 'I'm going to try this at practice today,' " said Black, now a reserve Lakers center. "You might lose some playing time trying to do what Kobe was doing."
The one who kept scoring
It was so long ago that Bryant's jersey number was 8, not 24.
In the weeks leading up to the Toronto game, Bryant was bothered by a sore ankle, balky wrist and discomfort in his hips.
But it was a season when Bryant missed only two games while averaging a dazzling 35.4 points a game, a career-high, and won his first of two scoring titles.
Yet, the 81-point game came at a time when his Q-rating was low — that month's issue of GQ called him the fifth-most-hated athlete in pro sports, a few spots behind Barry Bonds. As if on cue, former teammate O'Neal declined to comment on Bryant's achievement while with his new team, Miami.
It's a night Bryant remembers fondly, the passing of 10 years adding a warm glow.
"I've had to play it over in my mind several times and there's really no explanation for it," he said. "I can always explain it from an Xs-and-O's standpoint, from a training standpoint, but when nights like that happen, there's something mystical about it.
"Personally, for the next generation of players, believe anything is possible. You don't ever want to place a ceiling on a performance in what you can and can't do. You just go out there and play and dream."
LAKERS NEXT UP
VS. SAN ANTONIO
When: 7:30 p.m. Friday.
Where: Staples Center.
On the air: TV: TWC SportsNet, TWC Deportes; Radio: 710, 1330.
Records: Lakers 9-35; Spurs 37-6
Record vs. Spurs: 0-1.
Update: Everyone talks about Golden State, but San Antonio is right behind the Warriors in the standings and has won 12 consecutive games. Spurs forward LaMarcus Aldridge, the Lakers' top target in free agency last summer, had 24 points and 11 rebounds in a 109-87 victory over the Lakers last month.
Follow Mike Bresnahan on Twitter: @Mike_Bresnahan
---
All things Lakers, all the time.
Get all the Lakers news you need in Dan Woike's weekly newsletter.
You may occasionally receive promotional content from the Los Angeles Times.