Column: Limited Kobe Bryant says retirement from Lakers has 'crossed my mind'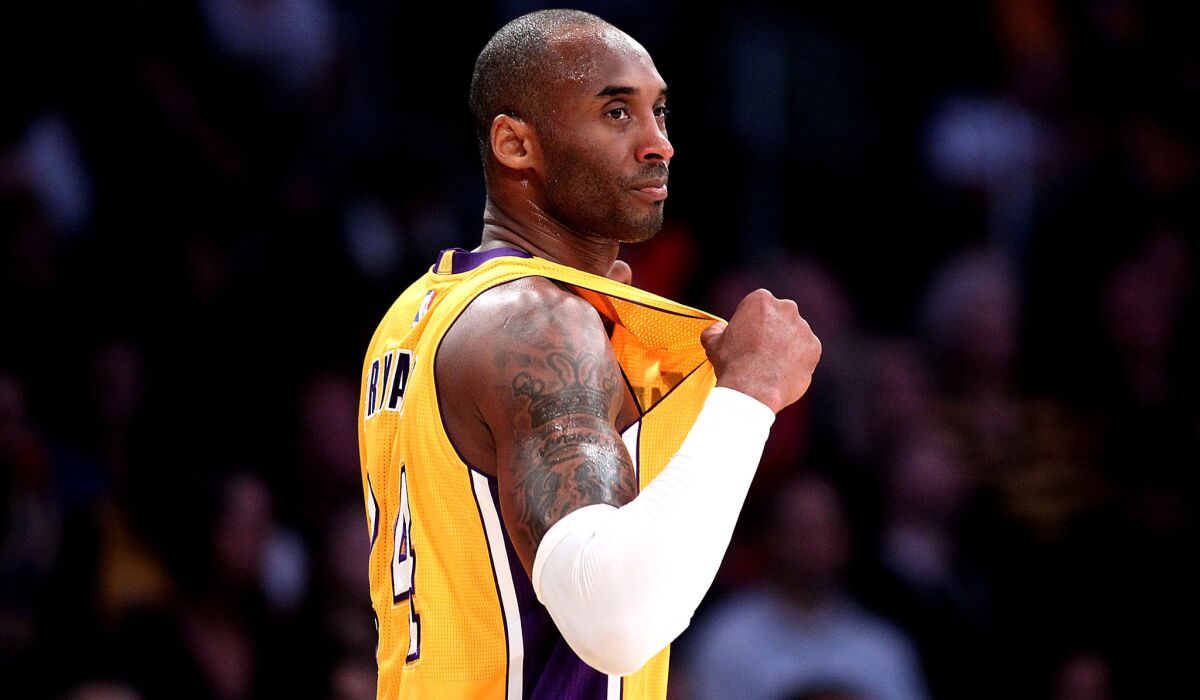 At the end of another night of both magic and mystery, Kobe Bryant winces as he slowly walks through the Staples Center tunnel to his car.
He speaks softly. His leather shoes barely make a sound on the concrete floor. He is clearly in no hurry to leave. But he also clearly wonders just how much longer he can stay.
When asked whether he has considered retiring at the end of this season, one year before the end of his Lakers contract, he nods his head in agreement.
"I'd be lying if I said that it hasn't crossed my mind,'' he tells The Times. "Right now I doubt it … but anything's possible.''
He emphasizes the right now (because, right now, the reality is so muddled and difficult that even the Black Mamba is having trouble wrapping his mind around it.
"My body is hurting like crazy, around the clock, and if I don't want to do this anymore, I won't do it,'' he says.
Earlier on this night, on the basketball court, Bryant had been brilliant and memorable but once again a loser as the Lakers were defeated by the Cleveland Cavaliers. He had laughed with LeBron James, mugged for the standing and screaming crowd, set a career high with 17 assists.
But during the start of a fourth-quarter stretch that decided the outcome, he also had sat helplessly on the bench with heat packs wrapped around his legs and a minutes restriction hanging from his neck while fans chanted his name and begged for him to stand up and play. Much later, he would return to his Newport Beach home while his teammates were climbing on a plane to Utah for a game he would only be allowed to watch on television.
Amid what was supposed to be a slow-approaching sunset, Bryant has found himself double-teamed in the corner of twilight limbo. He is still here, but his body won't let him be all here. He is still strong enough to still dominate, but not young enough to do it for the usual time, and not sturdy enough to do it for his usual games.
Like an aging pitcher, he has been placed on a count, 32 minutes per game, which basically leaves him on the bench for one crucial stretch per night. Like a fragile relic, he also has been forbidden to play the second night of back-to-back games, which means he will miss at least seven more full games this season even though he's not injured. There has even been talking of completely shutting him down in March if the Lakers fall completely out of playoff contention, which has essentially already occurred.
The most stunning part of these developments is that a man who has spent his entire 19-year Lakers career fighting to play every minute of every game — he even made two free throws after tearing his Achilles' tendon, remember — has agreed to every current and potential restriction.
"I know everyone is surprised I'm not fighting all this,'' Bryant says quietly. "But I've changed.''
No, no, he's not resting so the Lakers can tank the season in hopes of retaining their top-five-protected draft pick, he hasn't changed that much. In fact, as The Times' Mike Bresnahan wrote in a story last week, "They're terrible with him … terrible without him.''
Says Bryant: "Tanking, that's sacrilegious for us, no way.''
He says he's agreed to the handcuffs in hopes of maintaining the strength to ward off those retirement thoughts. Specifically, he says the rest is designed to avoid the overuse that might lead to another Achilles' tear.
"The Achilles' rupture gives you a lot of perspective, I think the Achilles' issue scared everyone,'' he says, speaking of Lakers officials. "They don't want to wear the tendons down, because you just can't see that coming, there's no warning: Pow! It's gone. We understand how a player can rupture an Achilles' then rupture the other one, we're very conscious of that type of stuff.''
If he can stay sound under the current restrictions, he says, he could be also be a factor in the recruiting of any potential free agents who could help him make one last playoff run if he sticks around next season.
"It's important for free agents to see how I can adjust my game, because that's always the question mark, right?'' says Bryant. "Are they going to get the old grumpy guy who is going to want to shoot the ball all the time? No, they're not. It's important for free agents to see that my determination comes from self-assessing, from saying, 'OK, I'll do this.' "
But as currently constructed, and as Bryant admits, "this" is difficult, unnatural, and so un-Kobe. It's so hard to watch him endure even a week under this new schedule that one must ask how he can keep doing it for another year and a half. There is a real sense that Bryant is currently asking himself the same questions.
"I'm still enjoying it, but it's hard,'' he said. "You have to find new challenges, not playing for a championship, it's pretty tough."
He shrugs and adds, "Then again, you've got to be willing to deal with the bad stuff just as you ride with the good stuff.''
Bryant makes it clear that, even though retirement would cost him the highest 2015-16 salary, $25 million, he's willing to walk away from the money.
"I don't care about the money," he says. "If I don't feel like doing it, I won't do it.''
He also makes it clear that, up until the end, whenever that is, he will keep fighting to finish his legacy as he lived it. It was evident Thursday when he demanded to guard James in the final minutes, when he hit a three-pointer in Tristan Thompson's face down the stretch, when he battled his way to the foul line amid the eternal chants of "MVP."
"I love figuring stuff out,'' Bryant says. "I don't know what's going to happen in the future, I don't know if I'm going to play an extra [next] year, but while I'm playing, I want to be able to figure this stuff out."
Are these the final months in the career of one of the greatest players in basketball history? That's the stuff Kobe Bryant is trying to figure out most.
Twitter: @billplaschke
All things Lakers, all the time.
Get all the Lakers news you need in Dan Woike's weekly newsletter.
You may occasionally receive promotional content from the Los Angeles Times.