As scout of NBA talent for 50 years, the Lakers' Bill Bertka is always prepared
Reporting from las vegas —
On the court and in the stands, the glitz and glam of the Las Vegas Summer League was at its peak.
Zion Williamson delighted the sold-out crowd with his warmup activities. LeBron James sat courtside, having just watched his Lakers play. Not long afterward, teammate Anthony Davis arrived, and the image of the two drew as big a roar from the pro-Lakers crowd as anything else.
A few rows back, a soft-spoken nonagenarian with crinkled skin and a kind smile marveled at what he saw. Bill Bertka remembers when Summer League happened in a gym at Loyola Marymount, where players were charged a fee for attending and hardly anybody came to watch.
"Can you believe this?" he said, looking around the arena Friday with wonder.
Then the game began and the time for chitchat had ended. The 91-year-old scout wore black pants, a Lakers pullover and a 2010 championship ring. Slowly he returned to the page on which he took hand-written notes about players the way he has for half a century.
"It's like clockwork; it's unbelievable," said Warren LeGarie, the founder of the Las Vegas Summer League. "Where some guys are like, after all these years I can just kick back and watch it, Bill has not changed his manner of work. It's very inspiring."
Officially, Bertka's title with the Lakers is special assistant to the general manager/basketball consultant. Last season was his 50th working in the NBA, most of that for the Lakers. He started as an assistant coach and scout for the Lakers in 1968, and began attending summer leagues when they began in 1969. He proudly will tell you he hasn't missed a single one.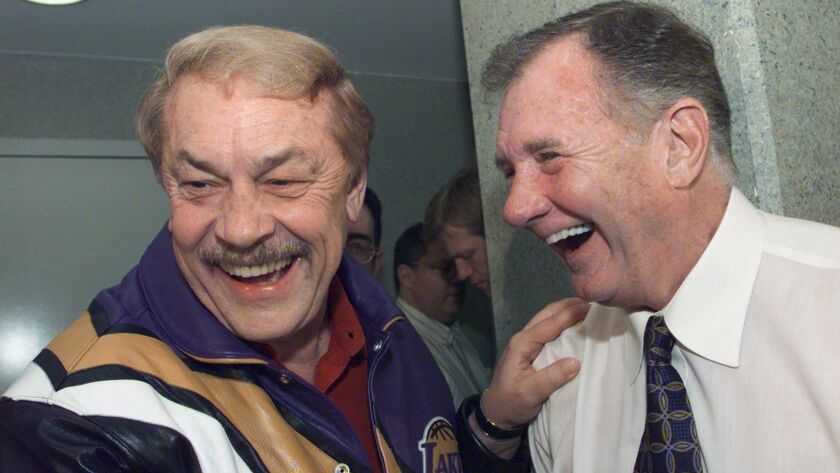 Back then, individual players would arrive and pay a fee for the right to have scouts from NBA teams and other countries' leagues watch them play. Over time NBA teams began creating their own groups and sending teams to summer league as a group.
Bertka's methods have never changed. He scouts them the old-fashioned way. He remembered fondly having found Larry Spriggs, who played on the Lakers' 1985 championship team, at summer league.
That 1985 championship team has a special place for Bertka, as with many who follow the Lakers. It's normally the championship ring he likes to wear, because that Finals helped the Lakers finally top the Boston Celtics. The 2010 ring he wore last week also commemorated a win over the Celtics.
The only time Bertka spent away from the Lakers was from 1974 to 1981, when he left to become the general manager and vice president of the New Orleans Jazz. Upon his return Bertka was an assistant coach for eight Lakers coaches, including Pat Riley, Magic Johnson, Kurt Rambis and Phil Jackson.
"I've been fortunate that they've kept me," Bertka said. "Coaching is a hazardous profession. I've been very fortunate the Los Angeles Lakers have permitted me to work with them over the years up until today. I hope they continue to let me work."
He's worked with some of the greatest Lakers of all time through different eras — Wilt Chamberlain, Elgin Baylor, Jerry West, Kareem Abdul-Jabbar, Shaquille O'Neal, Kobe Bryant. O'Neal once thanked Bertka for his coaching during a show on TNT. Bryant has talked about Bertka's influence.
Coaching big men was his specialty. That's why when the Lakers traded Vlade Divac for Bryant on draft night in 1996, Bertka stormed out of the room.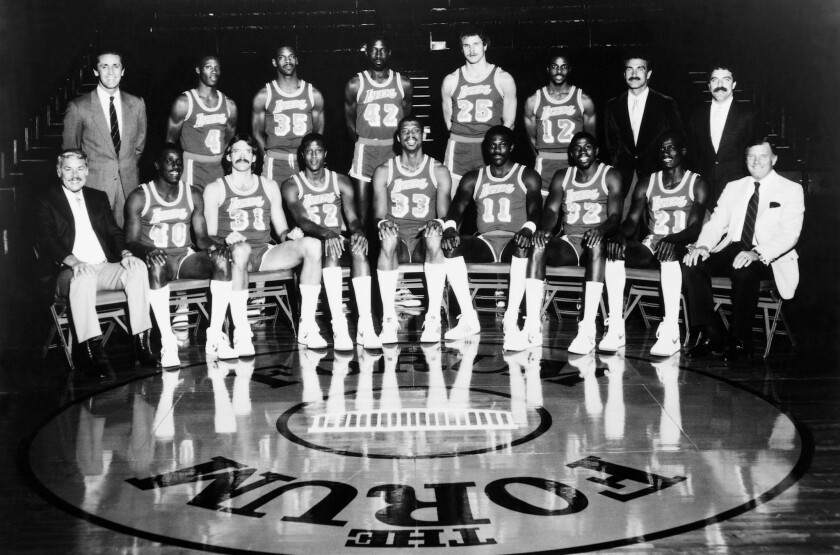 "He said, 'I can't believe you traded our starting center for a high school kid!' " remembers Ryan West, the Lakers' director of player personnel. "That's one of the memories I'll never forget. Thank God he was wrong."
More often his instincts are exactly right. He might not hear or move as well as he once did, but Bertka still can spot an NBA player from a college game. It was Bertka who fought and fought for the Lakers to draft Kyle Kuzma, who excited him when he saw him play in the Pac-12 tournament.
"He gets super animated and very opinionated," said Jesse Buss, the Lakers' director of scouting and assistant general manager, about Bertka loving a player. "Lot of curse words. It's very funny when he gets passionate about a player. … Or if he doesn't like a guy, he lets that be known too."
Bertka was close with Buss' father, late Lakers owner Jerry Buss. As Jesse began to study scouting, he relied on Bertka's advice on how to prepare a report.
That isn't the only multi-generational Lakers connection Bertka has.
As the son of Jerry West, Ryan West grew up around Bertka. His face lit up at the mention of Bertka's name. In fact, he's never met a person whose face doesn't light up at the mention of Bertka's name.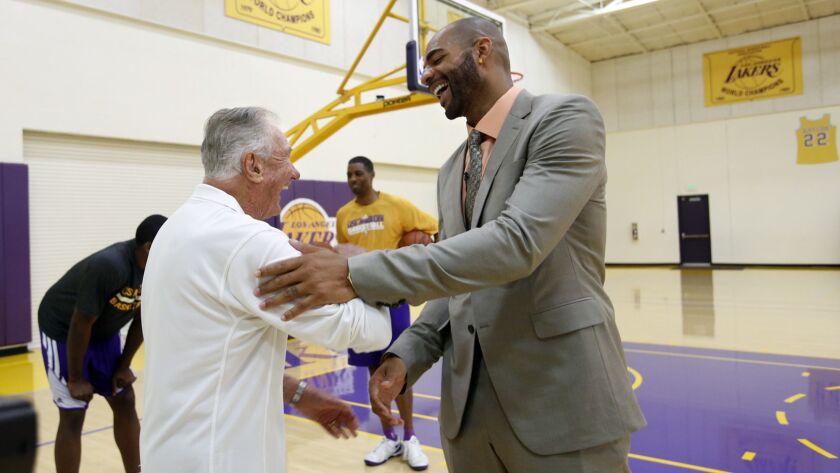 "I don't think I've ever heard one person say a negative word about him," Ryan West said. "Any time someone mentions his name it seems like everybody just perks up. He's so dedicated to the game of basketball. He has seen so much."
For decades Bertka has lived on an avocado ranch in Santa Barbara with his wife, Solveig, keeping a hotel room near his workplace — first near the Forum, then in El Segundo.
These days it's often Ryan West's job to drive Bertka to downtown Los Angeles for games at Staples Center.
"The times I spend with him in the car or at work are some of my favorite times of my life," Ryan West said.
Bertka will ask questions about his life. He'll check to see if West is dating anybody. After games they'll often pick apart a win or a loss during the car ride home. Mostly the rides are light and funny. What draws many to Bertka besides his passion is his ability to laugh at himself.
Sign up for our Lakers newsletter »
That surfaces in his choice of office decorations.
"What he called the wall of disrespect," West said. "Where he would stick his hand out and somebody would walk past him to shake somebody else's hand."
Last fall, for a company costume party around Halloween, Bertka dressed up as LeBron James, wearing a do-rag and a makeshift No. 23 jersey.
"King Bertka," Buss said. "That should be his nickname."
Few who know him would disagree and those who don't wouldn't get it. Bertka, after all, doesn't seek attention. He just keeps on working.
Follow Tania Ganguli on Twitter @taniaganguli
---
All things Lakers, all the time.
Get all the Lakers news you need in Dan Woike's weekly newsletter.
You may occasionally receive promotional content from the Los Angeles Times.