Five takeaways from the Lakers' 123-120 win over the Clippers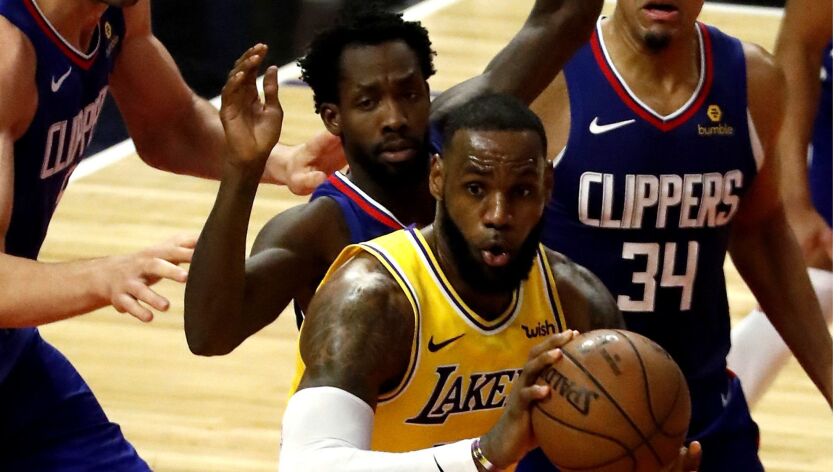 The healing began Thursday night when LeBron James returned to the Lakers' lineup at what he gauged was 80% of his normal health.
He left ithe Lakers' 123-120 victory over the Clippers just one assist shy of a triple-double (one play that could have gotten him to 10 assists was an alley-oop that JaVale McGee couldn't convert). James also left a little sore, which he knew would happen.
After the game, James shared some of the internal struggles he went through during the last five weeks. But we have plenty of time to talk about all that.
Here are five takeaways from the Lakers' overtime defeat of the Clippers.
1. James is not yet comfortable driving to the basket as frequently he did before his injury. But he started to do it a littlemore toward the end of the game. "There was a couple [of plays] late, where he kinda put that shoulder down and got a little more aggressive than he had been getting in practice," Lakers coach Luke Walton said. "Which we've all seen him do at the end of games before. So it was good to see him be able to take it to that level and health-wise still feel good about it."
2. Beating the Lakers might be a bigger point of pride for the Clippers than the reverse, but this was a win the Lakers needed badly. They are battling the Clippers for playoff seeding and the Clippers are currently eighth while the Lakers are ninth. The Lakers are now one game behind the Clippers to get into the playoff pool. Of course, now that James is back they can set their sights on more than just that.
Sign up for our Lakers newsletter »
3. Brandon Ingram's hot streak didn't cool with James' return. He seems to have found himself a little bit in the last few weeks. Ingram made seven of 12 shots, scoring 19 points with four rebounds and four assists. A big part of Ingram's game recently has been his mid-range game. "Just shots falling," Ingram said. "Shots falling. Just continue to repeat the shot over and over every time I go to the gym. Just having the confidence and feeling comfortable to come out here and do the same thing again."
4. Kyle Kuzma was also happy to return after missing two games because of a sore hip, and the Lakers are easing him back into the lineup. He started at power forward but played only 23 minutes, which is almost 10 minutes below his season average. Kuzma said he felt 100%, but Walton said he thought there were moments when Kuzma could have been moving better.
5. The connection between Rajon Rondo and James picked up where it left off. Both got close to triple-doubles, with Rondo finishing three assists short. "Another quarterback being on the floor, direct the traffic, make it easier," Rondo said of having James back. "Make everyone's job easy, especially mine and everybody else he plays with."
Follow Tania Ganguli on Twitter @taniaganguli
---
All things Lakers, all the time.
Get all the Lakers news you need in Tania Ganguli's weekly newsletter.
You may occasionally receive promotional content from the Los Angeles Times.