Kawhi Leonard only wants to meet with Magic Johnson, Jeanie Buss during Lakers visit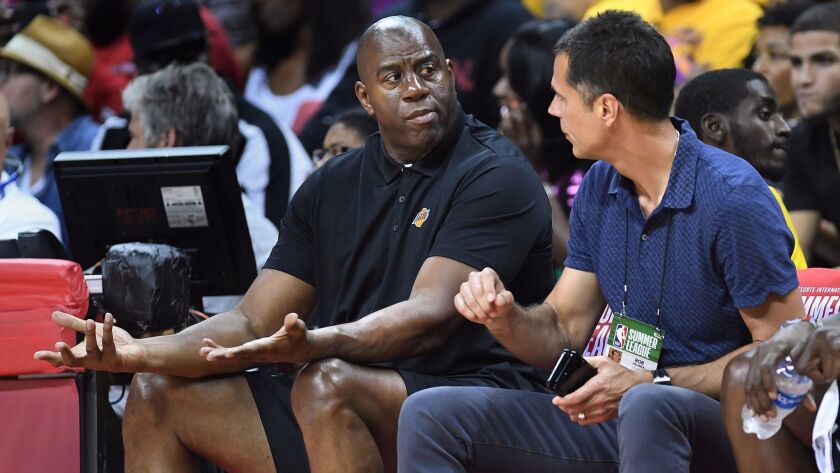 When Kawhi Leonard, the most coveted player in NBA free agency, listens to the Lakers' pitch, it might come only from Magic Johnson and Jeanie Buss — and not in the same meeting.
Johnson said Leonard's camp reached out to him and requested that the Lakers legend be part of the meeting Leonard will have with the team after the All-Star forward becomes an unrestricted free agent Sunday.
However, Johnson said he should meet with Leonard privately, one on one, and not with Lakers officials to avoid any appearance of impropriety since he's not authorized to negotiate a contract.
Leonard will decline his contract option with the Toronto Raptors and test the market, and his camp let the Lakers know he wants his official meeting to be with only Buss, the controlling owner, instead of several members of the front office, according to people not authorized to speak publicly.
There hasn't been any official communication between Leonard and the Lakers. Teams can't communicate with prospective free agents until 3 p.m. PDT Saturday and can't meet with them until 3 p.m. PDT Sunday.
NBA rules don't prevent a team from bringing in someone outside the organization for free-agent meetings. Boston had New England quarterback Tom Brady join the Celtics for their pitch to Kevin Durant in July 2016.
But Johnson could be viewed as a special case because of his recent history as a Lakers executive — he stepped down as their president of basketball operations April 9 — and his communication with players around the NBA.
Johnson was warned by the NBA about tampering and fined for it while a Lakers executive. During his impromptu resignation, Johnson cited his inability to interact with or discuss players from other teams as part of why he wanted to step down.
Your Lakers free agency guide »
"I will help the Lakers anyway that I can," Johnson told The Times on Friday. "If the NBA says I can only meet with Kawhi and it just has to be me and him and not the Lakers being around, I will do that. I love the Lakers and just want to do what's best for the Lakers and Jeanie Buss."
LeBron James and Anthony Davis, whom the Lakers will acquire from New Orleans when the new business year opens July 6, also will meet with Leonard to sway him to help the Lakers become the new super team, people with knowledge of their plans said.
No date has been set for any meetings, according to those people, but the plan is for them to take place next week, most likely in Los Angeles.
The Lakers put themselves in position to potentially sign Leonard to a maximum contract after general manager Rob Pelinka cleared enough cap space for a salary that's projected to be $32.7 million per season. The Lakers on Thursday traded Mo Wagner, Isaac Bonga and Jemerrio Jones to Washington as part of the deal for Davis.
Pelinka then got Davis to agree to waive his $4-million trade kicker, creating the space to acquire a player like Leonard.
If Leonard leaves the Raptors, whom he led to their first championship, he could sign a four-year deal with the Lakers for about $141 million. If the NBA Finals most valuable player stays with the Raptors, he could sign a five-year deal worth about $190 million.
"I listened to Kawhi's people and told them I was fine talking to him as long as the Lakers are cool with that," Johnson said. "Listen, no matter what, I want to see the Lakers win a championship and I will do my part to help Jeanie, LeBron and AD."
Sign up for our Lakers newsletter »
Leonard and his representatives, led by his uncle Dennis Robertson, have convened at his offseason home in San Diego County to formulate their plan, according to people.
Leonard is from Southern California. He grew up in Moreno Valley and attended Martin Luther King High in Riverside before he played two seasons at San Diego State.
Twitter: @BA_Turner
Twitter: @taniaganguli
---
All things Lakers, all the time.
Get all the Lakers news you need in Dan Woike's weekly newsletter.
You may occasionally receive promotional content from the Los Angeles Times.