Lakers' Kent Bazemore, MarShon Brooks reduce the trade deficit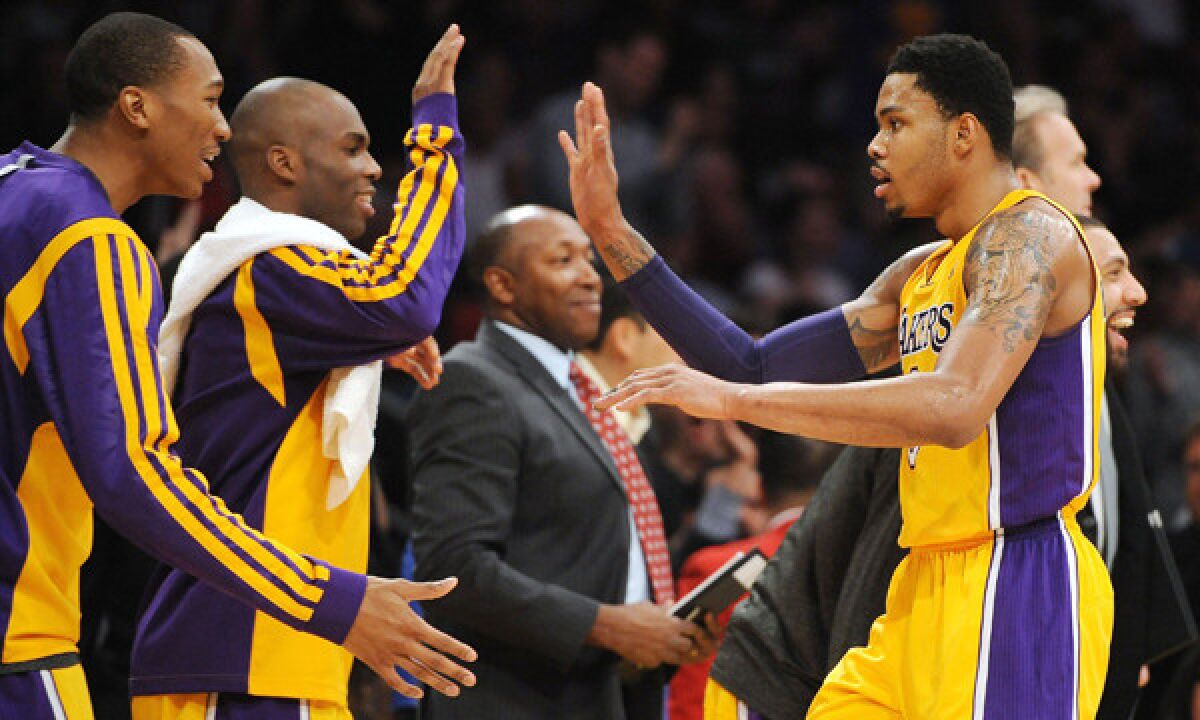 Throw-ins?
Almost as quickly as you could say "Blake Mamba," the seldom-used duo acquired from Golden State for Steve Blake erupted for a combined 29 points in the Lakers' 101-92 victory Friday night over Boston.
Kent Bazemore and MarShon Brooks had averaged only 4.9 points combined this season before Bazemore scored 15 and Brooks had 14 against the Celtics.
But can they do this consistently?
"If you can do it once, you can do it twice," Lakers Coach Mike D'Antoni said Saturday. "There's no reason why they can't do it every night."
Both shooting guards will be free agents after this season, though Bazemore, 24, is viewed as the better long-term prospect after being a rotation player with the Warriors.
The Lakers like his defensive liveliness and his ability to get out on the wing on fastbreaks. An uptick in playing time will take away from his past role as a high-energy, if not comedic, cheerleader from the bench.
"Yeah, I'll ask him if he wants to play or sit on the bench and be that guy," D'Antoni said jokingly.
Said Bazemore: "This is all happening so fast, you really can't get a celebration in your mind [during games]. When you're over there sitting down and watching, it's a big difference."
Bazemore is known for his animated flexing, arm-pumping and even high leg kicks from the end of the bench after teammates score.
"It's just my ode to the game of basketball," he said. "Basketball has done a lot for me, getting me a free education, helped me meet some of the greatest people in the world. That's how I give back to it, just being passionate about it."
Brooks, 25, is more of a gunner and has been with four franchises in three NBA seasons. He scored 10 points in a three-minute span during the fourth quarter against Boston, helping the Lakers overcome an 11-point deficit.
Nick Young planned to return Sunday from a knee injury, which could reduce playing time for Bazemore or Brooks.
World Peace gone?
Former Lakers forward Metta World Peace was working on a buyout so he can leave the New York Knicks, he said Saturday on Twitter.
World Peace, 34, has not been used a lot this season, averaging 4.8 points in only 29 games, including several recently in which he didn't get off the bench.
"Thanks for having me I will always be grateful," World Peace wrote on Twitter to Knicks fans. "No disrespect to the city Luv U."
The Lakers waived World Peace last July via the one-time amnesty provision. They are at the maximum 15 players and cannot re-sign him.
Time change
The Lakers will play Brooklyn at 6 p.m. instead of the typical 6:30 tipoff time for Sunday games at Staples Center.
The time was switched before this season so ESPN could broadcast the game, but the network and the NBA decided to drop it a few weeks ago, the third time the Lakers were dumped from a nationally televised game this season.
Twitter: @Mike_Bresnahan
---
All things Lakers, all the time.
Get all the Lakers news you need in Dan Woike's weekly newsletter.
You may occasionally receive promotional content from the Los Angeles Times.