Jason Kidd was there for Lonzo Ball's debut; now he'll be his mentor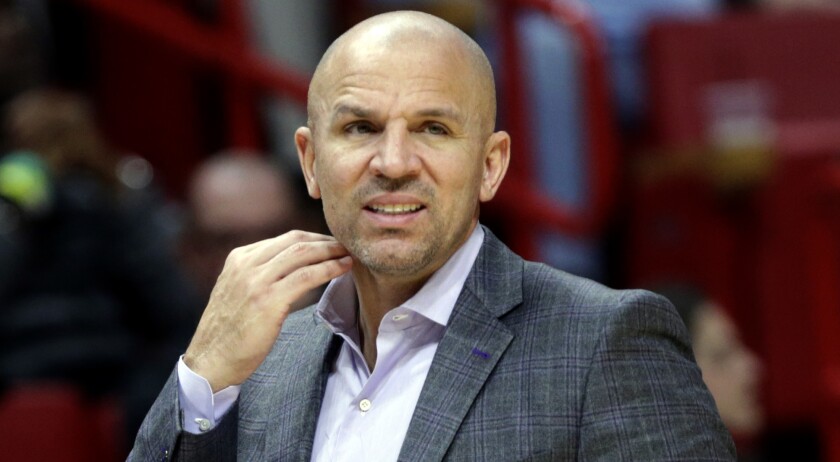 When Lonzo Ball made his debut in a Lakers uniform in 2017 during the Las Vegas Summer League, Jason Kidd was there to watch as coach of the Milwaukee Bucks.
Many have compared the two point guards' style of play, although Kidd has shied away from the topic in the past.
The two will be brought together in the months ahead when Kidd joins the coaching staff of Frank Vogel, who agreed to become the team's head coach.
According to people familiar with the Lakers' thinking, they are hoping Kidd's influence can benefit Ball, who will be entering his third season in the NBA.
When Ball entered the league, many people compared his skill set to that of Kidd, a comparison to which the Hall of Famer was lukewarm at best. During an interview on ESPN, a television host told Kidd she thought that comparison was a stretch and Kidd said he agreed.
"I'm just grateful for it," Ball said then of the comparisons. "He's a legend. That's enough said."
Sign up for our Lakers newsletter »
That summer Kidd told The Times of the comparison: "Everybody has their opinion. It's a great compliment. But everybody is different at the end of the day."
Kidd has had very limited interactions with Ball. After that summer encounter, they met for the first time on the court in November 2017.
"Everybody thought he was going to come out and set the league on fire, but he also has a bulls-eye on his back," Kidd said at the time. "There's other guys in this league that believe that they're better. He has to understand what it means to be prepared and be ready to play on a nightly basis. But he still has a skill set that a lot of guys don't have in this league and that's making his teammates better."
Lakers center Tyson Chandler, a former teammate of Kidd, asked Kidd to speak with Ball and the pair of them had one phone conversation.
They'll have plenty of chances to talk basketball in the near future.
Follow Tania Ganguli on Twitter @taniaganguli
---
All things Lakers, all the time.
Get all the Lakers news you need in Tania Ganguli's weekly newsletter.
You may occasionally receive promotional content from the Los Angeles Times.