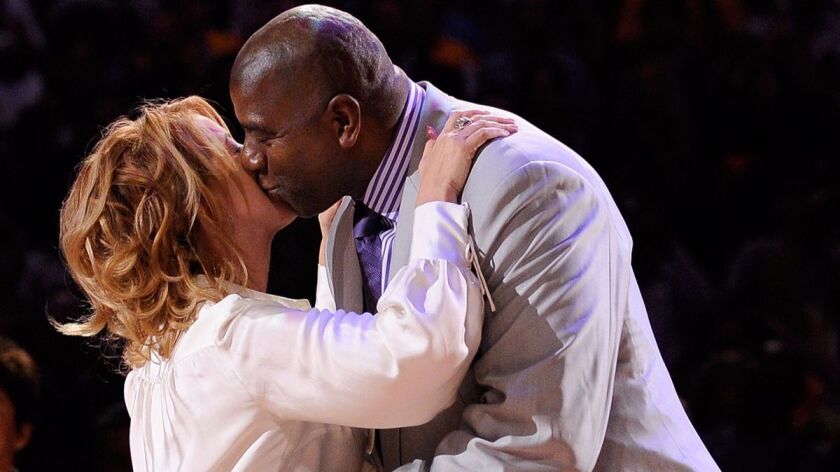 There weren't many times when Magic Johnson was down in the dumps, but injuries during his playing career could do it. Once, while he nursed a finger injury, two of his closest friends in Los Angeles tried to help.
"My dad, he just said, 'OK, well we can't go shoot pool because your hands hurt,'" Jeanie Buss remembers. "'We can't, he's like sad, I can't go out to a dinner. He's sad because he's hurt. What can we do?' … Sometimes you need your friends around you to just sit with you and share your suffering."
She likened her father's relationship with Johnson to that of Patriots owner Robert Kraft and his quarterback Tom Brady.
And as Johnson grew close with Jerry, he also grew close with Jeanie. The three of them became inseparable. The foundation for the Lakers current front office dates all the way back 38 years.
"I want to make her dream a reality and that's to win a championship," said Johnson, now the Lakers president of basketball operations. "That's what I want. I want her at city hall. I want her on that float just like her father was. The city going crazy. We gotta get that feeling back. I want that for her. I want her hoisting that big trophy. One day I hope that we achieve that goal. That would be special for her. That way she can create her own legacy."
Johnson and Jerry Buss came into the league together. He bought the Lakers in 1979 and drafted Johnson first overall that same year.
Johnson quickly became like another son to Buss, who had two when they first met – Johnny and Jim.
He'd come over to play pool. He'd experience the Los Angeles lifestyle with Jerry. Once, Jerry, Jeanie and Johnson all watched the premiere of Michael Jackson's "Thriller" together – a sure-fire way to cheer up Johnson, a Michael Jackson superfan.
"He was always and still is my favorite of all time," Johnson said. "Everybody thought also, too, that I couldn't talk him into coming [to a game]. He came to the game. That was probably the highlight -- one of my highlights of playing with the Lakers."
While Jeanie learned how to be a sports executive, Johnson won championships, was named the Finals MVP and the league's MVP thrice. He became arguably the Lakers' most popular player ever.
On Nov. 7, 1991, Johnson announced he was HIV positive. Jeanie hadn't slept since she first heard of his diagnosis two days before.
"I'd only seen my dad cry one other time – that's when his mother passed away," Jeanie said. "He cried. Everybody was crying. The strongest person in the room was Earvin. Earvin took care of all of us."
Johnson's career playing for the Lakers ended soon after that without much fanfare. Years later Jeanie would throw herself into a goodbye for another Lakers legend. The celebration for Kobe Bryant's finale last year was as much about Bryant as it was what the organization never could give Johnson.
There were tears again, years later, when Johnson visited Jerry Buss in the hospital as he lay dying in 2013. Johnson remembers Buss telling him it was always his dream that Johnson and Jeanie run the Lakers together.
"I think [Jerry Buss] had a plan in his mind that, 'Hey, I'm going to bring them up together, I'm going to make sure they know everything in terms of the Laker business," Johnson said. "I think his plan was what we're doing right now.
"We both have to pinch each other and say, 'Can you believe this?' I look at her, I'm so proud of her. She has proven that a woman can run a sports franchise and be very, very successful at doing it. She's a role model to all the little girls. She continues to just improve and she continues to grow. I think what I've been able to do is take a lot of load off her."
Follow Tania Ganguli on Twitter @taniaganguli
---