Jerry West has 'love' for Lakers and would have loved to end his career with them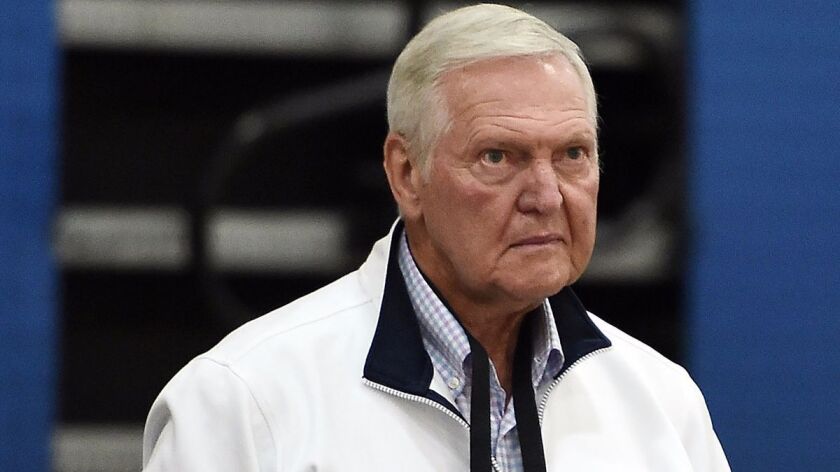 Jerry West remains unabashed in his affection for the Lakers, still expressing his "love" for them and even admitting that a part of him still yearns to work for the organization that he in so many ways helped to prominence.
West made his feelings clear about the Lakers on Thursday during an interview on "The Dan Patrick Show."
Though West has worked as a consultant for the Golden State Warriors the last six years, he talked about how it would have been nice to "revisit" a relationship with the Lakers.
But the Lakers have not reached out to West, preferring to have Magic Johnson serve as president of basketball operations and Rob Pelinka as general manager. Mitch Kupchak was relieved of his duties as the GM and Jim Buss was let go from his job as executive vice president of basketball operations in February by principal owner Jeanie Buss.
"I love the Lakers, OK," West said on the nationally syndicated radio show. "And it's a different situation now, a different time, and obviously I wish everyone well over there. My son works there. I'm very proud that he works there."
His son is Ryan West, who is the Lakers' director of player personnel.
West talked about how returning to the Lakers organization he spent most of his life with has weighed on him over the years.
He played 14 years for the Lakers and was the head coach of the Lakers for three seasons. He became the general manager of the team at the start of the 1982-83 season, and the team won four NBA championships under his guidance.
West became the general manager of the Memphis Grizzlies in 2002 and joined the Warriors in 2011.
West still has a fondness for the Lakers and would like to be back with them in some capacity.
"Sometimes I thought that in my life that maybe that might be something that I can revisit, or they would want me to revisit," West said. "But that didn't happen. At times, I don't say I was disappointed, but it kind of sent me a message that they wanted to go elsewhere, which is fine. But to say that I wouldn't have liked to ended my career there, that wouldn't necessarily be true either."
The Lakers said they would have no comment about another team's employee.
West, who is under contract with the Warriors through July, was at the Clippers' facility Tuesday and talked with owner Steve Ballmer and coach Doc Rivers about joining them.
"I will tell you I had a very intriguing meeting with the Clippers," West said. "Steve Ballmer is going to be a sensational owner. But I'm 79 years old and I know how much that I value the game of basketball. I know what it's done for me and I'm still really competitive. I'm just not so sure that anywhere is a good fit for me."
West was also asked about LaVar Ball, whose son Lonzo Ball has been considered a top-two choice who many expect the Lakers to select with the No. 2 overall pick in the draft.
"I wouldn't want a father like that, to be honest with you," West said. "I think he puts an added pressure on his kid. You know he loves his kid, you know that. But this should be about his kid and not about him."
Ball, a 6-foot-6 point guard out of UCLA, is scheduled to work out for the Lakers.
"Are they going to draft him? That's up to them," West said. "I think there are three or four players in this draft that I really like a lot personally. To me, they've got a big decision to make. Whether they make it because of his father being from Los Angeles and saying he wants [Lonzo] to play in Los Angeles, I wouldn't let a father influence who I draft, that would be for sure. I would want the best player at that position.
"When you're drafting at that position, you cannot afford to miss, you cannot afford it, particularly the Lakers at this point and time because they're trying to build depth in the roster. They're trying to get to another level right now. So this is imperative for them to take the right player. If that's Lonzo Ball, they're going to take him."
Twitter: @BA_Turner
---
All things Lakers, all the time.
Get all the Lakers news you need in Dan Woike's weekly newsletter.
You may occasionally receive promotional content from the Los Angeles Times.